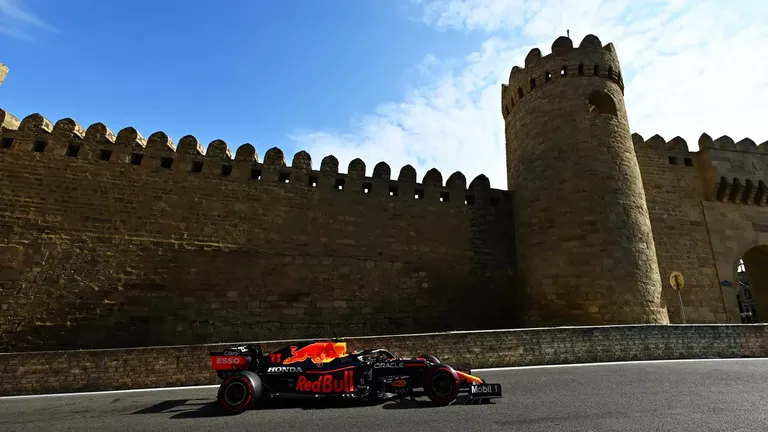 Fuente/Source.
Tenía pensado comenzar a escribir este post antes de que terminara la carrera. Faltan apenas seis vueltas y decido de cambiar sistema operativo (hasta ese momento estaba trabajando con Linux) porque Windows me permite en este tipo de trabajo tener algo más de creatividad en el layout de la página.
Cuando se reinicia el sistema (mi PC es un poco viejo y tarda algunos minutos) voy a buscar los resultados y creo que estar soñando.
Verstappen y Hamilton han desaparecido de los primeros puestos y el ganador es Checo Pérez (que en la lotería de los errores es el que más suerte tiene como sucedió en el último GP del 2020) y se saca el primer premio.
En realidad el título del artículo era: Red Bull mete miedo y se aleja en el campeonato. Y ahora? Evidentemente tengo que cambiar el título aunque las dos primeras palabras siguen vigentes.
Lo paradójico es que los dos candidatos al título ven esfumarse las posibilidades de aumentar o reducir las distancias uno de otro, a pocas vueltas del final.
Primero a cinco vueltas del final una goma dice basta y Verstappen termina contra el muro arruinando una carrera soberbia del holandés que exprime su rabia dándole una patada a la goma en cuestón de su monoplaza.
Segundo cuando Hamilton después de repartir después de la safety car tiene todo para coronar un segundo puesto sin arriesgar nada y recuperar la punta del campeonato inexplicablemente sigue de largo en la curva y ante la inminencia del fin de la carrera (quedan solo dos vueltas para disputar) no logra ni siquiera entrar en la zona puntos.
Uno (Verstappen) por infortunio. El otro (Hamilton) por error propio aunque resta aclarar si no tuvo algún desperfecto mecánico. Resulta difícil analizar un error de este tipo en el británico.
Suerte y mérito para un Checo Pérez que está encontrando su justo lugar en la butaca de Red Bull aunque esta vez se haya visto favorecido por la suerte.
Durante toda la carrera supo mantener a distancia de seguridad a un Hamilton que nunca le encontró la vuelta a este GP terminándolo en el peor de los modos.
Del resto de los pilotos cabe destacar la gran carrera de Sebastian Vettel que de a poco es otro que le comienza a encontrar la vuelta al Aston Martin.
Entre una adecuada estrategia, un buen rendimiento y un poco de suerte alcanzó un segundo puesto que seguramente no estaba dentro de los planes iniciales.
Otro favorecido por la suerte pero que hizo una buena carrera es Pierre Gasly el francés de Alpha Tauri que ocupó el último escalón del podio.
Aún sin los abandonos rocambolescos de Verstappen y Hamilton ambos hubieron hecho una excelente carrera.
En cambio un poco de desilusión para las McLaren que no encontraron en este circuito la sincronía que hasta ahora venían teniendo.
Ferrari demostró una vez más que para hacer el salto de calidad todavía le falta. Una cosa son las pruebas de clasificación y otra es la carrera verdadera y propia donde cuentan tantos factores a tener en cuenta.
Por ahora Red Bull ha demostrado que su motor Honda ha igualado y superado el motor Mercedes.
Y que los trabajos en aerodinamia han dado excelente frutos a partir de la innovación de los aletones flexibles tan cuestionados (que en realidad no es una verdadera innovación ya que los viene probando desde las últimas carreras de la temporada anterior). No es una innovación tecnológica del 2021 sino un perfeccionamiento de una majora introducida en el 2020 y por lo tanto es muy difícil que la FIA pueda prohibirla, reglamento en mano.
Por otro lado ambos pilotos se encuentran perfectamente consustanciados con sus monoplazas (algo que no ocurre con Mercedes, un GP para el olvido el de Valteri Bottas) quien está sufriendo como nunca esta nueva temporada.
Por este motivo he decidido dejar igual la primera parte del título y cmbiar solo el resto. Al fin y al cabo es solo cuestión de suerte (errores aparte).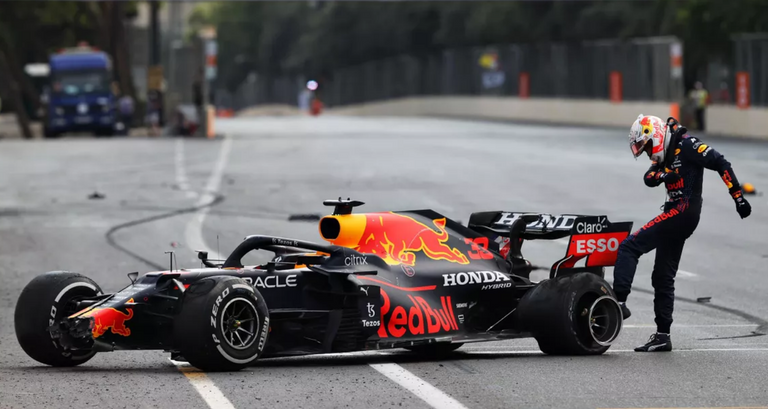 Fuente/Source.
I had planned to start writing this post before the end of the race. There are only six laps to go and I decide to change operating system (until that moment I was working with Linux) because Windows allows me in this kind of work to have some more creativity in the layout of the page.
When the system restarts (my PC is a bit old and it takes a few minutes) I go to look for the results and I think I'm dreaming.
Verstappen and Hamilton have disappeared from the top positions and the winner is Checo Perez (who in the lottery of mistakes is the luckiest one as it happened in the last GP of 2020) and takes the first prize.
Actually, the title of the article was: Red Bull is scary and moves away in the championship. And now? Obviously I have to change the title although the first two words still apply.
The paradoxical thing is that the two candidates for the title see the possibilities of increasing or reducing the distances between them vanish, with a few laps to go.
First, five laps from the end, a rubber says enough and Verstappen ends up against the wall ruining a superb race of the Dutchman who expresses his anger by kicking the rubber on his car.
Second when Hamilton after the safety car has everything to crown a second place without risking anything and regain the lead of the championship inexplicably continues long in the corner and with the imminence of the end of the race (there are only two laps to go) does not even get into the points area.
One (Verstappen) by misfortune. The other (Hamilton) by his own mistake, although it remains to be clarified if he did not have a mechanical failure. It is difficult to analyze a mistake of this type in the British driver.
Luck and merit for Checo Perez, who is finding his right place in the Red Bull seat, although this time he has been favored by luck.
During the whole race he was able to keep a safe distance from Hamilton, who never found his way back to this GP, finishing it in the worst way.
Of the rest of the drivers, it is worth mentioning the great race of Sebastian Vettel, who little by little is another one who is starting to find the way back to the Aston Martin.
Between an adequate strategy, a good performance and a little bit of luck, he reached a second place that surely was not in his initial plans.
Another one favored by luck but who had a good race is Pierre Gasly, the Frenchman from Alpha Tauri, who took the last step of the podium.
Even without the bizarre retirements of Verstappen and Hamilton both would have done an excellent race.
On the other hand, a little disappointment for the McLaren that did not find in this circuit the synchrony they had been having so far.
Ferrari showed once again that to make the leap in quality it still lacks. One thing are the qualifying tests and another is the real and proper race where so many factors to take into account count.
For now Red Bull has shown that its Honda engine has matched and surpassed the Mercedes engine.
And that the work on aerodynamics has borne excellent fruits from the innovation of the much questioned flexible flaps (which in fact is not a real innovation since it has been testing them since the last races of the previous season). It is not a technological innovation of 2021 but a refinement of an improvement introduced in 2020 and therefore it is very difficult for the FIA to prohibit it, regulations in hand.
On the other hand, both drivers are perfectly comfortable with their cars (something that does not happen with Mercedes, a GP to forget for Valteri Bottas) who is suffering like never before this new season.
For this reason I have decided to leave the first part of the title unchanged and change only the rest. After all it's just a matter of luck (mistakes aside).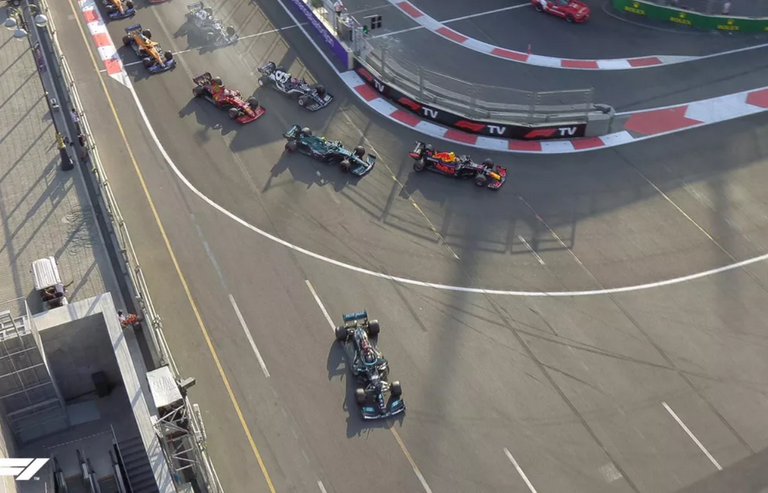 Fuente/Source.
Traducido con: / Translated with: DeepL Translator (free version)