[ESP/ENG] Un Verstappen demoledor consigue su tercera victoria consecutiva con Red Bull en F1. / A devastating Verstappen takes his third consecutive victory with Red Bull in F1.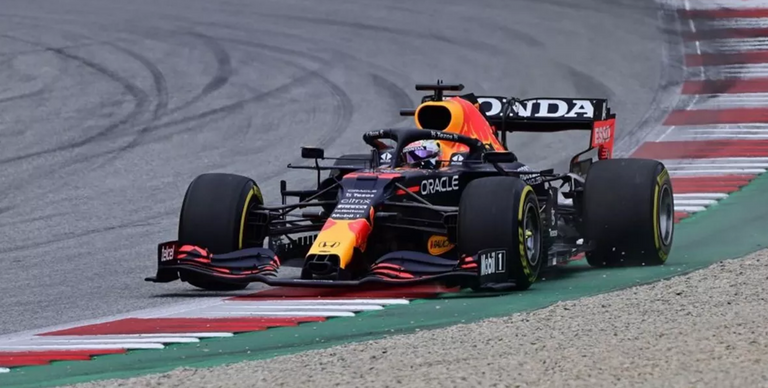 Pole position, vuelta rápida y triunfo para Max Verstappen en el GP de Austria. / Pole position, fastest lap and victory for Max Verstappen at the Austrian GP.
Parecería que todos los pronósticos se van cumpliendo de a poco y que los breves testeos de Shakir al inicio del año preanunciando una neta superioridad de Red Bull sobre Mercedes se van cumpliendo.
Luego de una breve y débil resistencia de Mercedes en las primeras carreras el holandés parece haberle tomado la mano definitivamente a su Red Bull y por el momento no hay rivales en su horizonte cercano.
Incluso en este Gran Premio de Austria se dio el lujo de parar a poco del final (tal era la ventaja sobre Bottas) cambiar pneumáticos y hacer la mejor vuelta para sacar un punto más de ventaja sobre Hamilton. Que a esta altura de las circunstancias son ya 32.
En cambio a nivel de Constructores la diferencia es aún más amplia: 44 puntos a favor de Red Bull.
Red Bull es una máquina perfecta y el holandés no comete errores. Mientras que Mercedes tiene problemas de estabilidad y velocidad. Y, en su vehemencia, de vez en cuando Hamilton comete algún error tratando de suplir esa carencia a nivel de prestaciones en su monoplaza. Como andar demasiado arriba de los "pianitos", por ejemplo.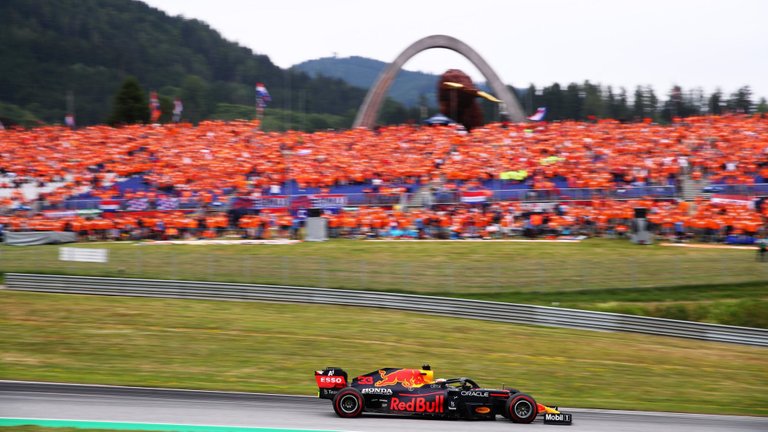 Max Verstappen va en camino de cerrar la primera parte del Campeonato Mundial de Pilotos de F1 con una amplia diferencia. / Max Verstappen on track to close the first half of the F1 World Drivers' Championship with a wide gap.
It seems that all forecasts are coming true little by little and that Shakir's brief tests at the beginning of the year announcing a clear superiority of Red Bull over Mercedes are coming true.
After a brief and weak resistance of Mercedes in the first races, the Dutchman seems to have definitely got the hang of his Red Bull and for the moment there are no rivals in his near horizon.
Even in this Austrian Grand Prix he had the luxury of stopping shortly after the end (such was the advantage over Bottas) to change tires and make the best lap to take one more point of advantage over Hamilton. That at this point of the circumstances is already 32.
On the other hand, at Constructors' level, the difference is even wider: 44 points in favor of Red Bull.
Red Bull is a perfect machine and the Dutchman does not make mistakes. While Mercedes has stability and speed problems. And, in his vehemence, from time to time Hamilton makes a mistake trying to make up for that lack of performance in his car. Like riding too high on the "pianitos", for example.
La carrera. / The race.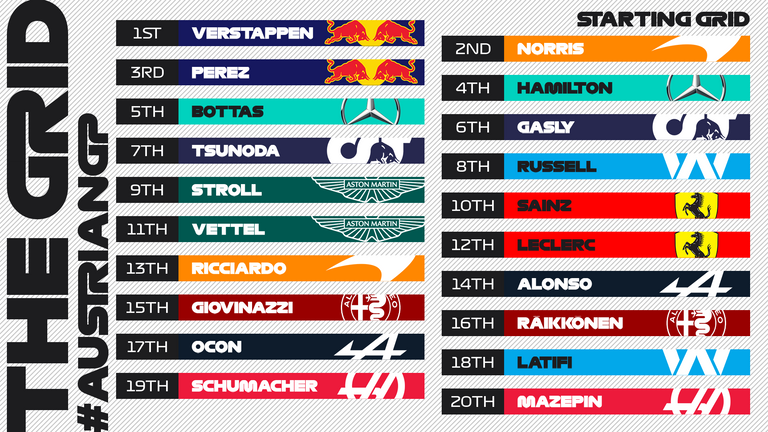 Partir en la cuarta posición no era de buen auspicio para Hamilton y el desarrollo de la carrera fue un fiel reflejo de la partida. Partió cuarto y terminó quarto. Una carrera absolutamente anónima para el británico. Pensando más en defenderse que en atacar.
En este caso fue su compañero de equipo Valteri Bottas -últimamente bastante criticado- quien recogió los elogios obteniendo un buen segundo puesto después de haber partido quinto.
Tampoco Checo Pérez penalizado pudo conservar su posición inicial y retrocedió algunos puestos. Ya a pocos giros de la largada tratando de superar a Lando Norris sigue de largo y pierde varias posiciones. Por esta razón Lando Norris será sancxionado con cinco segundos. Y Checo Pérez reincide y se toca con Leclerc. Esta vez la sanción es para él.
Mientras tanto la Mercedes de Hamilton que había llegado al segundo lugar luego de superar a Norris comienza a decaer en su prestaciones y es superada primero por Bottas y luego por Norris.
Un segundo y un cuarto puesto para Hamilton contra dos triunfos de Verstappen. Demasiado poco para las aspiraciones del británico.
Mientras se confirma la trayectoria ascendente de Norris yMcLaren también se confirme pero en sentido descendente la de Ferrari y Leclerc.
Solo Sainz con un buen quinto tiempo logra salvar algunos puntos confirmando que lo de Montecarlo fue solo un espejismo.
Firme, en cambio, sigue la trayectoria de McLaren con Lando Norris, de lo mejor junto a Verstappen, durante todo el fin de semana. Consistente, concentrado, sin cometer errores y con un medio mecánico que no solo se va paulatinamente alejando de sus potenciales competidores por el tercer puesto en la clasificación mundial, sino que en estas útimas carreras parece acercarse peligrosamente al tercer puesto desplazando a Valteri Bottas y acercándose mucho a Sergio Pérez.
Será la verdadera revelación de este 2021 y el árbitro del mundial? Parece arriesgado decirlo. La segunda parte de la temporada podrá arrojar luces más claras sobre esta incógnita. Todo parece indicar que así será.
Todo parece indicar que los dos primeros serán Verstappen y Hamilton. La verdadera incógnita es quien ocupará los puestos tercero y cuarto al final de la temporada.
Si Checo Pérez logra consolidarse en la guia de la Red Bull todo parece indicar que el tercer escalón del podio será para él.
Si, en cambio, su futuro es similar al de las últimas carreras (es decir muy irregular) deberá luchar a brazo partido con Norris y Bottas para mantener (o alcanzar) esa posición.
El resto se debate en la mediocridad alternando buenas y malas. A punto tal que hay dos equipos (Haas y Williams) que todavía no han sumado ningún punto.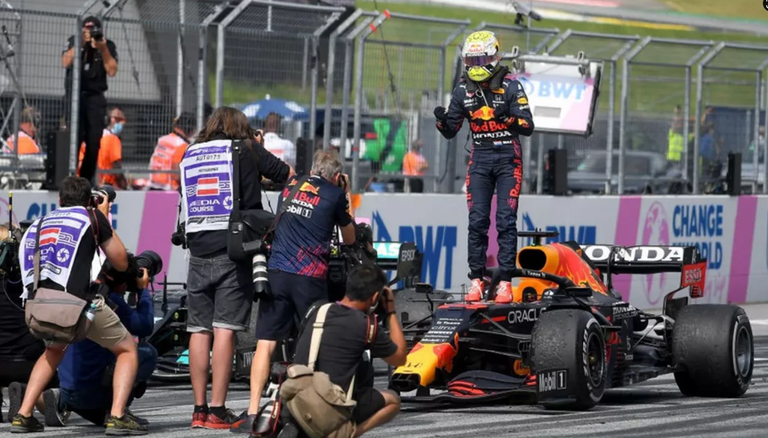 Max Verstappen no parece tener rivales en el futuro inmediato. / Max Verstappen seems to have no rivals in the immediate future.
Starting in fourth position was not auspicious for Hamilton and the development of the race was a true reflection of the start. He started fourth and finished fourth. An absolutely anonymous race for the Briton. Thinking more about defending than attacking.
In this case it was his teammate Valteri Bottas -lately quite criticized- who received the praise by obtaining a good second place after starting fifth.
The penalized Checo Perez could not keep his initial position and dropped back a few places. A few laps before the start, he tried to overtake Lando Norris and lost several positions. For this reason Lando Norris will be penalized with five seconds. And Checo Perez reoccurs and touches with Leclerc. This time the penalty is for him.
Meanwhile the Mercedes of Hamilton who had reached the second place after overtaking Norris begins to decline in its performance and is overtaken first by Bottas and then by Norris.
A second and a fourth place for Hamilton against two wins for Verstappen. Too little for the British driver's aspirations.
While the upward trajectory of Norris and McLaren is confirmed, the downward trajectory of Ferrari and Leclerc is also confirmed.
Only Sainz with a good fifth time manages to save some points confirming that Monte Carlo was just a mirage.
Firm, on the other hand, the McLaren trajectory continues with Lando Norris, one of the best together with Verstappen, throughout the weekend. Consistent, focused, without making mistakes and with a mechanical means that not only is gradually moving away from its potential competitors for third place in the world standings, but in these last races seems to be dangerously close to third place by displacing Valteri Bottas and getting very close to Sergio Perez.
Will he be the real revelation of this 2021 and the referee of the world championship? It seems risky to say. The second part of the season may shed clearer light on this unknown. Everything seems to indicate that this will be the case.
Everything seems to indicate that the first two will be Verstappen and Hamilton. The real unknown is who will occupy the third and fourth positions at the end of the season.
If Checo Perez manages to consolidate his position at the helm of Red Bull, everything seems to indicate that the third step of the podium will be for him.
If, on the other hand, his future is similar to that of the last races (i.e. very irregular) he will have to fight tooth and nail with Norris and Bottas to keep (or reach) that position.
The rest are struggling in mediocrity, alternating good and bad. To such an extent that there are two teams (Haas and Williams) that have not scored any points yet.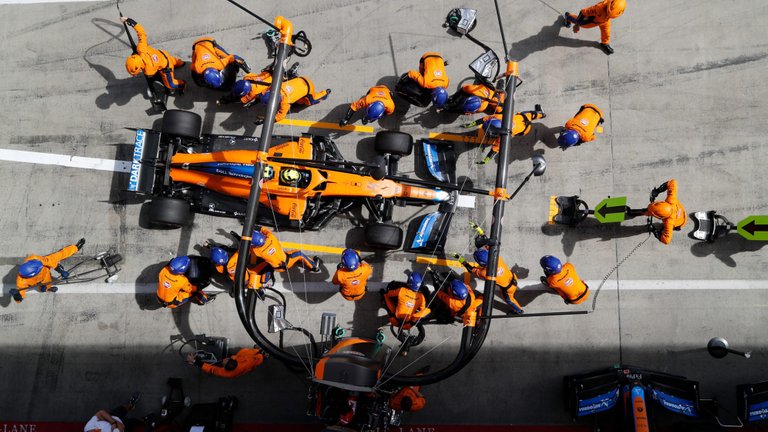 El desgaste de los pneumáticos fue un factor importante en el GP de Austria. / Tire wear was an important factor in the Austrian GP.
Campeonato Mundial de Pilotos y de Constructores de F1. / F1 Drivers' and Constructors' World Championships
A dos carreras de promediar la temporada de F1 2021 las posiciones en ambos campeonatos muestran una consolidación del equipo Red Bull y sus pilotos, especialmente Max Verstappen.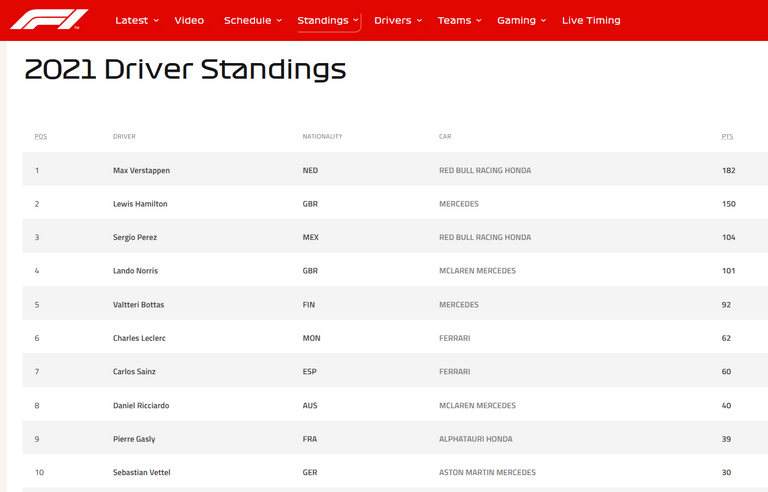 Campeonato Mundial de Pilotos 2021. / 2021 Driver Standings
With two races remaining in the F1 2021 season, the positions in both championships show a consolidation of the Red Bull team and its drivers, especially Max Verstappen.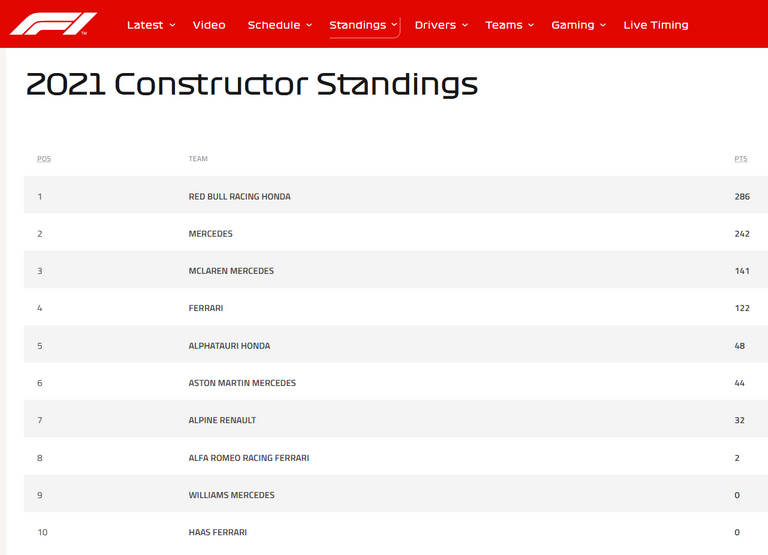 Campeonato Mundial de Constructores 2021 / 2021 Constructor Standings.
Traducido con: / Translated with: DeepL Translator -free version-

---
---