[ESP/ENG] Verstappen gana en Paul Ricard, alarga su ventaja en el Mundial de Pilotos de F1 y se confirma candidato al título. / Verstappen wins at Paul Ricard, extends his lead in the F1 Drivers' World Championship and is confirmed as a title contender.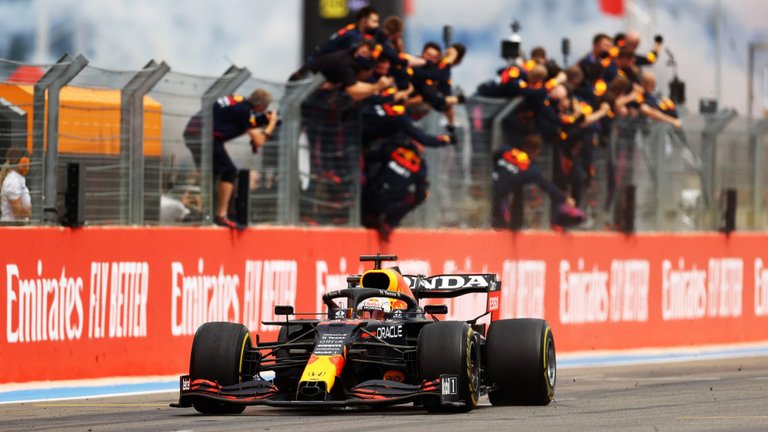 Verstappen y Red Bull puntean y alargan las diferencias con Hamilton y Mercedes respectivamente. / Verstappen and Red Bull lead and widen the gap to Hamilton and Mercedes respectively..
Si algo confirmaron los breves testeos de Shakir previos al inicio de la actual temporada de Fórmula era la supremacía de Red Bull sobre Mercedes, que es lo mismo que decir la supremacía de Verstappen sobre Hamilton.
Las pocas carreras en las que ha salido airoso el británico este año en su duelo con el holandés han sido más producto de una acertada estrategia de equipo que de superioridad mecánica.
En la carrera anterior Hamilton tuvo la oportunidad de recuperar el terreno perdido debido a la rotura del pneumático de la Red Bull a poco de final. Y no lo hizo. También él cometió un error y dejó pasar la oportunidad. No siempre Red Bull va a romper. O no siempre Verstappen se va a equivocar. Y eso Mercedes debe tenerlo en cuenta. Porque esta año más que nunca deche luchar a defenderse y no a atacar. Porque su rival (al menos hasta ahora) es superior. Y esto es algo a lo que Mercedes (y Hamilton) no están acostumbrados.
Red Bull es superior en todo (excepción hecha de ambos pilotos muy similares en sus capacidades técnicas y en su resistencia anímica). Tiene un medio mecánico que, con leves mejoras introducidas y permitidas (hasta ahora) por el reglamento ha logrado llenar un vacío importante. Tiene un equipo de mecánicos y asistentes que en boxes hace muchas veces la diferencia logrando tiempos mínimos récords para sacar los monoplazas con nuevos pneumáticos pareciendo haber heredado de Ferrari esa disciplina que hizo historia en la F1 por años.
En Paul Ricard (que regresó como circuito a la Fórmula Uno después de diez años de ausencia) Verstappen perdió la punta en la frenada de la primera curva. Sin embargo cuando se detuvo Hamilton a cambiar pneumáticos logró hilvanar un giro fantástico y entró delante de la Mercedes. O mejor dicho la superó en la misma curva que Hamilton lo había pasado primero.
De ahì en más fue un continuo tentativo de Lewis Hamilton de pasarlo y de Max Verstappen de defenderse.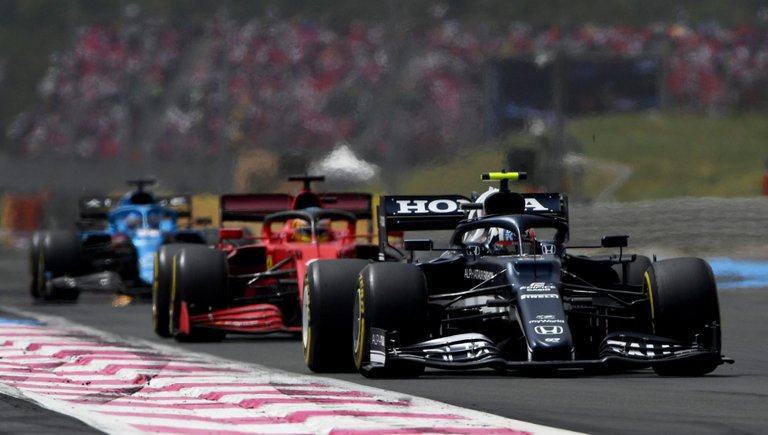 Gasly y su batalla con Norris en defensa de la séptima posición. / Gasly and his battle with Norris in defense of seventh position.
La victoria premia a los que arriesgan.
Hay un viejo refrán que dice que la victoria sonrie a los que arriesgan. Y aunque no se puede construir sobre ello una regla general a veces coincide con la realidad. Y eso fue lo que pasó en el GP de Francia.
Red Bull lanzó un ataque sorpresivo: cuando nadie lo esperaba entró en boxes cambió pneumáticos y salió a la pista con gomas nuevas. Lo verdaderamente destacable es que lo hizo cuando iba primero y podía especular. Tuvo la previsión que acompaña a los campeones.
La diferencia notable con el entonces puntero comenzó a reducirse paulatinamente. Ni siquiera Bottas segundo puedo ofrecerle resistencia. El finlandés parece irremediablemente perdido. Hasta anímicamente.
A ocho vueltas del final Hamilton había estabilizado la diferencia a 4-5 segundos de Verstappen con tiempos similares. Sin embargo las útimas vueltas fueron cruciales para el deterioro de los pneumáticos de la Mercedes y Verstappen no tuvo inconvenientes en superarlo en la penúltima vuelta.
Mérito a quien supo arriesgar en pos del espectáculo. Pero también consapevole de su propio poderío. Un poderío tal que hace que los rivales solo cuenten relativamente.
Ganó Verstappen. Ganó Red Bull con una parada más en boxes. Nos hace recordar a la mejor Mercedes de hace un par de temporadas atrás.
El campeonato se hace cada vez más cuesta arriba para Mercedes. Y marca un punto de inflexión. Si desea llegar con posibilidad a luchar por el título Hamilton no solo no deberá cometer errores sino que también Mercedes deberá superar en estrategia a una endemoniada Red Bull que parece haber encontrado un monoplaza similar al que le dio tantas satisfacciones con Vettel.
Los dos McLaren a espaldas de los dos Red Bull y los dos Mercedes confirman su buen momento y aspiran a ser la tercera fuerza en discordia. Esta vez Lando Norris termó quinto delante de Daniel Ricciardo.
Optima carrera de Pierre Gasly con Alpha Tauri, séptimo y de Fernando Alonso que vuelve a cosechar puntos con su octava posición
Ferrari con Leclerc y Sainz fuera de la zona puntos ratificó su mal momento y demostró que las actuaciones en Montecarlo especialmente y luego en Azerbaijan fueron solo un destello en el oscuro horizonte de la "rossa di Maranello".
Checo Pérez volvió a establecer una clara paternidad sobre Valtteri Bottas perdido en su propia inconsistencia y pensando m0s en su futuro que en la carrera.
Buena carrera de Aston Martin que mete los dos autos en la zona puntos con Vettel novena y Lance Stroll décimo.
El resto sigue navegando en aguas inciertas tratando de pescar algún punto pero lejos del grupo intermedio. Williams, Haas y Alfa Romeo deben todavía mejorar mucho para sumar algún punto (que vale mucho en la F1 a nivel di dinero) en su casillero.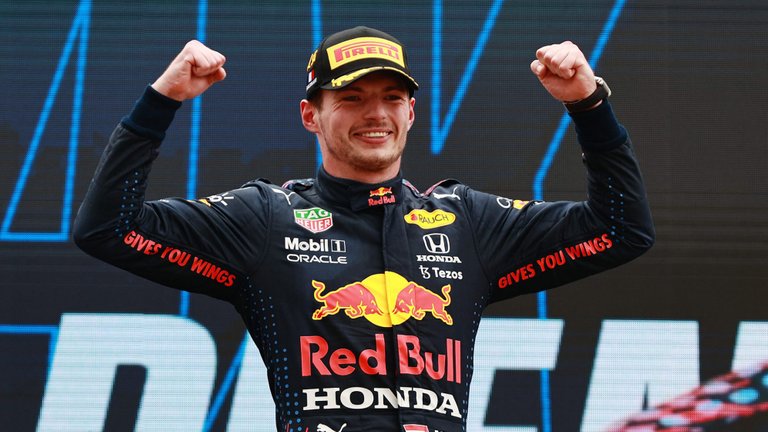 Verstappen logró superar a Hamilton y adjudicarse el GP de Francia faltando dos vueltas para el final de la carrera. / Verstappen managed to overtake Hamilton and clinch the French GP with two laps to go.
Verstappen wins at Paul Ricard, extends his lead in the Drivers' World Championship and confirms himself as a title contender
If anything confirmed the brief tests of Shakir prior to the start of the current Formula season was the supremacy of Red Bull over Mercedes, which is the same as saying the supremacy of Verstappen over Hamilton.
The few races in which the Briton has come out on top this year in his duel with the Dutchman have been more the product of a successful team strategy than of mechanical superiority.
In the previous race Hamilton had the opportunity to make up lost ground due to the Red Bull's tire failure near the end. And he didn't. He too made a mistake and missed the opportunity. Not always Red Bull is going to break. Or not always Verstappen is going to make a mistake. And that Mercedes must take into account. Because this year more than ever deche fight to defend and not to attack. Because his rival (at least so far) is superior. And this is something Mercedes (and Hamilton) are not used to.
Red Bull is superior in everything (with the exception of both drivers who are very similar in their technical capabilities and in their mental endurance). It has a mechanical environment that, with slight improvements introduced and allowed (so far) by the regulations, has managed to fill an important gap. It has a team of mechanics and assistants that often makes the difference in the pits, achieving record minimum times to get the cars out with new tires, seeming to have inherited from Ferrari that discipline that made history in F1 for years.
At Paul Ricard (which returned to Formula One as a circuit after a ten-year absence). Verstappen lost the lead in the braking of the first corner. However, when Hamilton stopped to change tires, he managed to make a fantastic turn and got in front of the Mercedes. Or rather, he overtook the Mercedes in the same corner where Hamilton had passed him first.
From then on it was a continuous attempt by Lewis Hamilton to pass him and Max Verstappen to defend himself.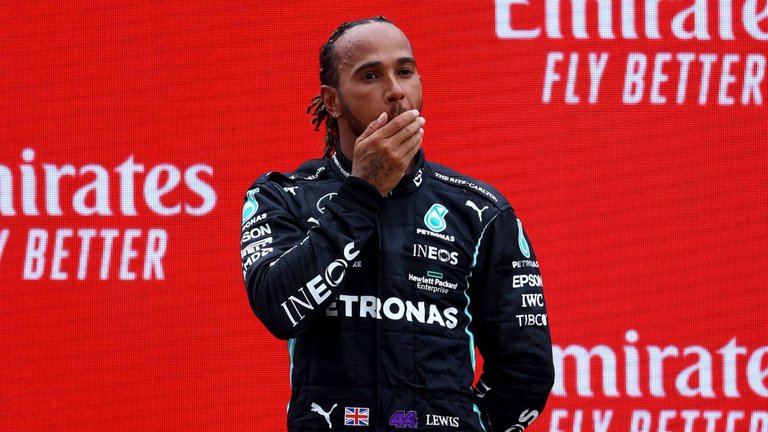 Una estrategia conservadora que no le dio resultados a Hamilton ni a Mercedes para ganar en el circuito Paul Ricard. / A conservative strategy that did not pay off for Hamilton and Mercedes to win at the Paul Ricard circuit.
Victory rewards those who take risks.
There's an old saying that victory smiles on those who take risks. And although you can't build on it a general rule sometimes it coincides with reality. And that's what happened at the French GP.
Red Bull launched a surprise attack: when no one expected it, he went into the pits, changed tires and went out on track with new tires. What is truly remarkable is that he did it when he was in the lead and could speculate. He had the foresight that accompanies champions.
The notable difference with the then leader began to narrow gradually. Not even Bottas second could offer him resistance. The Finn seems hopelessly lost. Even emotionally.
With eight laps to go Hamilton had stabilized the gap to 4-5 seconds of Verstappen with similar times. However, the last laps were crucial for the deterioration of the Mercedes tires and Verstappen had no problem to overtake him on the penultimate lap.
Credit to those who knew how to take risks for the sake of the show. But also credit to his own power. Such a power that makes the rivals count only relatively.
Verstappen won. Red Bull won with an extra pit stop. It reminds us of the best Mercedes of a couple of seasons ago.
The championship is becoming more and more uphill for Mercedes. And it marks a turning point. If Hamilton wants to have a chance to fight for the title, he will not only have to make no mistakes, but Mercedes will also have to overcome in strategy a demonic Red Bull that seems to have found a car similar to the one that gave them so much satisfaction with Vettel.
The two McLarens behind the two Red Bulls and the two Mercedes confirm their good moment and aspire to be the third force in discord. This time Lando Norris finished fifth ahead of Daniel Ricciardo.
An excellent race for Pierre Gasly with Alpha Tauri, seventh, and for Fernando Alonso who returns to score points with his eighth position.
Ferrari with Leclerc and Sainz out of the points zone ratified its bad moment and showed that the performances in Monte Carlo especially and then in Azerbaijan were just a flash in the dark horizon of the "rossa di Maranello".
Checo Perez established again a clear paternity over Valtteri Bottas lost in his own inconsistency and thinking more in his future than in the race.
Good race for Aston Martin that put both cars in the points with Vettel ninth and Lance Stroll tenth.
The rest continues to navigate in uncertain waters trying to catch some points but far from the intermediate group. Williams, Haas and Alfa Romeo still have to improve a lot to add some points (which is worth a lot in F1 in terms of money) in their locker.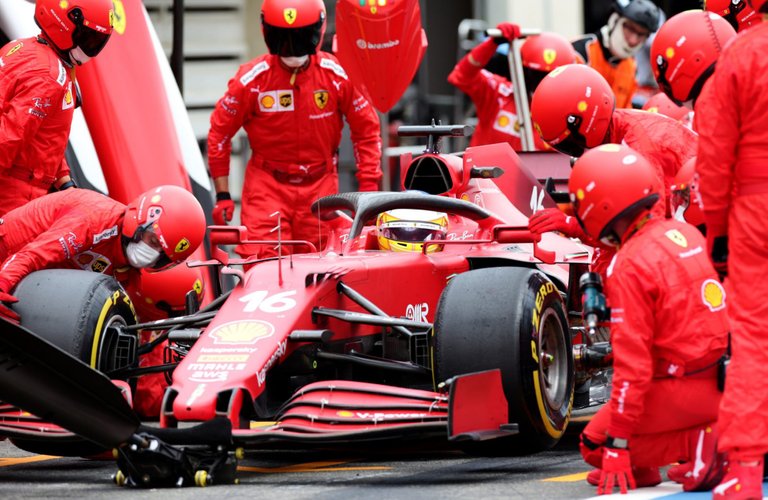 Una nueva desilusión para Ferrari con los dos autos fuera de la zona puntos. / A new disappointment for Ferrari with both cars out of the points zone.
Posiciones finales de la carrera. / Final positions of the race.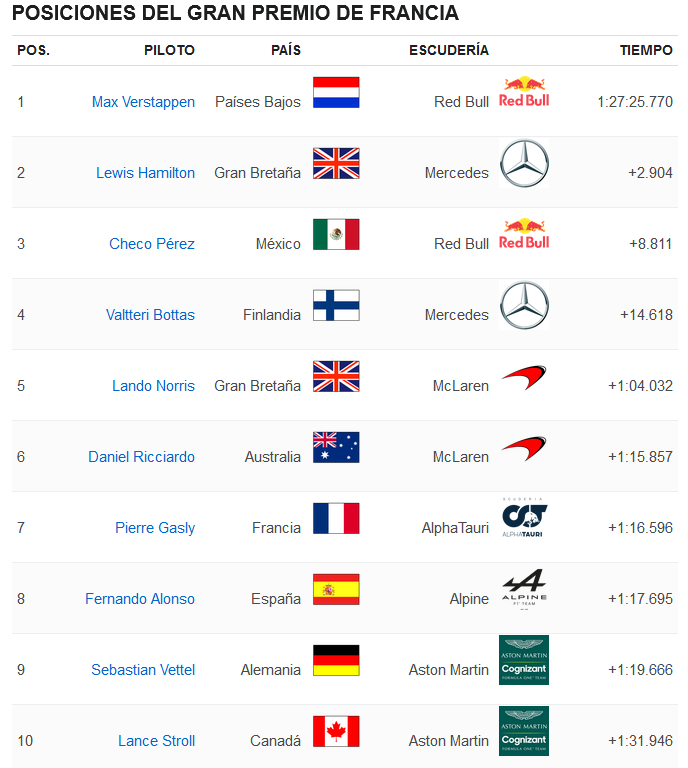 Source/Fuente.
Campeonato Mundial de Pilotos. / World Drivers' Championship.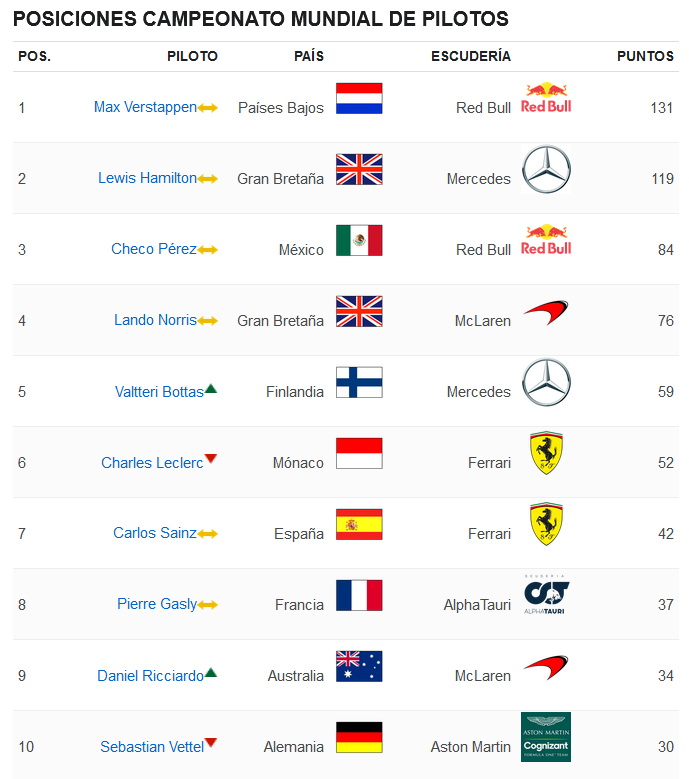 Max Verstappen alarga a 12 puntos su diferencia sobre Lewis Hamilton en la lucha por conquistar el Mundial de Pilotos de F1. / Max Verstappen extends to 12 points his gap over Lewis Hamilton in the fight to win the F1 Drivers' World Championship.
Campeonato Mundial de Constructores. / World Constructors' Championship.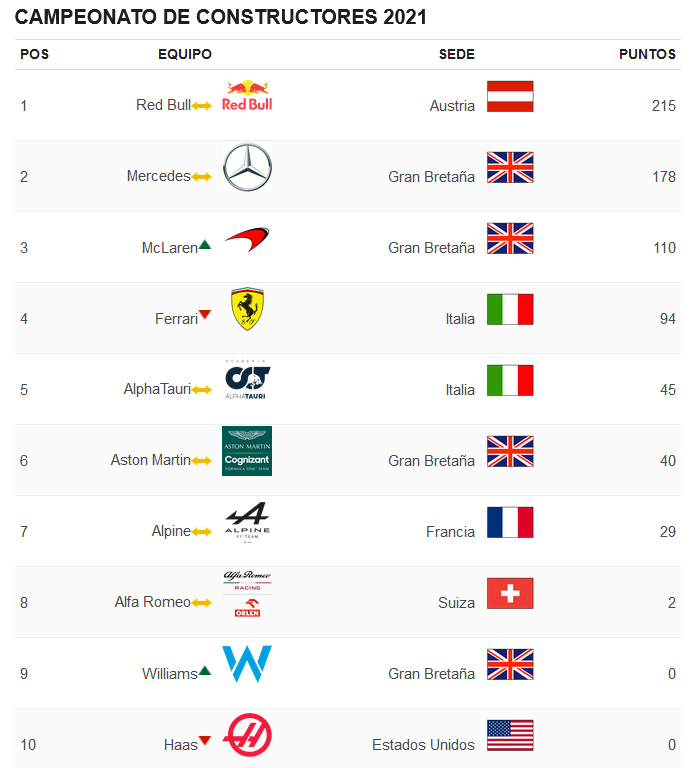 Red Bull afianza su lideragzo en el Mundial de Constructores mientras McLaren no desentona en el tercer lugar. / Red Bull consolidates its lead in the Constructors' World Championship, while McLaren is still in third place.
Traducido con: / Translated with: DeepL Translator (free version)

---
---