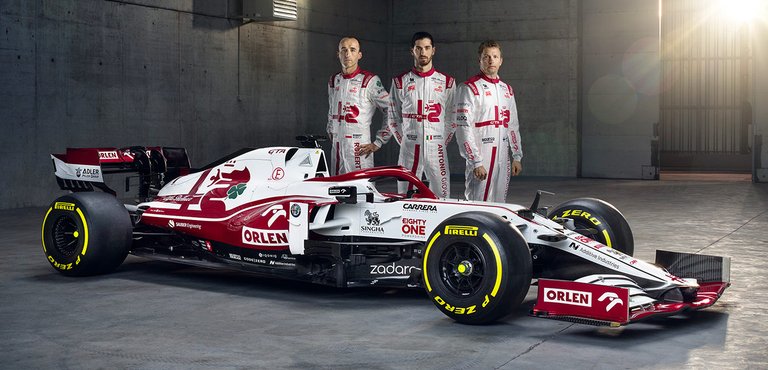 Fuente.
Hace pocas horas fue presentada en el Grand Theatre de Varsovia (Polonia) la nueva Alfa Romeo C41 para la temporada 2021.
El finlandés Kimi Raikkonen con un pasado de campeón en Ferrari y el italiano Antonio Giovinazzi los pilotos confirmados para la nueva temporada estuvieron presentes en el evento. Con una particularidad. Giovinazzi es el único piloto italiano en la F1 y Kimi con 41 años y toda su experiencia a cuestas es el más anciano del circuito.
Otro conocido es el piloto que se encargará de testear la máquina. Se trata del polaco Robert Kubica que volvió a la F1 hace un par de temporadas después de haber salvado milagrosamente su vida en el espantoso accidente del Rally Ronde en Andora (Italia). Primero como piloto de la Williams y ahora como tercer piloto de la Alfa Romeo Racing.
El nuevo bólido de la F1 ha sido producido en los establecimientos de la Sauber en Hinvill (Suiza) y presenta muchas novedades con respecto a la versión que tan magros resultados dio en la temporada 2020. Comenzando por el motor. Será un motor Ferrari a impulsar la nueva Alfa Romeo.
Recordemos que la nueva Alfa Romeo de F1 nace de la unión entre Sauber, Alfa Romeo y el grupo ORLEN para agregar un nuevo y entusiasmante capítulo en la historia del automobilismo deportivo, como lo han manifestado sus propios fundadores. Orlen es una multinacional petrolera de origen polaco.
Ferrari será un socio técnico y también el principal proveedor de los elementos mecánicos más importantes como el motor, la caja de cambios y las suspensiones traseras.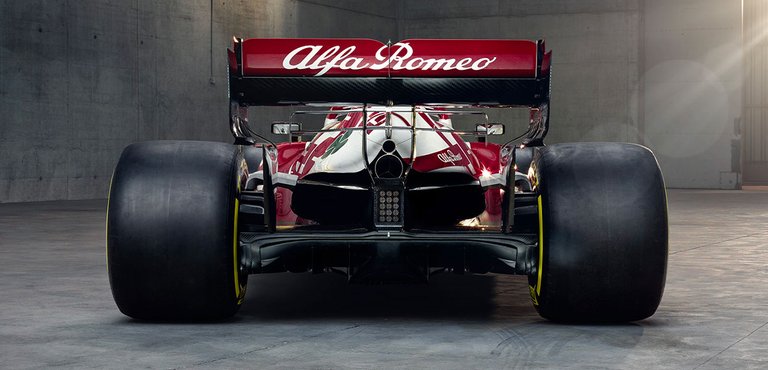 Fuente.
Los números de una temporada decepcionante.
El 2020 fue decepcionante en todos los sentidos para la Alfa Romeo en la Fórmula 1. Y si las críticas no fueron más adversas aún fue por la desastrosa campaña de la Ferrari. Considerando las sumas invertidas por una y otra y el resultado en el Mundial de Constructores y Pilotos al terminar el año el telón que cayó por ambas tuvo más piedad con la primera que con el Cavallino Rampante.
Terminó la campaña en la octava posición del campeonato de constructores con sólo ocho puntos (lo cuál no sería en si mismo tan negativo ya que pocos puntos significan muchos millones de dólares en F1) sino que las expectativas al inicio de la temporada hacían presumir que podía obtener puntos en algo que las cuatro carreras en que los logró (de 17 GP disputados).
La crítica mayor es que los puntos fueron obtenidos simplemente por llegar a la meta. Resistencia pura. Si puntuaron en solo 4 carreras lo mismo se puede decir para las veces que lograron pasar la eliminación en la primera tanda clasificatoria (Q1).
Por otro lado fue el penúltimo equipo más lento en una vuelta, superando solo Haas y Williams.
Otro punto débil fueron las paradas en boxes que, como promedio, han durado casi 5 segundos contra la mitad de Red Bull el equipo más rápido
Hay mucho margen de mejora para el 2021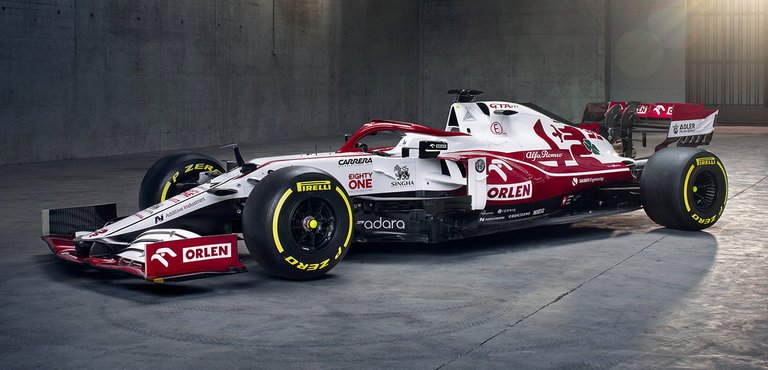 Source.
A few hours ago, the new Alfa Romeo C41 for the 2021 season was presented at the Grand Theater in Warsaw (Poland).
The Finn Kimi Raikkonen with a past as champion at Ferrari and the Italian Antonio Giovinazzi, the drivers confirmed for the new season, were present at the event. With a particularity. Giovinazzi is the only Italian driver in F1 and Kimi with 41 years and all the experience behind him is the oldest on the circuit. Another known is the pilot who will be in charge of testing the machine.
This is the Polish Robert Kubica who returned to F1 a couple of seasons ago after miraculously saving his life in the horrible accident at the Rally Ronde in Andora (Italy). First as a Williams driver and now as a third Alfa Romeo Racing driver.
The new F1 car has been produced at the Sauber plants in Hinvill (Switzerland) and presents many new features compared to the version that gave such meager results in the 2020 season. Starting with the engine. It will be a Ferrari engine to power the new Alfa Romeo.
Let us remember that the new Alfa Romeo F1 was born from the union between Sauber, Alfa Romeo and the ORLEN group to add a new and exciting chapter in the history of motorsports, as has been stated by its own founders. Orlen is a multinational oil company of Polish origin.
Ferrari will be a technical partner and also the main supplier of the most important mechanical elements such as the engine, the gearbox and the rear suspensions.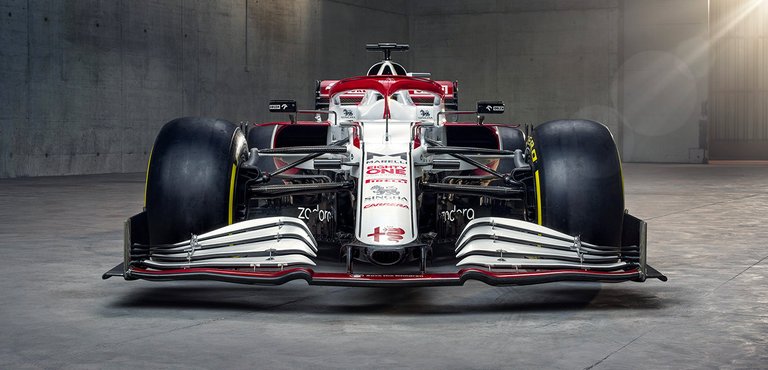 Source.
The numbers of a disappointing season.
2020 was disappointing in every way for Alfa Romeo in Formula 1. And if the criticism was not more adverse, it was still for the disastrous Ferrari campaign. Considering the sums invested by one and the other and the result in the Constructors 'and Drivers' World Championship at the end of the year, the curtain that fell for both had more mercy on the former than on the Prancing Horse.
He finished the campaign in eighth position in the constructors' championship with only eight points (which would not be so negative in itself since few points mean many millions of dollars in F1) but expectations at the beginning of the season made it possible to presume that get points in something than the four races in which he achieved them (out of 17 GPs).
The biggest criticism is that the points were earned simply for reaching the goal. Pure resistance. If they scored in only 4 races the same can be said for the times they managed to pass the elimination in the first qualifying round (Q1).
On the other hand it was the penultimate team slowest in a lap, beating only Haas and Williams.
Another weak point was the pit stops which, on average, have lasted almost 5 seconds against half of Red Bull the fastest team
There is a lot of room for improvement by 2021
Translated with www.DeepL.com/Translator (free version)