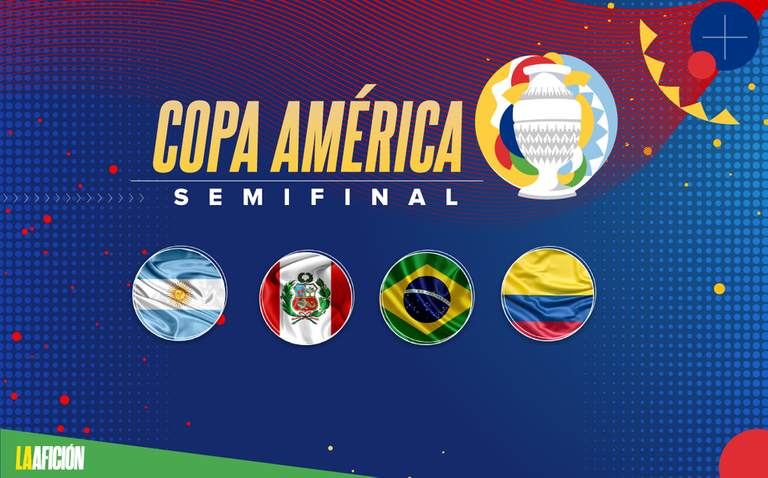 La Copa América 2021 entra en su etapa definitoria. / The Copa America 2021 enters its definitive stage.
Había ya dos plazas para los semifinalistas de la Copa América. Ellos son Brasil, que es el país anfitrión luego de que Colombia y Brasil rechazaran la organización de la misma por la pandemia del coronavirus- y Perú el equipo dirigido por Gareca que milagrosamente se salvó de quedar eliminado en la zona de grupos.
Perú clasificó por penales ante Paraguay luego de empatar 3 a 3 un partido espectacular y Brasil ganó por la mínima diferencia 1 a 0 ante Chile. Ambos seleccionados se enfrentarán en una de las semifinales el próximo lunes 5 de julio en el Estadio Olímpico Nilton Santos de la ciudad de Río de Janeiro, uno de los principales escenarios donde se desarrollaron los Juegos Olímpicos de Río de Janeiro en 2016.
Uruguay 0 (2) - Colombia 0 (4)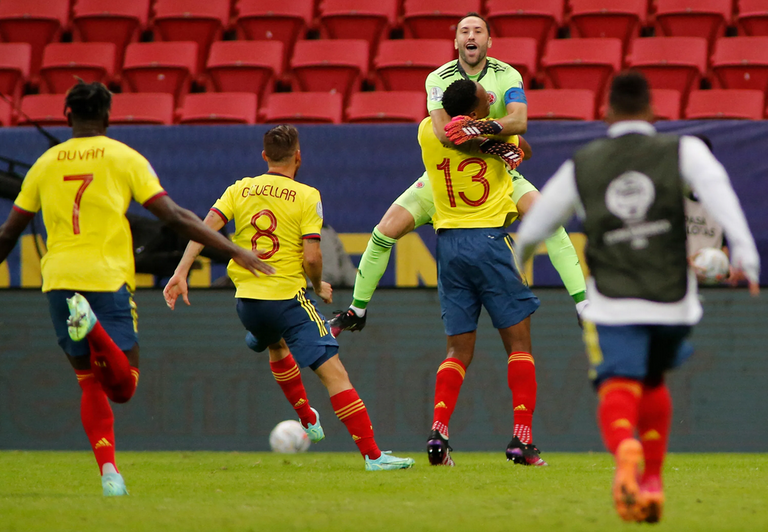 Ospina es abrazado por sus compañeros luego de atajar dos penales y darle a Colombia el pase a semifinales. / Ospina is embraced by his teammates after saving two penalties and giving Colombia a place in the semifinals.
Apostando al error del rival más que a los aciertos propios Uruguay y Colombia protagonizaron un encuentro vital para acceder a semifinales de la Copa América.
Y entre una inexpresiva Colombia desde su caudal futbolístico hasta un Uruguay demasiado ligado a sus viejas costumbres de fuerza, lucha y coraje, salio un encuentro deslucido, con pocos atractivos y pocas situaciones de gol.
Tal vez el error principal de Uruguay esté en ser demasiado dependiente de los goles de Suárez o Cavani. Anulando los dos artilleros su potencial ofensivo se reduce casi a cero.
Al equipo del maestro Tabárez le sirven jugadores de recambio. En forma urgente. Antes que la ilusión de clasificar al próximo mundial también se apague.
Colombia que históricamente siempre fue un equipo de buen juego esta vez se disfrazó de Uruguay y alzó un muro con Yerry Mina y Davinson Sánchez que no pudieron superar los atacantes uruguayos.
Y Uruguay, con sus limitaciones técnicas, poco pudo hacer para cambiar el rumbo del partido.
Y sufrió los contragolpes de una Colombia que apostaba todo a la cabeza de Duvan Zapata.
Y que pudo haber gritado en bien tres ocasiones si no hubiera sido por las proverbiales intervenciones del arquero Muslera.
Y en la lotería de los penales el número ganador lo sacó Ospina, el arquero y capitán colombiano que tapó dos remates y le dio a su equipo la posibilidad de acceder a semifinales.
Argentina 3 - Ecuador 0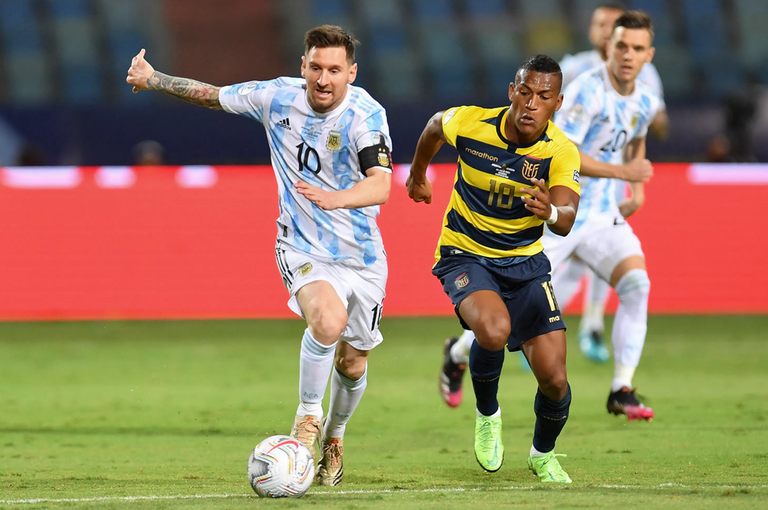 Argentina pudo consolidar el resultado en el último cuarto de hora para derrotar con comodidad a Ecuador. / Argentina was able to consolidate the result in the last quarter of an hour to comfortably defeat Ecuador.
Pocas veces la selección argentina de fútbol ha contado con un Lionel Messi tan iluminado y jugando para el equipo como en esta Copa América 2021.
Hablar de las cualidades de aquel que es considerado por muchos el mejor jugador del mundo es redundante, opiniones en contrario a parte por supuesto.
Pero tal vez muy pocas veces como en esta Copa América ha sabido poner esa tremenda calidad al servicio de su equipo. Y que el seleccionado albiceleste lo entendiera perfectamente.
Jugando algo más retrasado que en el Barcelona, más de enganche que de delantero, tuvo una situación clarísima de gol a poco de iniciado el encuentro que pegó en el palo, fueron suyas las dos asistencias en los goles de De Paul y Martínez y convirtió de tiro libre un auténtico golazo luego de que el VAR revocara la decisión del árbitro Sampaio de cobrar penal a favor e Argentina por falta contra De María.
Como otras veces la albiceleste giró en base a su astro, como su centro de gravedad.
Tal vez la lectura que debemos hacer de esos últimos quince minutos electrizantes de Argentina comparados con los hasta ese momento treinta minutos anodinos y patéticos de Argentina vapuleada por un Ecuador dotado de un (excesivo) coraje y juego fuerte como armas principales para anular al rival, son los jugadores ingresados en ese ínterim.
Es evidente que Guido Rodríguez y De María, cada uno en su rol, se integran en el mediocampo en manera mucho más eficaz que sus compañeros substituídos.
No se trata de decir que uno es mejor que otro. Esa polarización en la calidad de las personas y/o jugadores ha sido siempre negativa.
Teniendo una estrella que ilumina con fulgor propio todo el firmamento del campo de juego (si se me permite una disquisición poética) es evidente que el entrenador debe tratar de alinear los restantes planetas a su alrededor.
Y en este caso la palabra alinear significa integrar, hacer funcionar mejor el equipo.
Es una constante que Argentina juegue bien los primeros quince minutos, regular el resto y muy mal los inicios del segundo tiempo.
Y que el entrenador retrasa más de los debido los cambios. Llama la atención su pasividad.
Que hubiera sucedido si Ecuador hubiera empatado el partido o se hubiera puesto en ventaja con los cabezazos de Valencia? Las oportunidades las tuvo y solo un error de puntería evitó lo que hibiera sido un desastre para el seleccionado argentino. Y alguna buena atajada del arquero Martínez.
Fueron suficientes que los planetas se alinearan en torno al astro durante quince minutos para que Argentina hiciera desaparecer -literal y futbolísticamente hablando- a Ecuador.
Pero: era necesario llegar a ese sufrimiento?

There were already two places for the semifinalists of the Copa America. They are Brazil, which is the host country after Colombia and Brazil refused to host the event due to the coronavirus pandemic, and Peru, the team led by Gareca, which miraculously escaped elimination in the group stage.
Peru qualified through penalties against Paraguay after tying 3-3 in a spectacular match and Brazil won by the minimum difference 1-0 against Chile. Both teams will face each other in one of the semifinals next Monday, July 5 at the Nilton Santos Olympic Stadium in the city of Rio de Janeiro, one of the main venues where the 2016 Rio de Janeiro Olympic Games took place.
Uruguay 0 (2) - Colombia 0 (4)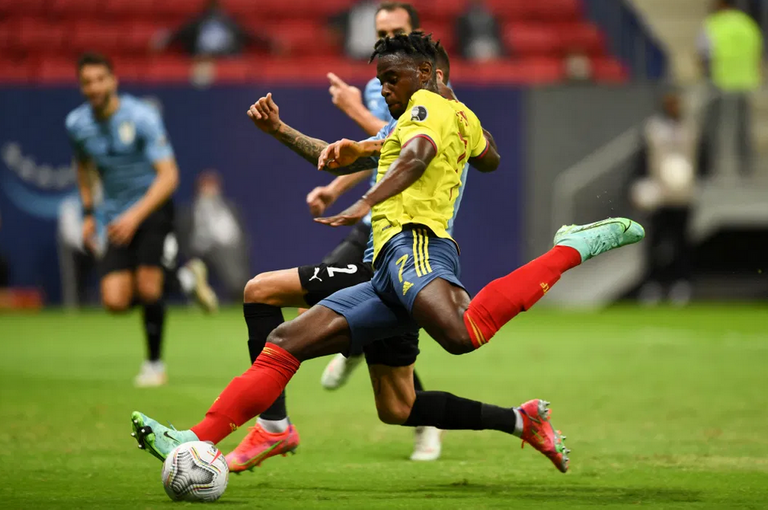 Colombia y Uruguay disputaron un encuentro más luchado y forcejeado que jugado. / Colombia and Uruguay played a match that was more fought and struggled than played.
Betting on the opponent's mistakes more than on their own successes, Uruguay and Colombia played a vital match to reach the semifinals of the Copa America.
And between an inexpressive Colombia from its soccer flow to a Uruguay too tied to its old habits of strength, fight and courage, it was a lackluster match, with few attractions and few goal situations.
Perhaps Uruguay's main mistake is in being too dependent on the goals of Suarez or Cavani. By annulling the two strikers, their offensive potential is reduced to almost zero.
Tabarez's team could use some spare players. Urgently. Before the illusion of qualifying for the next World Cup is also extinguished.
Colombia, which historically has always been a team with a good game, this time disguised itself as Uruguay and built a wall with Yerry Mina and Davinson Sanchez that the Uruguayan attackers could not overcome.
And Uruguay, with its technical limitations, could do little to change the course of the match.
And they suffered the counterattacks of a Colombia that bet everything on the head of Duvan Zapata.
And that could have scored three times had it not been for the proverbial interventions of goalkeeper Muslera.
And in the lottery of penalties, the winning number was drawn by Ospina, the Colombian goalkeeper and captain, who saved two shots and gave his team the chance to reach the semifinals.
Argentina 3 - Ecuador 0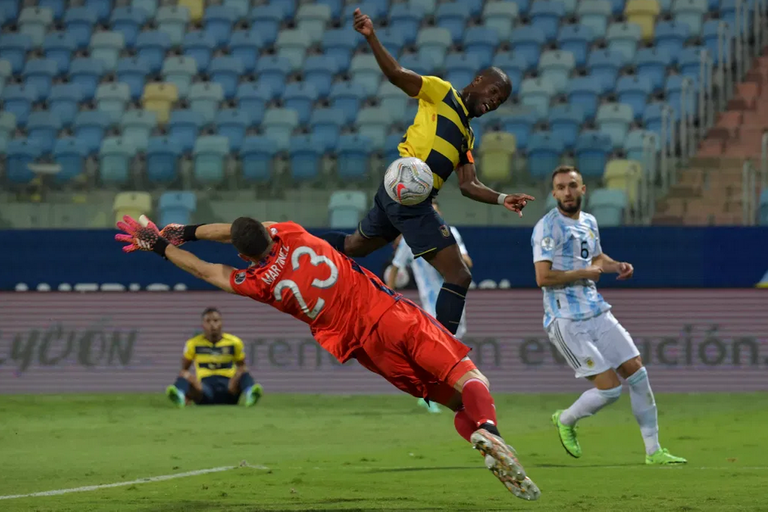 Ecuador striker Eder Valencia twice came close to tying the game.
Rarely has the Argentine national soccer team had a Lionel Messi so enlightened and playing for the team as in this Copa America 2021.
Talking about the qualities of the one who is considered by many the best player in the world is redundant, opinions to the contrary aside of course.
But perhaps very few times as in this Copa America he has been able to put that tremendous quality at the service of his team. And that the Albiceleste team understood it perfectly.
Playing a bit further back than in Barcelona, more as a midfielder than as a striker, he had a very clear goal situation shortly after the start of the match that hit the post, he had two assists in the goals of De Paul and Martinez and converted a free kick after the VAR overturned the decision of the referee Sampaio to charge a penalty in favor of Argentina for a foul against De Maria.
As on other occasions, the Albiceleste turned around their star, as their center of gravity.
Perhaps the reading we should make of those last fifteen electrifying minutes of Argentina compared to the thirty anodyne and pathetic minutes of Argentina beaten by an Ecuador endowed with (excessive) courage and strong play as main weapons to nullify the opponent, are the players entered in that interim.
It is evident that Guido Rodriguez and De Maria, each in his own role, are integrated in the midfield in a much more effective way than their substituted teammates.
It is not a question of saying that one is better than the other. This polarization in the quality of people and/or players has always been negative.
Having a star that illuminates with its own brilliance the whole firmament of the playing field (if I may be allowed a poetic disquisition) it is obvious that the coach must try to align the remaining planets around him.
And in this case the word align means to integrate, to make the team work better.
It is a constant that Argentina plays well the first fifteen minutes, regular the rest of the game and very badly at the beginning of the second half.
And that the coach delays the changes more than he should. His passivity is striking.
What would have happened if Ecuador had tied the match or had taken the lead with Valencia's headers? They had the opportunities and only a mistake in their aim prevented what would have been a disaster for the Argentinean team. And some good saves by goalkeeper Martinez.
It was enough that the planets were aligned around the star for fifteen minutes for Argentina to make Ecuador disappear -literally and football-wise-.
But: was it necessary to go through that kind of suffering?
Traducción efectuada con / Translated with: DeepL Translator
El separador que divide ambos textos (en español e inglés) ha sido desarrollado por el usuario @scarletlopezj -a quien agradezco la posibilidad de usarlo- y lo encuentran en este post y ha sido modificado por el autor con el logo oficial de la COPA AMERICA 2021 descargado desde esta página.
The separator that divides both texts (in Spanish and English) has been developed by the user @scarletlopezj -to whom I thank the possibility of using it- and can be found in this post and has been modified by the author with the official logo of the COPA AMERICA 2021 downloaded from this page.