[ESP] Brasil sin brillar demasiado superó a Perú por la mínima diferencia y se metió en la final de la Copa América 2021 / [ENG] Brazil without shining too much beat Peru by the smallest difference and got into the final of the Copa América 2021.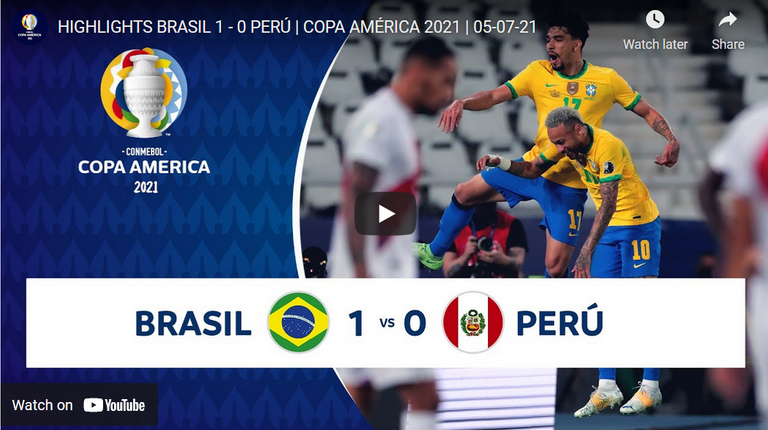 Con una asistencia de Neymar y el gol de Paquetá Brasil derrotó a Perú y alcanzó la final de la Copa América 2021. / With an assist from Neymar and Paqueta's goal Brazil defeated Peru and reached the final of the Copa America 2021.
Brasil no brilló. Ni siquiera jugó bien. Algunas jugadas esporádicas (como la del gol a cargo de Neymar y concretada por Lucas Paquetá) no alcanzan para borrar una desteñida imagen de la canarhina en la semifinal frente a Perú que la llevó por segunda vez consecutiva a la final de la Copa América.
Ya les había hablado en este post que en el encuentro inaugural con una Venezuela totalmente diezmada por el coronavirus había podido comenzar a definir el partido recién en el segundo tiempo con un penal y al terminar el partido con un gol en los últimos minutos. Demasiado poco para todos los nombres que tiene. Poco valor agregado a la calidad futbolística de sus jugadores.
El partido.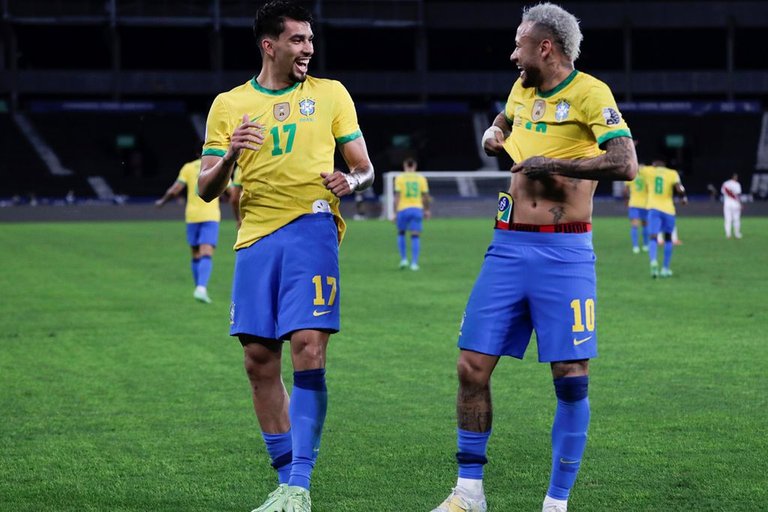 Neymar y Paquetá festejan el gol de Brasil que vale una final. / Neymar and Paquetá celebrate Brazil's goal that is worth a final.
A veces resulta difícil entender a los entrenadores. Podemos aceptar un cierto recelo de Perú para jugar contra Brasil. Hasta un cierto complejo de inferioridad si se quiere. Y por lo tanto la actitud defensiva, con cinco defensores que nunca se despegaban de la línea defensiva, con mediocampistas tratando de asegurar el balón antes que atacar y delanteros que colaboraban con la recuperación del mismo era una estrtegia lógica.
Hasta ahí nada que recriminar a Ricardo Gareca el DT de Perú. Consciente de sus limitaciones trató de bajarle el ritmo al partido.
Sin embargo en el segundo tiempo con el marcador abajo de un gol y sabiendo que enfrente habia un equipo con muchos nombres altisonantes pero poca producción y peligro en el juego, Perú cambió totalmente estrategia.
Ingresó un lateral que se mandaba continuamente al ataque, un mediocampista ofensivo y los delanteros comenzaron a adelantarse en el terreno.
Y se vio la mejor del equipo peruano. demostrando que si bien se clasificó en última instancia y gracias a los problemas de Venezuela, haber dejado en el camino a Paraguay y entrar en semifinales no era obra de la casualidad.
En el complemento se vio el mejor Perú. Concentrado, solidario, con un despliegue físico fenomenal comenzó a meter a Brasil contra su arco.
Y si bien no tuvo muchas oportunidades de gol (las pocas que creó las resolvió bien el arquero brasileño) comenzó a desnudar las falencias de un Brasil que ni siquiera tuvo -en la posibilidad concreta del contraataque en la que se había refugiado- situaciones como para aumentar el marcador y llegar a un final de partido más desahogado.
Con el correr de los minutos el cansancio en los jugadores peruanos se hizo sentir y esa presión constante y asfixiante comenzó a menguar. Pero ni siquiera eso envalentonó a un timorato Brasil demasiado refugiado en la ventaja parcial como para arriesgar mínimamente en el ataque.
Perú regaló un tiempo, la mitad del partido. Y Brasil haciendo muy poco lo aprovechó, marcó un gol, ganó el partido y accedió a la final.
Sin embargo, en el análisis contextual del partido, mostró bastante poco. Eso si, tampoco regaló nada. Y esta tal vez sea la característica de estos tipos de partido. Donde más que jugar bien y convencer cuenta ganar. Y desde ese punto de vista, mínimo si se quiere, Brasil cumplió.
Y por ese motivo es el primer finalista de la Copa América 2021.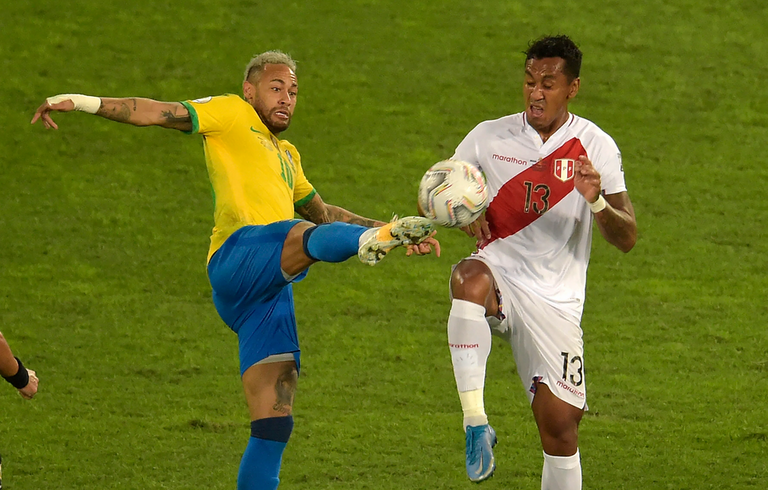 En una final más luchada que jugada Brasil ganó por la mínma diferencia y alcanzó la final de la Copa América 2021. / In a final that was harder fought than played, Brazil won by the narrowest of margins and reached the final of the Copa América 2021.

Brazil did not shine. They did not even play well. Some sporadic plays (such as the goal scored by Neymar and scored by Lucas Paqueta) were not enough to erase the faded image of the Canarhina in the semifinal against Peru, which took them to the final of the Copa America for the second consecutive time.
I had already told you in this post that in the opening match with a Venezuela totally decimated by the coronavirus, they had been able to start to define the match only in the second half with a penalty and at the end of the match with a goal in the last minutes. Too little for all the names they have. Little added value to the soccer quality of its players.
The match.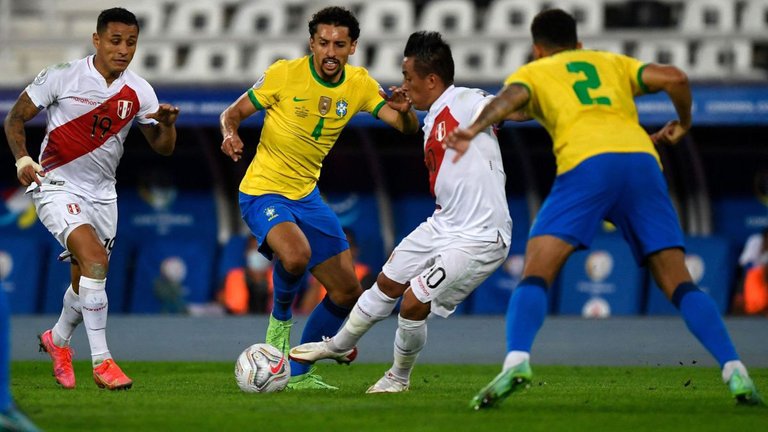 La lucha por el dominio del mediocampo y el increíble despliegue físico de Perú impidieron a Brasil de mostrar su mejor juego. / The struggle to dominate the midfield and Peru's incredible physical display prevented Brazil from playing their best game.
Sometimes it is difficult to understand coaches. We can accept a certain mistrust of Peru to play against Brazil. Even a certain inferiority complex if you will. And therefore the defensive attitude, with five defenders who never left the defensive line, with midfielders trying to secure the ball before attacking and forwards who collaborated with the recovery of the ball was a logical strategy.
Up to that point, there was nothing to reproach Ricardo Gareca, Peru's coach. Aware of his limitations, he tried to slow down the pace of the match.
However, in the second half with the score down by one goal and knowing that there was a team with many big names but little production and danger in the game, Peru totally changed strategy.
They brought in a winger who was constantly on the attack, an attacking midfielder and the forwards began to move forward in the field.
And the best of the Peruvian team was seen, showing that although they qualified in the last instance and thanks to Venezuela's problems, having left Paraguay in the way and entering the semifinals was not a coincidence.
The second half saw the best Peru. Concentrated, united, with a phenomenal physical display, they started to put Brazil against their goal.
And although they did not have many goal opportunities (the few they created were well solved by the Brazilian goalkeeper), they began to expose the weaknesses of a Brazil that did not even have -in the concrete possibility of the counterattack in which they had taken refuge- situations to increase the score and reach a more relaxed end of the match.
As the minutes went by, the Peruvian players became tired and the constant and suffocating pressure began to wane. But not even that emboldened a timorous Brazil, too sheltered in the partial advantage to take the slightest risk in attack.
Peru gave away a half, half of the match. And Brazil, doing very little, took advantage of it, scored a goal, won the match and reached the final.
However, in the contextual analysis of the match, they showed very little. However, they didn't give anything away either. And this is perhaps the characteristic of this type of match. More than playing well and convincing, winning counts. And from that point of view, minimal if you will, Brazil delivered.
And for that reason it is the first finalist of the Copa America 2021.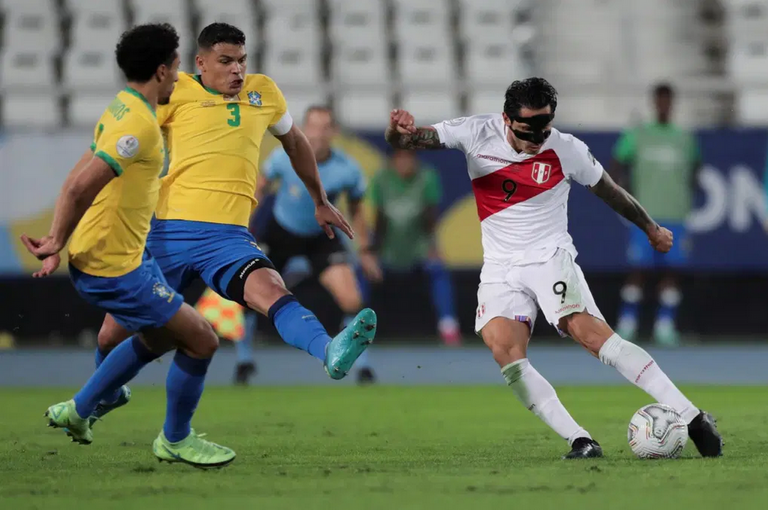 El delantero (italiano nacionalizado peruano) Gianluca Lapadula dispara al arco en una de las situaciones de peligro creadas por Perú. / Forward Gianluca Lapadula (Italian nationalized Peruvian) shoots at goal in one of the dangerous situations created by Peru.
Traducción efectuada con / Translated with: DeepL Translator
El separador que divide ambos textos (en español e inglés) ha sido desarrollado por el usuario @scarletlopezj -a quien agradezco la posibilidad de usarlo- y lo encuentran en este post y ha sido modificado por el autor con el logo oficial de la COPA AMERICA 2021 descargado desde esta página.
The separator that divides both texts (in Spanish and English) has been developed by the user @scarletlopezj -to whom I thank the possibility of using it- and can be found in this post and has been modified by the author with the official logo of the COPA AMERICA 2021 downloaded from this page.
---
---