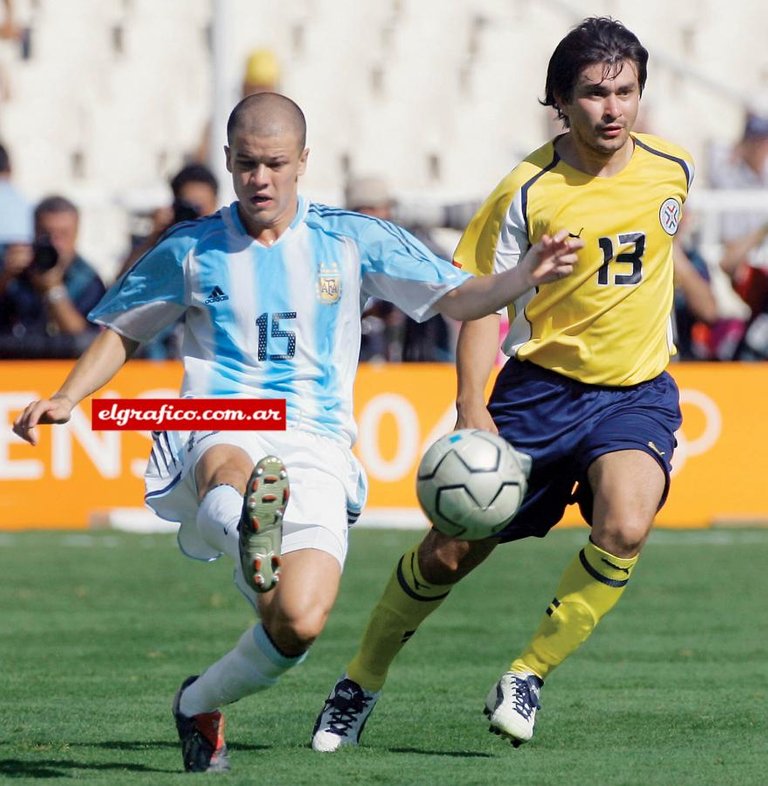 Argentina contra Paraguay en la finalísima de Atenas 2004.
El fútbol sudamericano es cuna de talentos en el fútbol mundial. Sin embargo no siempre ha logrado obtener los títulos que esa enorme cantera de fútbol bien jugado, habilidades, talentos y gusto por el buen fútbol -a priori- se merecería.
Y los Torneos Olímpicos de Fútbol no han sido, ni por asomo, una excepción.
Hoy quiero hablarles de un momento olímpico particular de mi vida: cuando Argentina logró en forma consecutiva en los Juegos Olímpicos de 2004 en Atenas (Grecia) y 2008 en Beijing (China) la medalla de oro.
Atenas 2004.
Así como la selección profesional de mayores -llamémosla de este modo- cuenta generalmente con el aval de todos los clubes propietarios de las fichas de los jugadores -la mayoría europeos- y existe incluso una cláusula contractual que obliga a cederlos para disputar el Mundial cada cuatro años, constituyendo de esta manera una especie de protección para su competencia primero en las eliminatorias y después en la fase del Mundial verdadera y propia, en los Juegos Olímpicos no es así.
Ya sea en la fase clasificatoria como en las Olimpíadas los clubes pueden negarse (y generalmente lo hacen) a ceder sus jugadores argumentando múltiples razones (salvo el egoísmo que obviamente sería muy antipático reconocer).
Por este motivo los seleccionados olímpicos de fútbol (al menos de Argentina) se forman generalmen te con una mezcla de jugadores que ni siquieran remotamente ambicionan a integrar el seleccionado nacional que disputa la Copa del Mundo.
Para citar un ejemplo en los actuales Juegos Olímpicos en los que Argentina ni siquiera pudo superar la fase de grupos, el seleccionado nacional estuvo formado por jugadores de Lanús, Talleres, Goodoy Cruz, Argentinos Juniors y algún que otro club extranjero de segundo nivel o la liga MLS.
Los grandes equipos no cedieron absolutamente ningún jugador: Boca, River, Rácing, Independiente, por solo citar los principales, todos ausentes de la convocatoria.
Y el resultado quedó a la vista. Derrotados 2 a 0 por Australia en el debut no pudieron recuperarse y quedaron afuera. Una pena.
Pero no siempre fue así: para las eliminatorias y las Olimpíadas del 2004 y del 2004 el seleccionado se preparó como debía. Con tiempo, anticipación, programación y un organigrama delineado a la perfección.
Claro, el DT era el conocido Marcelo "El Loco" Bielsa, fanático por la organización hasta en los más mínimos detalles. Cuando dirigía el Athletic Bilbao intimó a los dirigentes a majorar el campo de juego porque sostenía que si él exigía a sus jugadores, éstos debían contar con los elementos necesarios para desarrollar su actividad. Y algo parecido exigió a la cúpula directa del Leeds cuanso asumió su dirección técnica.
El 28 de agosto de 2004 Argentina obtuvo la medalla de Oro en Atenas después de más de medio siglo sin obtener medallas doradas. En esa oportunidad el halago había sido para los remeros Tranquilo Capozzo y Eduardo Guerrero que se habían adjudicado la prueba de doble par de remos sin timonel en los Juegos Olímpicos de Helsinki.
A pesar de la tremenda cantidad de jugadores argentinos "exportados" hasta ese momento el fútbol argentino había accedido dos veces a una final, y en ambos casos las había perdido: Amsterdam 1928 y casi setenta años depués en Atlanta 1996.
La década del 80 marcó un cambio ya que en los Juegos de Los Angeles de 1984 se permitió incorporar a jugadores profesionales. Y a partir de ese momento comenzó a gestarse la empresa argentina.
Argentina pudo contar con talentos jóvenes de inmensa calidad para disputar los Juegos Olimpicos como Tévez, Mascherano, Saviola, D'Alessandro por citar solo algunos ejemplos a los cuáles se agregaron otros con más experiencia como Heinze, Ayala y el "Kily" González ya que se permitía incorporar hasta tres jugadores con más de 23 años.
La filosofía de Bielsa queda reflejda en sus declaraciones después de haber ganado el oro olímpico en la final contra Paraguay por 1 a 0:
"Yo no ad­hie­ro ni al fút­bol so­bree­la­bo­ra­do ni al di­rec­to y li­neal. A al­gu­nos les gus­ta más el jue­go ca­den­cio­so y otros pre­fie­ren el jue­go rá­pi­do. Pe­ro de­cir que ju­gar rá­pi­do es ju­gar mal o que ju­gar ca­den­cio­so es ju­gar mal, es de­cir yo soy el due­ño de la ver­dad. Y eso es­tá mal. Ba­jo mi con­duc­ción, Argen­ti­na siem­pre ju­gó por aba­jo. Nun­ca al pe­lo­ta­zo. Eso sí que no le gus­ta a la gen­te. Eso es ju­gar mal."
Seis partidos jugados. Seis partidos ganados. La valla invicta. 17 goles a favor. Ninguno en contra. Una actuación para el recuerdo.
Pekín 2008.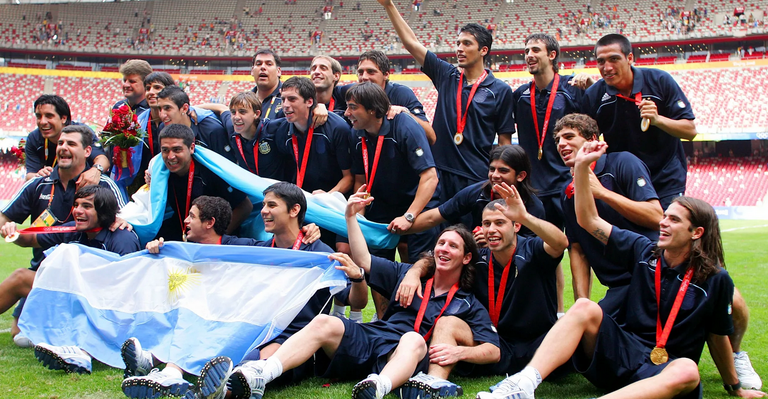 Argentina 2008 campeón olímpico con jugadores que luego serían estrellas del fútbol mundial.
De nuevo en China Argentina obtiene seis triunfos en seis partidos. Con distintos jugadores.
Con figuras que después alcanzarían la cima del fútbol mundial como Lionel Messi, Javier Mascherano, Angel Di María, Juan Román Riquelme, Ezequiel Lavezzi, y Sergio Agüero entre otros. 11 goles a favor y solo dos en contra.
En la final derrota a Nigeria por 1 a 0 y obtiene la seunda medalla dorada olímpica consecutiva.
Sergio Batista, el "Checho", aquel número 5 insustituible en la selección argentina campeona del mundo en 1986 era el DT.
En esta Olimpíada más que en la del 2004 se notó la calidad individual de algunos jugadores.
Lo de Bielsa fue amalgamar voluntades en un equipo. Lo de Batista fue poner las individualidades al servicio del equipo.
A casi 20 años de esa epopeya Argentina continúa a soñar el oro olímpico.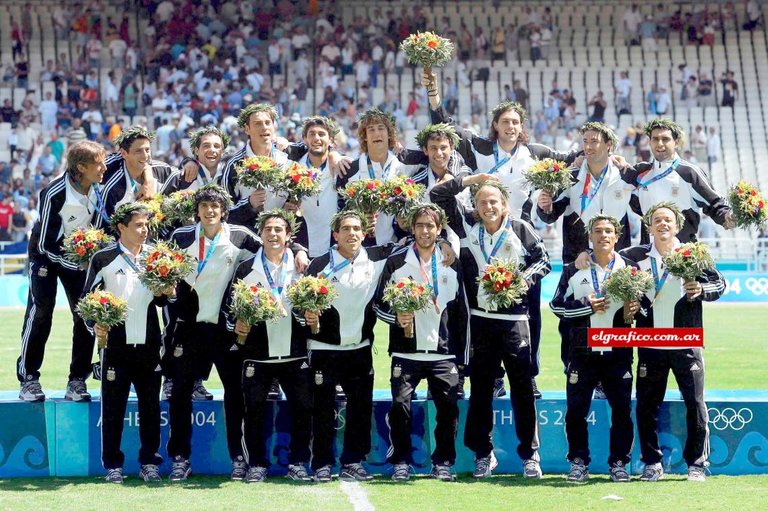 Fútbol olímpico Atenas 2004: Argentina en el escalón más alto del podio. / Olympic Football Athens 2004: Argentina on the top step of the podium.
South American soccer is a cradle of talent in world soccer. However, it has not always managed to obtain the titles that this enormous pool of well-played soccer, skills, talents and taste for good soccer - a priori - would deserve.
And the Olympic Football Tournaments have been by no means an exception.
Today I want to tell you about a particular Olympic moment in my life: when Argentina won the gold medal in the Olympic Games of 2004 in Athens (Greece) and 2008 in Beijing (China).
Athens 2004.
Just as the professional senior national team -let's call it that- generally has the support of all the clubs that own the players' cards -most of them European- and there is even a contractual clause that obliges them to give them up to play in the World Cup every four years, thus constituting a kind of protection for their competition first in the qualifiers and then in the actual World Cup phase, in the Olympic Games this is not the case.
Whether in the qualifiers or in the Olympics, clubs can (and usually do) refuse to release their players for a variety of reasons (except for selfishness, which would obviously be very unpleasant to admit).
For this reason, the Olympic soccer teams (at least in Argentina) are generally made up of a mix of players who do not even remotely aspire to be part of the national team that plays in the World Cup.
To cite an example, in the current Olympic Games in which Argentina could not even get past the group stage, the national team was made up of players from Lanús, Talleres, Goodoy Cruz, Argentinos Juniors and the occasional second-tier foreign club or MLS league.
The big teams did not give up any players at all: Boca, River, Racing, Independiente, just to mention the main ones, were all absent from the squad.
And the result was plain to see. Defeated 2 to 0 by Australia in the debut, they could not recover and were left out. A pity.
But it was not always like that: for the qualifiers and the 2004 and 2004 Olympics, the national team prepared as it should have. With time, anticipation, programming and an organizational chart outlined to perfection.
Of course, the coach was the well-known Marcelo "El Loco" Bielsa, a fanatic for organization down to the smallest details. When he was in charge of Athletic Bilbao, he urged the directors to improve the playing field because he maintained that if he demanded from his players, they should have the necessary elements to develop their activity. And he demanded something similar from the direct leadership of Leeds when he took over as manager.
On August 28, 2004, Argentina won the gold medal in Athens after more than half a century without winning gold medals. On that occasion, the praise had gone to rowers Tranquilo Capozzo and Eduardo Guerrero, who had won the coxless double sculls at the Helsinki Olympic Games.
In spite of the tremendous number of Argentine players "exported" up to that time, Argentine soccer had reached the finals twice, and in both cases they had lost: Amsterdam 1928 and almost seventy years later in Atlanta 1996.
The 80's marked a change since the 1984 Los Angeles Games allowed the incorporation of professional players. And from that moment on, the Argentinean company began to take shape.
Argentina was able to count on young talents of immense quality to play in the Olympic Games such as Tevez, Mascherano, Saviola, D'Alessandro, to mention just a few examples, to which were added others with more experience such as Heinze, Ayala and "Kily" Gonzalez, since it was allowed to incorporate up to three players over 23 years of age.
Bielsa's philosophy is reflected in his statements after winning the Olympic gold medal in the final against Paraguay by 1-0:
"I adhere neither to overelaborate soccer nor to direct and linear. Some people like the rhythmic game and others prefer the fast game. But to say that to play fast is to play badly or to say that to play fast is to play badly is to say that I am the master of the truth. And that is wrong. Under my leadership, Argentina always played down the field. Never with the ball. People don't like that. That's playing badly.
Six games played. Six games won. Undefeated record. 17 goals scored. None against. A performance to remember.
Beijing 2008.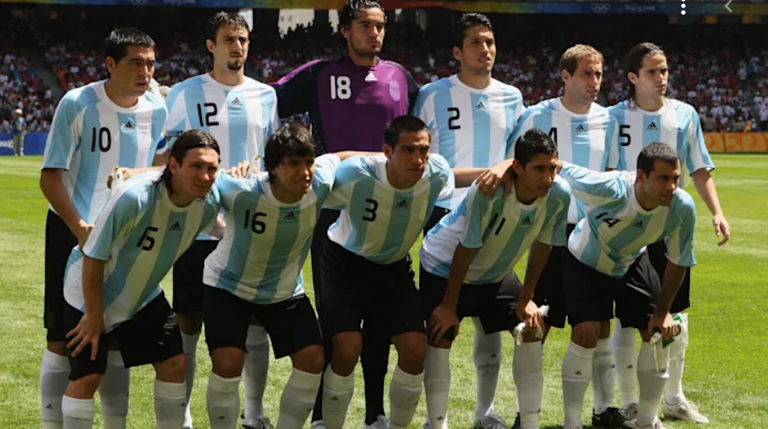 Argentina's usual starting line-up for the 2008 Beijing Olympic Games.
Again in China, Argentina obtains six wins in six matches. With different players.
With players who would later reach the top of world soccer such as Lionel Messi, Javier Mascherano, Angel Di María, Juan Román Riquelme, Ezequiel Lavezzi, and Sergio Agüero, among others. 11 goals scored and only two conceded.
In the final, they defeated Nigeria by 1-0 and won their second consecutive Olympic gold medal.
Sergio Batista, the "Checho", that irreplaceable number 5 in the 1986 world champion Argentine national team, was the coach.
In this Olympiad, more than in 2004, the individual quality of some players was noticeable.
What Bielsa did was to amalgamate wills into a team. What Batista did was to put the individualities at the service of the team.
Almost 20 years after that epic, Argentina is still dreaming of Olympic gold.
Traducción efectuada con / Translated with: DeepL Translator