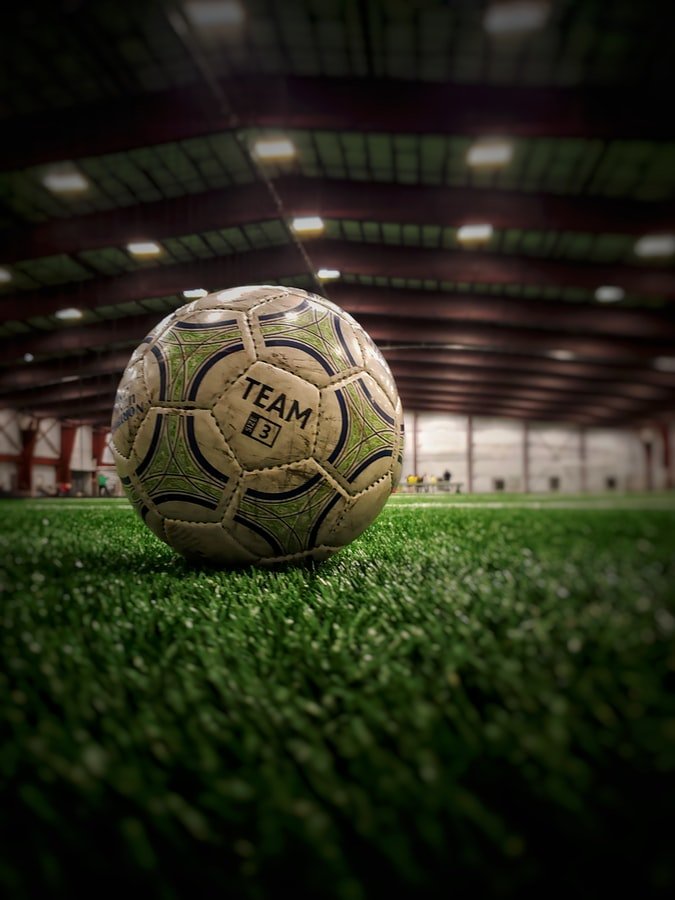 Fuente: Unsplash.
Mi primer post de introducción a la comunidad de Full Deportes está referido a la historia de quien fue , en su momento, considerado como el primer jugador de fútbol playboy (en el sentido literal de la palabra) en Latinoamérica.
La idea de asociar un deportista, pero especialmente un jugador de fútbol, al mundo del espectáculo, de las vedettes, de las cantantes y del jet-set en general, es relativamente reciente.
Hoy les voy a contar la historia, que no por ser excéntrica deja de ser interesante ya que estamos hablando de los años 40.
Abogado, millonario, mujeriego y proclive a los excesos, el brasileño Heleno de Freitas fue uno de los grandes cracks de los años cuarenta.
Idolo indiscutido en el Botafogo y en Junior de Barranquilla también tuvo un fugaz paso por Boca.
El final de su vida fue un corolario de todos sus excesos.Una neurosífilis lo mató a los 39 años.
Con el pasar de los años algunos lo compararon con el mismísimo Pelé.
My first introduction post to the Full Deportes community is related to the story of who was, at the time, considered the first playboy soccer player (in the literal sense of the word) in Latin America.
The idea of ​​associating an athlete, but especially a soccer player, with the world of entertainment, vedettes, singers and the jet-set in general, is relatively recent.
Today I am going to tell you the story, which is not interesting because it is eccentric, since we are talking about the 40s.
Lawyer, millionaire, womanizer and prone to excesses, the Brazilian Heleno de Freitas was one of the great stars of the 1940s.
Undisputed idol in Botafogo and Junior de Barranquilla he also had a fleeting passage through Boca.
The end of his life was a corollary of all his excesses. Neurosyphilis killed him at age 39.
Over the years some have compared him to Pele himself.
Heleno de Freitas o simplemente Heleno como lo conocía la torcida brasileña era capaz de todo. Al día siguiente de una noche con todos los excesos podía convertir goles y arquitectar las mejores jugadas. Fumaba muchísimo, tenía problemas con las drogas, era capaz de perderse en una noche de casino cuatro sueldos juntos. No tenía límites. Ni en su vida deportiva, ni en su vida privada. Mujeriego y alcohólico; abogado y políglota. Irreverente y pendenciero. En la vida y en la cancha.
Pero también era capaz de frecuentar y leer a los intelectuales de la época. Un caso verdaderamente atípico. Era el prototipo del bohemio. Despreciaba las reglas y las técnicas. En él todo era creación, intuición. A una velocidad supersónica. Todo en una sola persona.
Fue, eso si, un campeón sin títulos, pero -a la vez- por ironía del destino uno de los cracks más asombrosos de la historia.
El escritor Antonio Falcao contó alguna vez una anécdota: "Prancha -un poco entrenador, un poco filósofo captaba las jóvenes promesas de un modo novedoso: a cada niño le lanzaba una fruta, miraba cómo la detenía y determinaba si era estrella o estrellado. Heleno de Freitas, mineiro de 12 años, amortiguó la naranja en el muslo, la dejó caer en el pie, hizo malabarismos, la levantó a la cabeza, la trajo de vuelta al pie, pasando por un control de taco."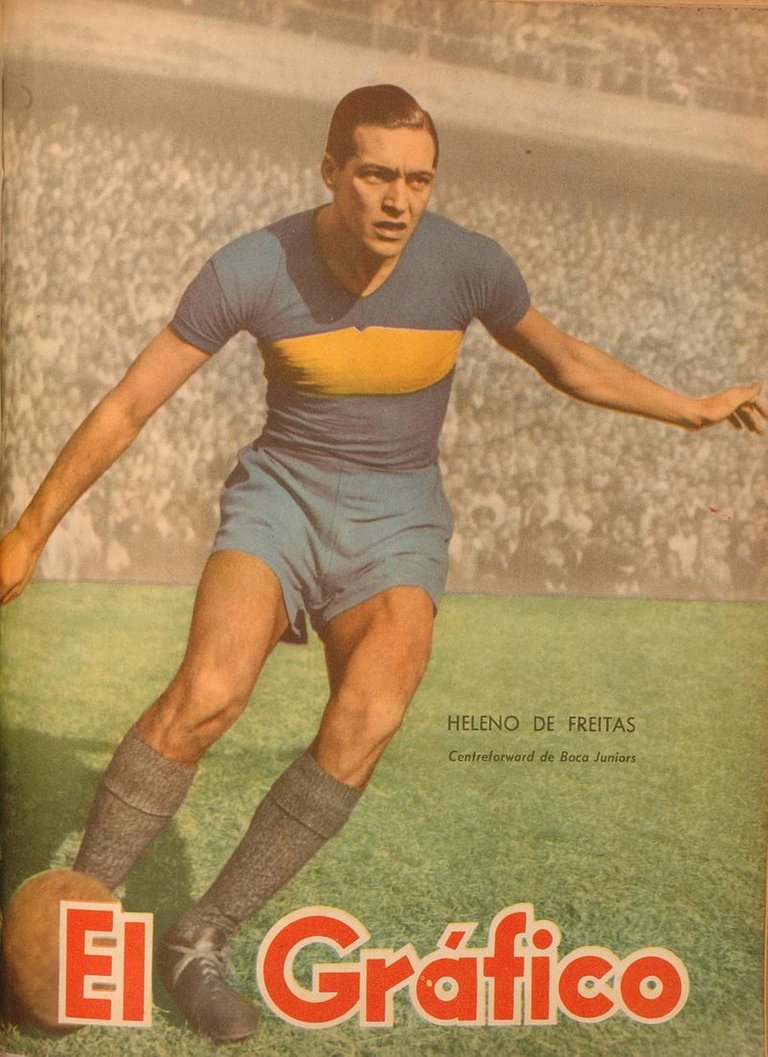 Heleno de Freitas en la portada de El Gráfico, año 1948
Heleno de Freitas or simply Heleno as the crooked Brazilian knew him was capable of anything. The day after a night with all the excesses he could score goals and architect the best plays. He smoked a lot, he had a drug problem, he was able to lose four salaries together in a casino night. He had no limits. Neither in his sporting life, nor in his private life. The womanizer and alcoholic; lawyer and polyglot. Irreverent and quarrelsome. In life and on the court.
But he was also able to meet and read the intellectuals of the time. A truly unusual case. He was the prototype of the bohemian. He despised rules and techniques. Everything in him was creation, intuition. At supersonic speed. All in one person.
He was, yes, a champion without titles, but -at the same time- by irony of fate one of the most amazing cracks in history.
The writer Antonio Falcao once told an anecdote: "Prancha - a bit of a coach, a bit of a philosopher - captured the young promises in a new way: he would throw a fruit at each child, watch him stop it and determine if he was a star or a star. Heleno de Freitas, a 12-year-old from Mineiro, cushioned the orange on his thigh, dropped it on his foot, juggled, raised it to the head, brought it back to the foot, passing through a taco check. "
El mismo Eduardo Galeano lo contó en un puñado de palabras: "Tenía estampa de gitano, cara de Rodolfo Valentino y un humor de perro rabioso. En la cancha, resplandecía".
Hasta su origen era distinto. No provenía de las favelas miserables del conurbano carioca. Procedía de una familia acaudalada y distinguida.
Estaba casado con la hija de un diplomático y tenía un hijo, Luiz Eduardo. Y mil romances extramatrimoniales. También le señalan mil romances extramatrimoniales.
En Barranquilla fue el primer gran ídolo deportivo que tuvo la ciudad. El primer futbolista al que se le perdonaron hasta los malos partidos y los excesos en su vida privada.
En Argentina jugó poco y no tan bien. Jugó en Boca 17 partidos e hizo 7 goles. Nunca se logró adaptar al nuevo ambiente.
Algunos dicen que al jugar siempre invariablemente engominado y muy prolijo los hinchas de Boca no lo soportaban y le gritaban: "Dale, Heleno, cabeceá que no te vas a despeinar".
Decían que había perdido glamour y belleza.
Vivió como quiso y como pudo. Pagó su desmesura con intereses y recargos. Le detectaron neurosífilis y lo internaron en un manicomio de Barbacena, en Minas Gerais. La muerte lo encontró rápido. Estaba solo. A los 39 años, en noviembre de 1959, falleció.
Eduardo Galeano himself told it in a handful of words: "He had the appearance of a gypsy, the face of Rodolfo Valentino and the humor of a mad dog. On the court, he shone.
Even his origin was different. He did not come from the miserable favelas of the Rio de Janeiro suburbs. He came from a wealthy and distinguished family.
He was married to the daughter of a diplomat and had a son, Luiz Eduardo. And a thousand extramarital romances. They also point out a thousand extramarital romances.
In Barranquilla he was the first great sports idol that the city had. The first footballer who was even forgiven for bad games and excesses in his private life.
In Argentina he played little and not so well. He played 17 games in Boca and scored 7 goals. He never managed to adapt to the new environment.
Some say that when he played he was always invariably greasy and very neat, the Boca fans could not stand him and shouted at him: "Come on, Heleno, nod you're not going to mess up."
They said that he had lost glamor and beauty.
He lived as he wanted and as he could. He paid the excess of it with very high interest.
The doctors detected neurosyphilis and placed him in a mental hospital. Death found him fast. As fast as his life had been. At age 39, in November 1959, he passed away. And he could not even see his beloved Brazil be crowned world champion in Sweden.