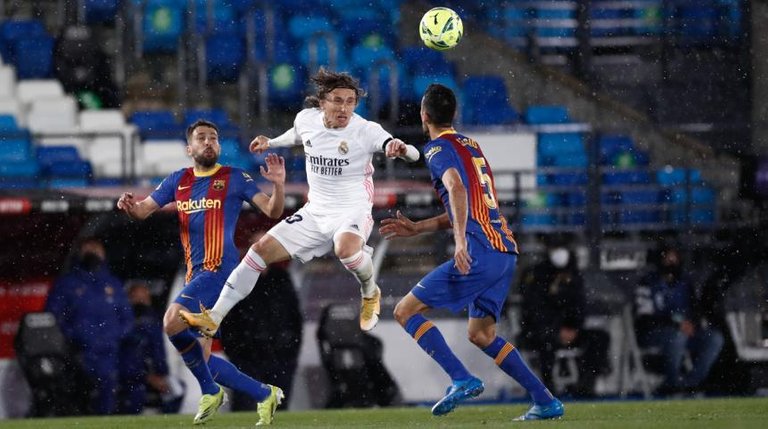 Source
Literalmente hasta el último segundo el clásico de hoy de la liga española nos ha tenido "comiéndonos las uñas", pues, el juego terminó 2 a 1 favor del Real Madrid pero el Barcelona hasta el pitazo final estuvo muy cerca del empate, cosa que le hubiese beneficiado más.
Precisamente, respecto al equipo azulgrana quiero compartir lo siguiente:
El planteamiento técnico no fue el más acertado. La formación inicial (3-5-2) con el propósito de tener un mayor dominio del medio campo no estuvo en línea con la profundidad del ataque, cosa que cambio cuando se volvió a la formación que hasta entonces mejor le ha funcionado (4-3-3).
Los cambios de jugadores claves en el segundo tiempo, el benjamin Pedri y el francés Dembele, no se comprendieron, pues, el primero estaba abriendo bien los espacios y el segundo, al cambiarse la formación, estaba llegando más a la portería.
Literally until the last second, today's clásico of the Spanish league has had us "biting our nails", because the game ended 2-1 in favor of Real Madrid but Barcelona was very close to a draw until the final whistle, which would have benefited them more.
Precisely, regarding the azulgrana team, I would like to share the following:
The technical approach was not the most successful. The initial formation (3-5-2) with the purpose of having a greater dominance of the midfield was not in line with the depth of the attack, which changed when they returned to the formation that has worked best until then (4-3-3).
The changes of key players in the second half, Benjamin Pedri and the Frenchman Dembele, were not understood, as the former was opening spaces well and the latter, when the formation was changed, was getting more to the goal.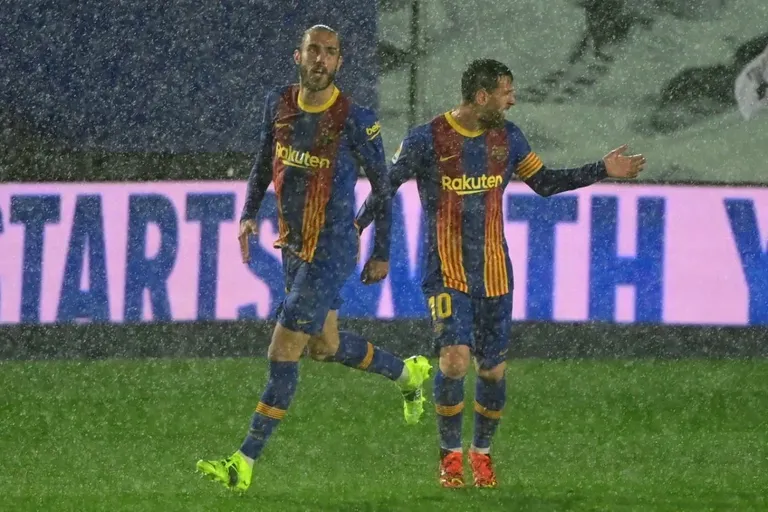 Source

Mano Polémica: en el desarrollo del partido hubo una jugada que pudo ser cantada como mano a favor del Barza. Pienso que no tiene sentido discutir sobre ella, pues, aunque pudo ser sancionada (ya que hubo cierto contacto) no fue una entrada tan fuerte y clara para proceder a aplicarse.
Ahora lo que me gustaría destacar del equipo merengue:
Planteamiento de Zidane. Se apegó a la formación que le ha venido saliendo mejor (4-3-3), jugando más al contraataque y replegandose en la defensa cuando era necesario.
Me da la sensación que este juego lo ganó el Real Madrid dentro del vestuario, antes de salir al campo, desde la estrategia planteada por su técnico. Prueba de ello es que en el primer tiempo de los dos tiros al arco, convirtió los dos en los goles de la victoria.
Controversial Handball: in the development of the match there was a play that could have been called a handball in favor of Barça. I think it makes no sense to argue about it, because, although it could have been sanctioned (since there was some contact) it was not such a strong and clear tackle to be applied.
Now what I would like to highlight from the Merengue team:
Zidane's approach. He stuck to the formation that has been working best for him (4-3-3), playing more counterattacking and dropping back in defense when necessary.
I have the feeling that Real Madrid won this game inside the dressing room, before going out onto the pitch, based on the strategy proposed by their coach. Proof of this is that in the first half, out of the two shots on goal, they converted both of them into the winning goals.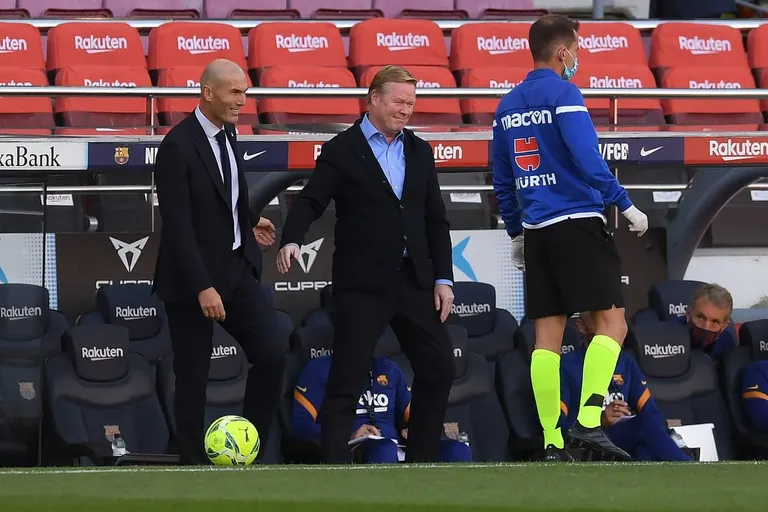 Source

Individualidades que resaltan en el equipo. Siempre tenemos estrellas en el firmamento que brillan más que las demás. En este caso, el primer gol del Real Madrid fue una obra maestra de Benzema, son cosas que sólo dan el talento y la experiencia.
Hay estrellas grandes y otras más chicas, es lo mismo en el fútbol. Vinicio es aquí el representante indiscutible, pues, ha ido creciendo y mostrando todo de lo que es capaz partido tras partido. En este por ejemplo, con su velocidad fue un factor desequilibrante importante.
Individuals that stand out in the team. We always have stars in the firmament that shine brighter than the others. In this case, Real Madrid's first goal was a masterpiece by Benzema, these are things that only talent and experience can give.
There are big stars and smaller ones, it's the same in soccer. Vinicio is the undisputed representative here, because he has been growing and showing everything he is capable of match after match. In this game, for example, with his speed he was an important unbalancing factor.
Source

Muchas gracias por haberme acompañado en la lectura de este post, espero tus comentarios y que nos podamos volver a encontrar en una próxima publicación, hasta luego.
Thank you very much for having accompanied me in the reading of this post, wishing you always the best and that we can meet again in a next publication, I say goodbye, see you later.


---
---
---

---

---