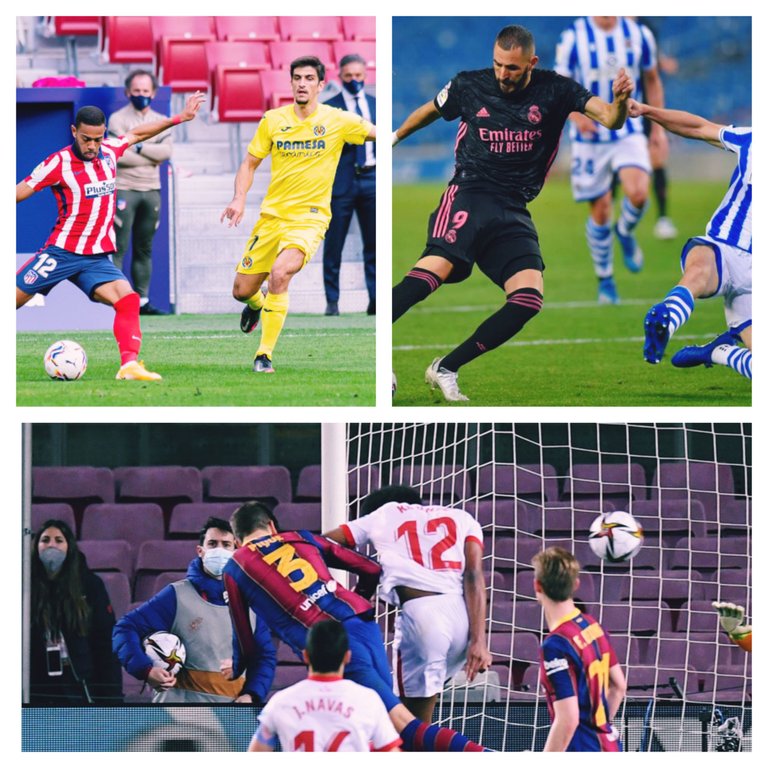 Lo que hace unas semanas parecía algo indiscutible en la primera división del fútbol español por el excepcional desempeño que llevaba el Atlético de Madrid ante la irregularidad del Real Madrid y del Barcelona, ha cambiado desde los últimos partidos disputados por estos tres equipos.
El Atlético tuvo una especie de bache en su camino, del cual se recuperó con su victoria 2-0 frente al Villareal. El Barcelona ha remontado ante el Sevilla, no sólo para la copa del Rey sino también para aspirar al título de la Liga, ya que en cuestión de puntos, se encuentra al día de hoy en empate con el Real Madrid, al cual le ha estado faltando no sólo los goles sino que se encuentre con su peculiar estilo de juego.
Siendo este el escenario que tenemos hasta ahora y haciendo una proyección de los juegos que le quedan a los tres favoritos para ganar la Liga, podemos sacar nuestras propias conclusiones, sobre todo, teniendo en cuenta que queda un par de enfrentamientos directos para cada uno.
What a few weeks ago seemed undeniable in the first division of Spanish soccer due to the exceptional performance of Atletico Madrid in the face of the irregularity of Real Madrid and Barcelona, has changed since the last matches played by these three teams.
Atletico had something of a bump in the road, from which they recovered with a 2-0 win over Villareal. Barcelona has rebounded against Sevilla, not only for the King's Cup but also to aspire to the La Liga title, since in terms of points, it is currently tied with Real Madrid, which has been lacking not only goals but also its peculiar style of play.
This being the scenario we have so far and making a projection of the games that remain for the three favorites to win the league, we can draw our own conclusions, especially considering that there are a couple of direct clashes for each.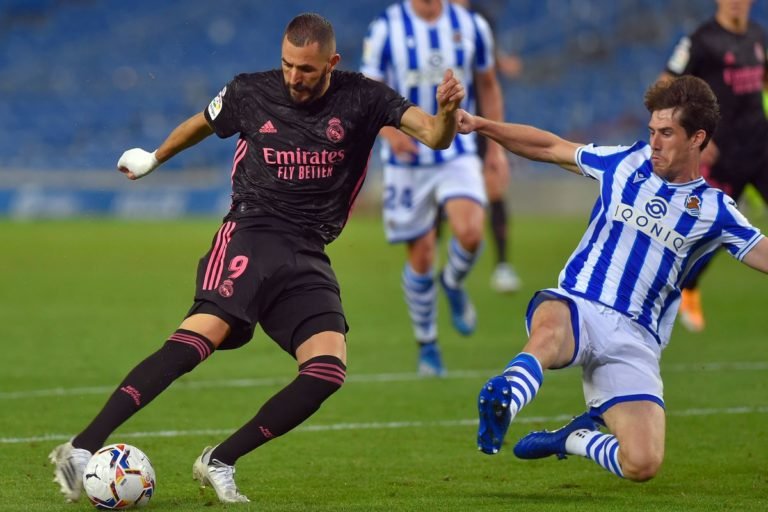 Source

Mi análisis ha sido el siguiente:
Tener en cuenta que el Atlético de Madrid tiene un partido menos, lo cual o le puede hacer afianzarse más en la cima o dar más oportunidades a sus rivales.

El próximo enfrentamiento directo será este domingo 07/03 y se verán las caras los del derbi madrilista, donde al Atlético le basta con un empate pero el Real Madrid está obligado a ganar, ya no sólo por la Liga sino porque su fanaticada así lo espera, pues, aunque todavía son partidos sin público presente, los del Real serán los locales.

A la liga le queda también un clásico, Real Madrid Vs. Barcelona, el 11/04, donde dependiendo a qué nivel estén cada uno a este punto en la tabla clasificatoria, también se pueden decidir muchas cosas, además de que estaremos a un mes de terminar la temporada, lo cual exige más compromiso en la cancha.

El último partido importante, según este análisis, será entre el Atlético de Madrid y el Barcelona, que son los que hasta este momento tienen más posibilidad de ganar la Liga. Este partido será el 09/05 y tiene la particularidad de que el mismo día también se van a enfrentar el Real Madrid y el Sevilla, el cual no he tenido en cuenta en este ocasión pero que va cuarto en la tabla de clasificación, también tiene un partido menos y si muestra otra cara en los partidos venideros puede darnos una sorpresa, así como nos la han dado los últimos partidos los otros equipos, pues, así es el fútbol: hasta el último segundo de juego todavía hay oportunidades, haciendo posible el nacimiento de diversas posibilidades.
My analysis has been as follows:
Keep in mind that Atletico Madrid have one game less, which can either make them more entrenched at the top or give more opportunities to their rivals.

The next direct confrontation will be this Sunday 07/03 and they will face each other in the derby madrilista, where Atletico will only need a draw but Real Madrid is obliged to win, not only for the league but also because their fans expect it, because, although they are still matches without public present, Real will be the locals.

The league also has a classic, Real Madrid vs. Barcelona, on April 11, where depending on the level of each team at this point in the standings, many things can also be decided, plus we will be a month away from the end of the season, which requires more commitment on the court.

The last important match, according to this analysis, will be between Atlético de Madrid and Barcelona, who are the ones that have the best chance of winning the League. This match will be on 09/05 and has the particularity that on the same day Real Madrid and Sevilla, which I have not taken into account on this occasion but which is fourth in the standings, will also have a game less and if it shows another face in the coming matches can give us a surprise, as well as the other teams have given us the last matches, because that is soccer: until the last second of the game there are still opportunities, making possible the birth of various possibilities.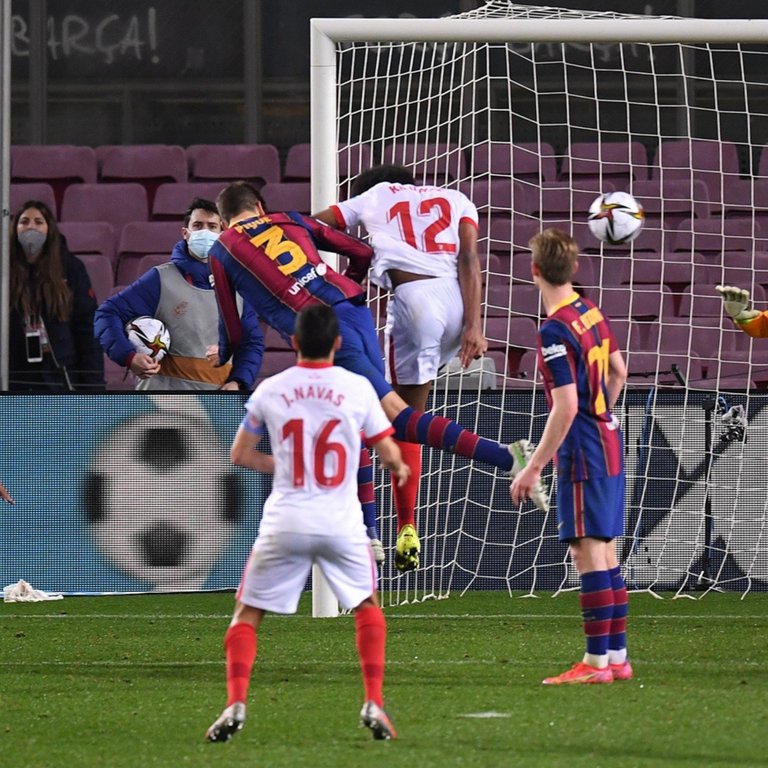 Source

Mi opinión en este momento es que entre los tres equipos que hoy se disputan el título el que presenta más posibilidades de triunfo es el Atlético, pues, ha sido el que, salvo algunos partidos, ha mantenido un estilo de juego más regular, donde su pared defensiva se ha venido complementando con una efectiva ofensiva, refrescada por el uruguayo Luís Suárez.
No obstante, la fortaleza de un equipo también se puede convertir en su debilidad, por eso, pienso que tampoco se deben confiar mucho de su estilo de juego y apostar por otras variantes y/o estrategias, así como por ejemplo, lo ha hecho el Barcelona con su 5-3-2 que le ha funcionado de maravilla en dos oportunidades contra un mismo equipo.
Evidentemente tenemos que tener en cuenta otras variantes: los otros partidos que no implican un enfrentamiento directo entre los tres favoritos pero que influyen porque o suman más puntos o no; los juegos de extra-liga, como la Champions, tan importante para el fútbol Europeo y que supone un desgaste en los jugadores; también habría que considerar, entre otras cosas, las lesiones o ausencias imprevistas de figuras claves, como hasta ahora ha sido Benzemá para el Real Madrid y que será Piqué para el Barcelona.
Sin embargo, si el Atlético mantiene su muralla defensiva y apuesta un poco más al contraataque y propuestas ofensivas, aprovechando la presencia de excelentes delanteros, como Luís Suárez, puede mantenerse y llegar hasta el final como primero en la tabla.
My opinion at this moment is that among the three teams that are competing for the title today, the one with the best chances of winning is Atlético, because, except for some matches, it has been the one that has maintained a more regular style of play, where its defensive wall has been complemented by an effective offense, refreshed by the Uruguayan Luís Suárez.
However, a team's strength can also become its weakness, so I think they should not rely too much on their style of play and bet on other variants and/or strategies, as for example, Barcelona has done with its 5-3-2, which has worked wonders twice against the same team.
Obviously we have to take into account other variants: the other games that do not involve a direct confrontation between the three favorites but that influence because they either add more points or not; the extra-league games, such as the Champions League, so important for European soccer and that implies a wear on the players; we should also consider, among other things, injuries or unforeseen absences of key figures, as so far has been Benzemá for Real Madrid and that will be Piqué for Barcelona.
However, if Atlético maintains its defensive wall and bets a little more on counterattack and offensive proposals, taking advantage of the presence of excellent strikers, such as Luís Suárez, it can hold its own and go to the end as first in the table.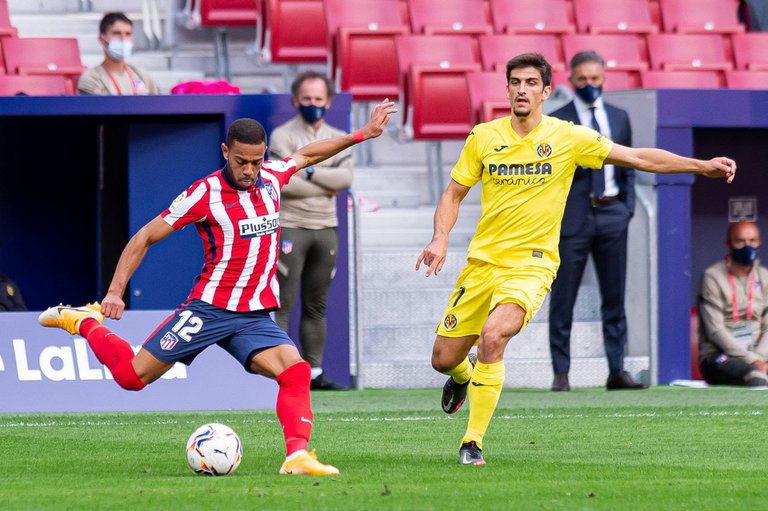 Source

Muchas gracias por haberme acompañado en la lectura de este post, espero tus comentarios y que nos podamos volver a encontrar en una próxima publicación, hasta luego.
Thank you very much for having accompanied me in the reading of this post, wishing you always the best and that we can meet again in a next publication, I say goodbye, see you later.


---
---
---

---

---