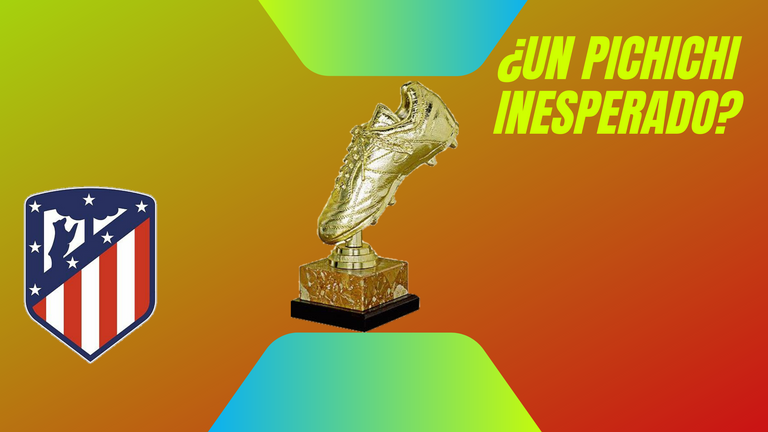 Source
Uno como fanático espectador a veces no entiende las decisiones de los equipos, de manera específicas del área directiva o los presidentes de las federaciones, en cuanto comprar/vender jugadores o modificar su plantilla de juego.
Últimamente en el fútbol de la liga española hay un caso que ha sonado mucho al respecto y es referente al jugador uruguayo Luis Suarez, anterior ficha del Barcelona y ahora del Atlético Madrid, a quien ha llevado a ser líder de la temporada ¿Fue mala decisión del Barza haber salido del hoy goleador de la temporada?
As a fanatic spectator, one sometimes does not understand the decisions of the teams, specifically of the management or the presidents of the federations, in terms of buying/selling players or modifying their playing staff.
Lately in the Spanish league soccer there is a case that has sounded a lot in this regard and it refers to the Uruguayan player Luis Suarez, former Barcelona and now Atletico Madrid, who has led to be the leader of the season. Was it a bad decision for Barça to have left the current top scorer of the season?
Source

Su salida fue muy controvertida, incluso al hacerse efectiva, no faltaron las quejas al respecto, hasta del mismo Lionel Messi que expresa que su salida ni siquiera fue digna de un jugador tan estelar como él y, a opinión personal, estoy de acuerdo, pues, una de la razones que se ventilaban por la cual se decidió "salir de él", es que se pensaba que ya no estaba en condiciones para seguir rindiendo para el estilo de juego del equipo azulgrana, lo cual ya se demostró fue un juicio erróneo.
Otras de las razones que se propusieron tras bastidores fue que la convivencia del equipo con el jugador estrella no era agradable. Aquí puedo encontrar parte de verdad, ya que si por algo es conocido Luis Suárez es por su falta de dominio en su temperamento, de hecho, son famosas sus mordidas a varios jugadores en el terreno del juego.
Por muchas razones que se puedan esgrimir sobre la decisión del equipo catalán, ya que explícitamente su directo técnico Ronald Koeman dijo que no fue una decisión suya sino de todo el club, no se puede tapar el sol con un dedo, y el hecho es que Luis Suárez ha demostrado tener todavía mucho potencial desde el punto de vista futbolistico, no por nada es considerado uno de los mejores delanteros del momento.
His departure was very controversial, even when it became effective, there was no shortage of complaints about it, even from Lionel Messi himself who expressed that his departure was not even worthy of a player as stellar as him and, in my personal opinion, I agree, because, one of the reasons that were aired for which it was decided to "get rid of him", is that it was thought that he was no longer able to continue performing for the style of play of the azulgrana team, which was already proven to be an erroneous judgment.
Other reasons proposed behind the scenes were that the team's coexistence with the star player was not pleasant. Here I can find part of the truth, because if Luis Suarez is known for something, it is for his lack of control of his temperament, in fact, his bites to several players on the field are famous.
For many reasons that can be wielded on the decision of the Catalan team, as explicitly its direct coach Ronald Koeman said it was not his decision but of the whole club, you can not cover the sun with a finger, and the fact is that Luis Suarez has still shown a lot of potential from the soccer point of view, not for nothing is considered one of the best strikers of the moment.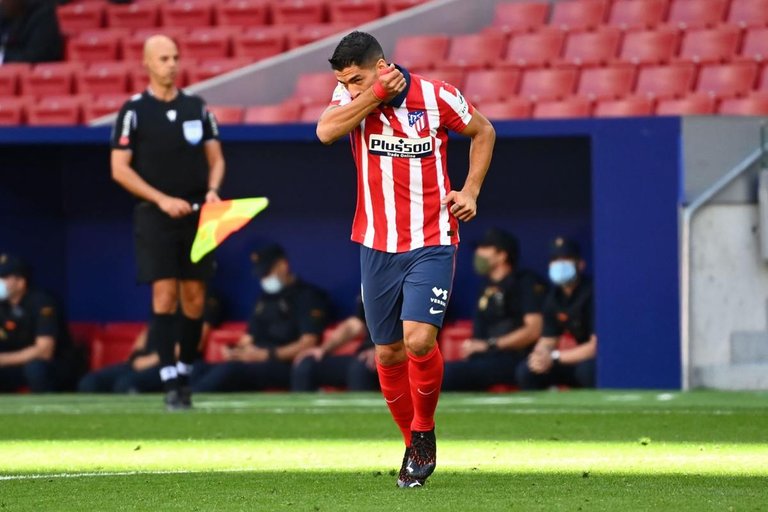 Source

Quiero resaltar lo del punto de vista futbolistico porque estamos hablando del fútbol donde el objetivo fundamental es ganar juegos, por ello, todo problema que exista (de convivencia o cualquier otra índole) debe subsanarse en pro de lograr la meta deseada.
Por esta razón, el consagrado director técnico del Atlético Madrid, Diego Simeone, prácticamente agradeció el regalo que le dieron, dándole la oportunidad de adquirir precisamente el jugador que le faltaba al equipo, un delantero de la talla del que tienen ahora, uno que se encuentra liderando la lista de goleadores de la temporada, aspirante a la copa "Pichichi" del año, otorgada al máximo goleador de la liga.
Lo mejor de todo es que todavía nuestro "Pichichi" se encuentra con gran ánimo a seguir dando lo mejor de sí al equipo, lo que llena de emoción a los que nos gusta su estilo de juego, el que le ha permitido poner una y otra vez el balón en el arco del equipo contrario.
I want to emphasize the football point of view because we are talking about soccer where the main objective is to win games, therefore, any problem that exists (of coexistence or any other nature) must be remedied in order to achieve the desired goal.
For this reason, the consecrated technical director of Atletico de Madrid, Diego Simeone, practically thanked the gift he was given, giving him the opportunity to acquire precisely the player the team was missing, a striker of the stature of the one they have now, one who is leading the list of scorers of the season, aspiring to the "Pichichi" cup of the year, awarded to the top scorer of the league.
The best of all is that our "Pichichi" is still in great spirits to continue giving his best to the team, this fills with emotion those of us who like his style of play, which has allowed him to put the ball in the goal of the opposing team over and over again.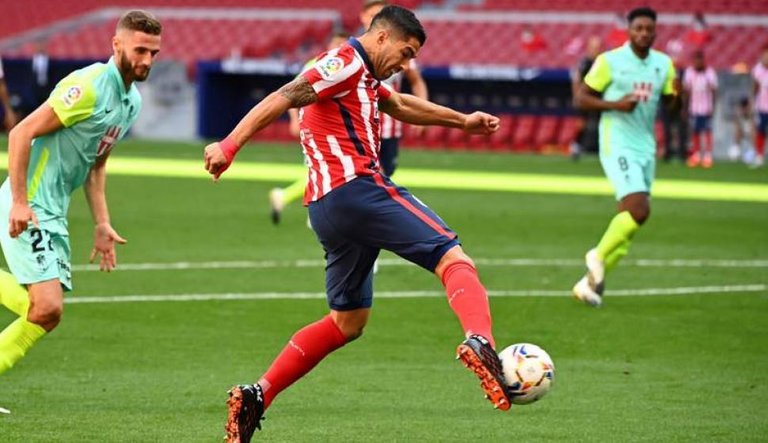 Source

Muchas gracias por haberme acompañado en la lectura de este post, espero tus comentarios y que nos podamos volver a encontrar en una próxima publicación, hasta luego.
Thank you very much for having accompanied me in the reading of this post, wishing you always the best and that we can meet again in a next publication, I say goodbye, see you later.


---
---
---

---

---