Saludos estimados amigos de #Fulldeportes!! En este año en el cual se le ha proporcionado un estatus de Grandes Ligas a las Ligas negras de Baseball, quisiera recordar un gesto de suma importancia realizado hace 13 años por la Major League Baseball con los jugadores de esta liga como lo fue el Draft honorario del 2008.
Greetings dear #Fulldeportes friends!!! In this year in which the Negro Leagues Baseball has been provided with a Major League status, I would like to remember a gesture of utmost importance made 13 years ago by Major League Baseball with the players of this league as it was the 2008 Honorary Draft.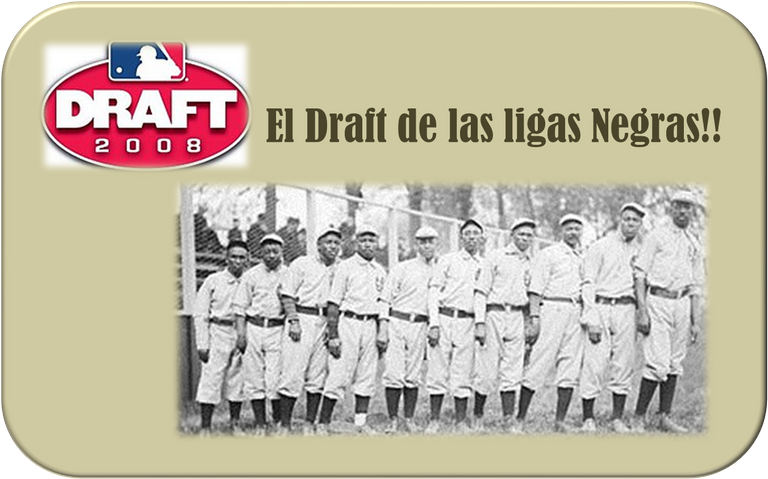 Elaborado desde/prepared from
2
Este homenaje se realizó aprovechando el contexto del draft de jugadores universitarios, y estuvo a cargo del exjugador y salón de la Fama Dave Winfield quien junto al entonces comisionado de las Grandes Ligas Bud Seling fueron los impulsores de este evento.
This tribute was made in the context of the draft of college players, and was in charge of former player and Hall of Famer Dave Winfield who along with the then commissioner of Major League Baseball Bud Seling were the promoters of this event.
En qué consistió?/What did it consist of?
Este fue una ronda del draft simbólica en la cual los equipos participaron en el año 2008 y seleccionaron a un exjugador sobreviviente de las ligas negras, Esto último causo una polémica porque en este draft no fueron seleccionado jugadores como Satchel Paige, Bob Gibson o Martin Díhigo jugadores pertenecientes al salón de la fama desde hace mucho tiempo
This was a symbolic round of the draft in which teams participated in 2008 and selected a surviving former Negro Leaguer, This last one caused a controversy because players like Satchel Paige, Bob Gibson or Martin Dihigo were not selected in this draft, players who belonged to the Hall of Fame for a long time.
Los homenajeados en el evento/The honorees at the event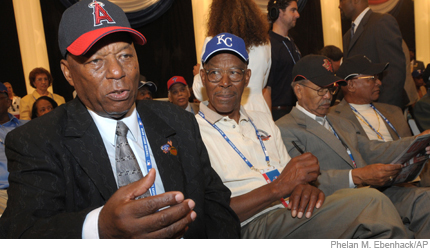 fuente/source
Evidentemente el gesto representó una gran oportunidad para reinvidicar a esos jugadores que no tuvieron la oportunidad de jugar en el sistema de la MLB a causa de su color, y el haber realizado el draft a los últimos jugadores con vida para que pudieran asistir y disfrutar de su momento.
Evidently, the gesture represented a great opportunity to reinvigorate those players who did not have the opportunity to play in the MLB system because of their color, and the draft was held for the last players alive so that they could attend and enjoy their moment.
Es un dato notable el tomar en cuenta que en béisbol nunca hubo un reglamento por el cual se prohibiera a los jugadores afrodescendientes el poder jugar en las grandes Ligas, sino un acuerdo de caballeros establecido en el año 1890, previo a esta fecha llegaron a jugar en juegos de grandes ligas William Edward White, Moses Fletwood Walker y el hermano de este último Weldy Walker. En este acuerdo hubo muchas personas influyentes como podría destacar el jugador Cap Anson quien era notable por su racismo, en realidad si hubo una aprobación para esta prohibición pero en ligas menores. Otro notable personajeque mantuvo el acuerdo durante la duración de las ligas negras, fue el aquel entonces comisionado de las grandes ligas, Kenesaw Mountain Landis esto durante los años 1921 hasta 1944.
It is a remarkable fact to take into account that in baseball there was never a regulation prohibiting players of African descent from playing in the major leagues, but a gentlemen's agreement established in 1890, prior to this date William Edward White, Moses Fletwood Walker and the brother of the latter Weldy Walker came to play in major league games. In this agreement there were many influential people such as the player Cap Anson who was notable for his racism, in reality there was an approval for this prohibition but in minor leagues. Another notable person who maintained the agreement for the duration of the Negro Leagues was the then commissioner of the major leagues, Kenesaw Mountain Landis during the years 1921 to 1944.
El Draft/The Draft
Volviendo a la ceremonia del draft del 2008 los equipos seleccionaron en el siguiente orden./Going back to the 2008 draft ceremony the teams selected in the following order.
Los Angeles Angels of Anaheim: Neale "Bobo" Henderson, SS; Baltimore Orioles: Bert Simmons, P/OF; Boston Red Sox: Jim Colzie, P; Chicago White Sox: Hank Presswood, SS/3B; Cleveland Indians: Otha "Li'l Catch" Bailey, C; Detroit Tigers: Cecil Kaiser, P/1B/OF; Kansas City Royals: Ulysses Hollimon, P; Minnesota Twins: Bill "Lefty" Bell, P; New York Yankees: Emilio "Millito" Navarro, SS/2B/3B; Oakland Athletics: Irvin Castille, SS; Seattle Mariners: John "Mule" Miles, 3B/OF; Tampa Bay Rays: Walter Lee Gibbons, P; Texas Rangers: Charley Pride, P; Toronto Blue Jays: Harold Gould, P; Arizona Diamondbacks: Bob Mitchell, P; Atlanta Braves: James "Red" Moore, 1B; Chicago Cubs: Walt Owens, P/1B; Cincinnati Reds: Charlie Davis, P; Colorado Rockies: Mack "Mack the Knife" Pride Jr., P; Florida Marlins: Enrique Maroto, P; Houston Astros: Bill Blair, P; Los Angeles Dodgers: Andrew Porter, P; Milwaukee Brewers: Joseph B. Scott, OF/1B; New York Mets: Robert Scott, P/1B; Philadelphia Phillies: Mahlon Duckett, 2B/3B; Pittsburgh Pirates: James Tillman, C; St. Louis Cardinals: "Prince" Joe Henry, 2B/3B; San Diego Padres: Walter McCoy, P; San Francisco Giants: Carlos Manuel Santiago, 2B/SS; Washington Nationals: Mamie "Peanut" Johnson, P
Entre aquellos que tuvieron esa oportunidad de ser seleccionados, esta Mamie "Peanut" Johnson, una lanzadora que pudo jugar contra hombres en su paso por las ligas negras, y los latinos Carlos Manuel Santiago quien es miembro del salón de la fama de puerto Rico desde 1993 (considerad uno de los mejores segunda bases puertorriqueños en la historia), el cubano Enrique Maroto, Y Emilio "Milito" Navarro otro nativo de Puerto Rico quien fue fundador del equipo Leones de Ponce y contaba con más de 100 años de edad al momento de la ceremonia en el 2008.
Among those who had the opportunity to be selected are Mamie "Peanut" Johnson, a pitcher who could play against men in her time in the Negro Leagues, and Latinos Carlos Manuel Santiago who has been a member of the Puerto Rican Hall of Fame since 1993 (considered one of the best Puerto Rican second basemen in history), Cuban Enrique Maroto, and Emilio "Milito" Navarro another native of Puerto Rico who was the founder of the Ponce Lions team and was over 100 years old at the time of the ceremony in 2008.
Mamie "peanut" Johnson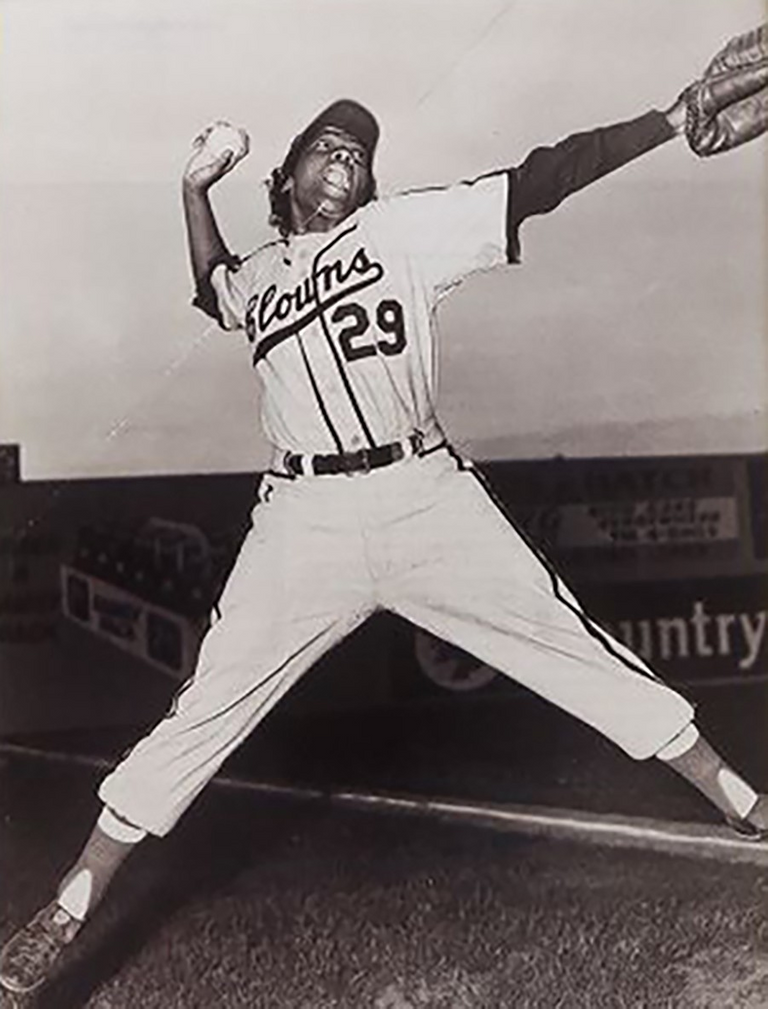 fuente/source
En lo particular al leer sobre este hecho debo decir que fue un gran gesto de las grandes ligas con aquellos jugadores que no pudieron jugar en estas por su color de piel, junto con otros aportes allanó el camino a que este año ya sea considerados como jugadores de grandes ligas!
Muchas gracias por leer..
In particular to read about this fact I must say that it was a great gesture of the major leagues with those players who could not play in these because of their skin color, along with other contributions paved the way for this year and are considered as major league players!
Thank you very much for reading..
Referencias/References:
fuente/source
fuente/source
fuente/source
fuente/source
fuente/source
fuente/source
fuente/source
fuente/source

Translated with www.DeepL.com/Translator (free version)