ESP
Saludos estimados amigos del deporte! Esta semana tuvimos la noticia del retiro del segunda Base de los Medias Rojas de Boston Dustin Pedroia. El jugador de baja estatura (por lo menos para los estándares de la MLB) jugó una larga carrera de 14 años, todos con el mismo equipo, una rareza en estos tiempos siendo una pieza fundamental para el campeonato de serie mundial del 2007 y 2013 ya lesionado en el 2018 representando unos años de muchos triunfos para la franquicia lamentablemente las últimas, temporadas por causa de lesiones no pudimos disfrutar de ese gran jugador, por lo que su retiro a los 37 años no parece descabellado debido a este problema.
fuente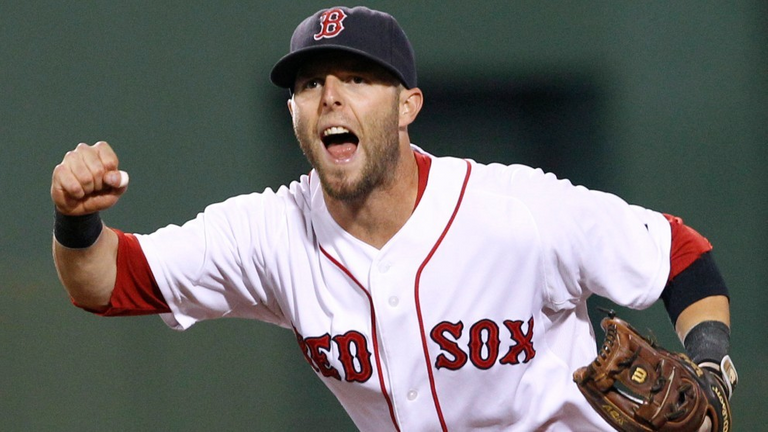 fuente
Ya en el retiro, podemos decir que Pedroia quedará en la historia del equipo, como uno de más queridos jugadores, leal a la franquicia, galardonado por su defensa y también por su ofensiva, es desde ya hace tiempo uno de los mejores segunda bases de la centenaria franquicia, y aunque hay algunos buenos segunda bases que han pasado por los medias rojas, como Marty Barrett Jugador más valioso dela serie de campeonato de 1986, Jody Reed, quien paradójicamente fue campocorto de 1988 y 1989 haciendo llave con Barrett, lo sustituyó luego. También de puede mencionar a Mike Andrews quien formó parte del equipo de 1967 que llegó a la serie mundial de ese año, O Billy Goodman ganador del título de bateo en 1950, (aunque en esa temporada jugó principalmente en el Lf).fuentefuente Pedroia se coloca en la competición por ser el mejor segunda base de la Historia de Boston con Bobby Doerr.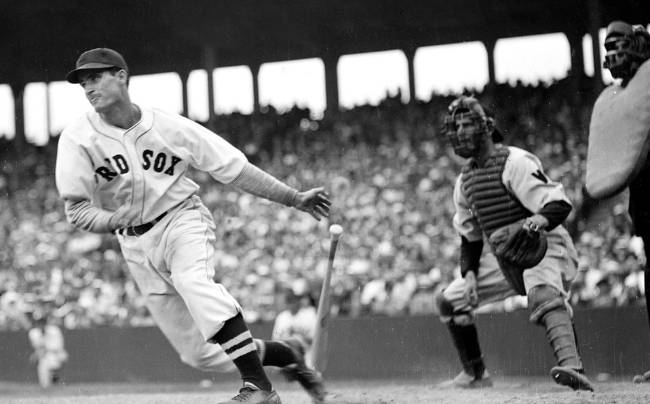 fuente
Hasta la llegada de Pedroia, Doerr (1918-2017) era considerado por consenso como el mejor segunda base da la historia de los Medias Rojas, jugó entre 1937 y 1951, fue nueve (9) veces al juego de estrellas, teniendo poder, ocasional, bateando 223 homeruns, fue uno de los más destacados jugadores de los Medias Rojas, junto con Ted Williams,y al igual que el anterior también perdió tiempo de juego a causa del esfuerzo bélico aliado en la segunda Guerra Mundial, la parte final de 1944 donde estaba teniendo una gran temporada, y todo 1945 En el centro del lineup contaban con su bateo, entre 1946 y 1950 tuvo un promedio de 110 carreras impulsadas, También era un gran defensor, liderando la liga en asistencias, doubleplays y porcentaje de fildeo en cuatro temporadas, fue exaltado al salón de la fama en 1986 por el comité de veteranos. fuente
Dustin Pedroia por su parte inició su carrera capturando el premio novato del año de la liga en 2007 con título de la serie mundial incluido (bateó un homerun en el primer turno de la serie, primer novato en hacerlo), siendo galardonado con el premio al jugador más valioso cuando fue líder en hits, dobles, y carreras anotadas, este último liderato lo repitió al año siguiente. También un ganador del guante de oro en 4 temporadas junto con Evans (8), Yastrzemski (7) y Lynch (4) los únicos Red Sox en ganar cuatro o más; asistió a cuatro (4) juegos de estrellas, fuente fuente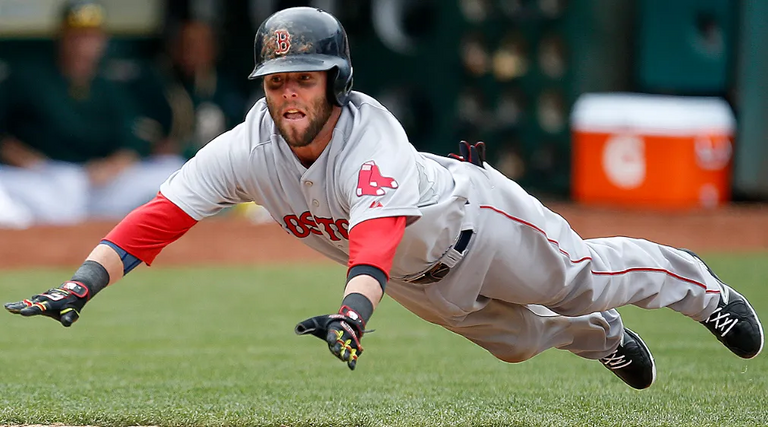 fuente
A diferencia de Doerr su lugar en el comienzo del lineup era para anotar, no para traer las carreras, eso se lo dejaba a slugglers de la talla de David Ortiz quien bateó siempre detrás, es una lástima que no pudo ser más por las lesiones, pero queda una gran carrera, enmarcada por una gran época de la franquicia, tal que queda la pregunta al aire, si su carrera fue mejor que la del salón de la fama, pero el solo hecho que pueda compararse, dan fe de lo hecho por este jugador en el terreno de juego.
Estos con los promedios más significativos a la offensiva por ambas estrellas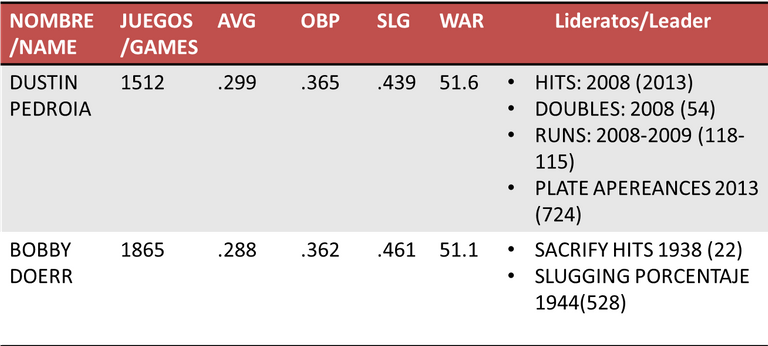 elaborado a partir de:
ENG
Greetings dear friends of sports! This week we had the news of the retirement of Boston Red Sox second baseman Dustin Pedroia. The short player (at least by MLB standards) played a long career of 14 years, all with the same team, a rarity in these times being a fundamental piece for the 2007 and 2013 World Series championship already very injured in 2018 representing a few years of many triumphs for the franchise unfortunately the last, seasons because of injuries we could not enjoy that great player, so his retirement at 37 years old does not seem far-fetched due to this problem.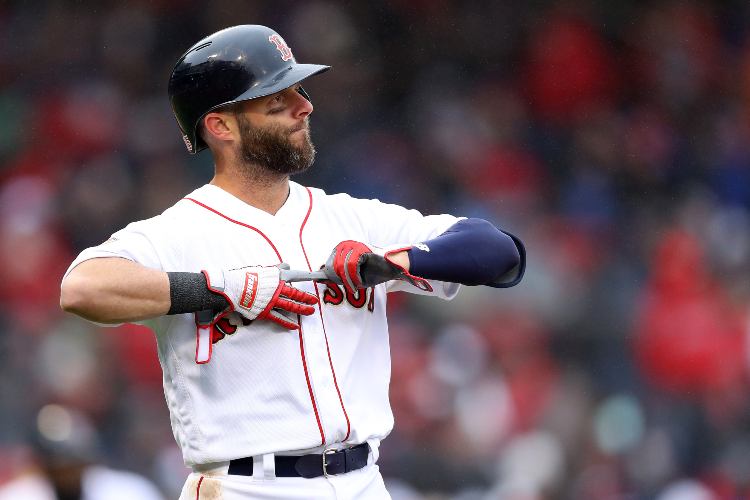 fuente
Now retired we can say that Pedroia will remain in the history of the team, as one of the most beloved players, loyal to the franchise, awarded for his defense and also for his offense, he has long been one of the best second basemen of the centennial franchise, and although there are some good second basemen who have gone through the Red Sox, as Marty Barrett MVP of the 1986 championship series, Jody Reed, who paradoxically was shortstop in 1988 and 1989 doing key with Barrett, replaced him later. We can also mention Mike Andrews who was part of the 1967 team that reached the World Series that year, or Billy Goodman who won the batting title in 1950, (although in that season he played mainly in the LF).fuentefuente Pedroia puts himself in contention to be the best second baseman in Boston´s history with Bobby Doerr.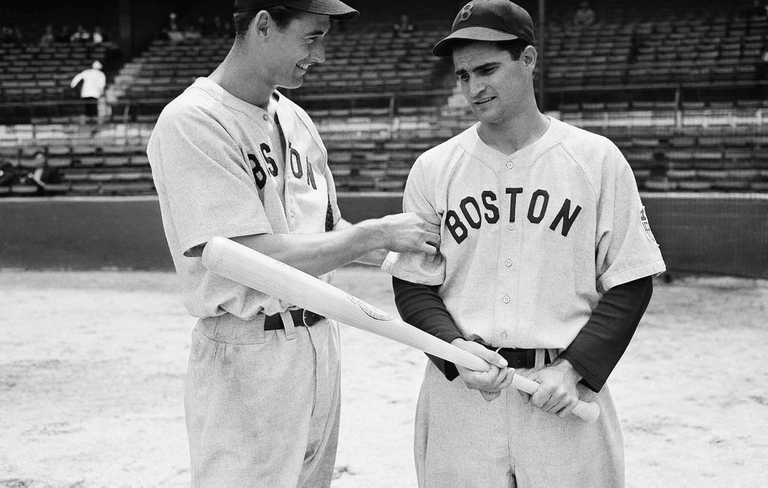 Until Pedroia's arrival, Doerr (1918-2017) was considered by consensus as the best second baseman in Red Sox history, played between 1937 and 1951, went to the All-Star game nine (9) times, had occasional power, hit 223 homers, was one of the most outstanding Red Sox players, along with Ted Williams, and like the former also lost playing time because of the Allied war effort in World War II, the latter part of 1944 where he was having a great season, and all of 1945 In the middle of the lineup they counted on his batting, between 1946 and 1950 he averaged 110 RBIs, He was also a great defender, leading the league in assists, doubleplays and fielding percentage in four seasons, he was exalted to the hall of fame in 1986 by the veterans committee. source
Dustin Pedroia began his career by capturing the league's rookie of the year award in 2007, including the World Series title (he hit a homerun in the first inning of the series, the first rookie to do so), and was awarded the most valuable player award when he led the league in hits, doubles, and runs scored, the latter of which he repeated the following year. Also a gold glove winner in 4 seasons along with Evans (8), Yastrzemski (7) and Lynch (4) the only Red Sox to win four or more; attended four (4) all-star games, source source.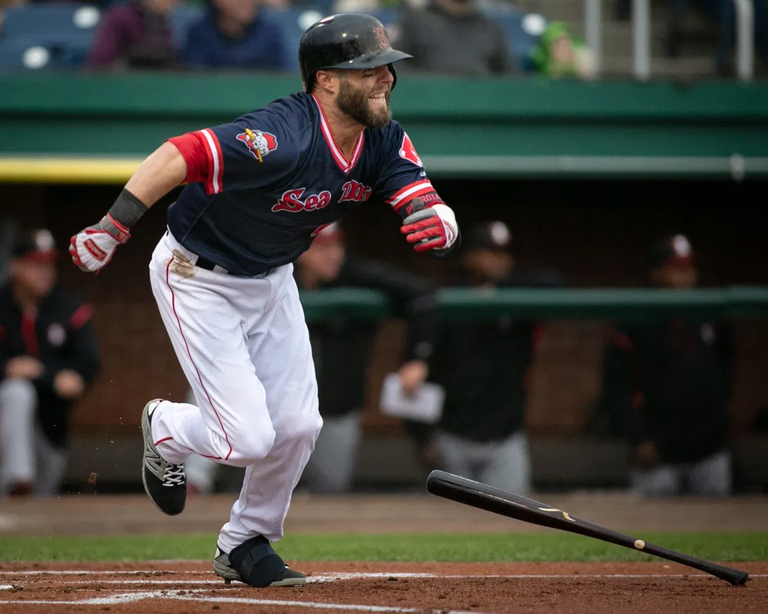 source.
Unlike Doerr his place at the beginning of the lineup was to score, not to bring in runs, he left that to slugglers of the stature of David Ortiz who always batted behind, it is a pity that he could not be more because of injuries, but it remains a great career, framed by a great era of the franchise, such that the question remains in the air, if his career was better than the hall of fame, but the mere fact that it can be compared, attest to what this player did on the field.

Muchas graciaspor leer!!
Translated with www.DeepL.com/Translator (free version)