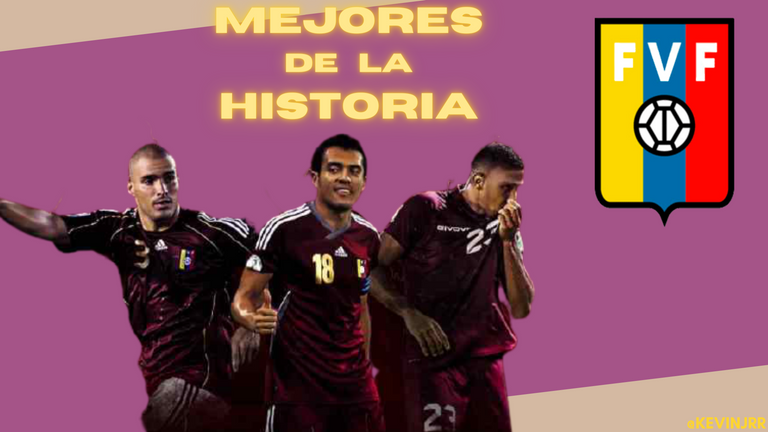 El crecimiento futbolístico de los jugadores Venezolanos en los últimos años es muy destacable, deportistas jóvenes como Soteldo, Herrera y Fariñez lo certifican, la selección antes mal llamada "la cenicienta de América" ha evolucionado y le puede jugar de tú a tú a cualquier rival por eliminatorias, existen futbolistas que han dejado su huella o marcas personales a través de los años dentro de las canchas de juegos representando a la vinotinto y es por esto que repasaremos quienes son y que hace que sean históricos de la selección.
The football growth of Venezuelan players in recent years is very noteworthy young athletes like Soteldo, Herrera and Fariñez certify it, formerly called "America's Cinderella" has evolved and can play from you to any opponent for playoffs, there are footballers who have left their mark or personal brands over the years inside the playing fields representing the winetinto and that is why we will review who they are and that makes that are historical of the selection.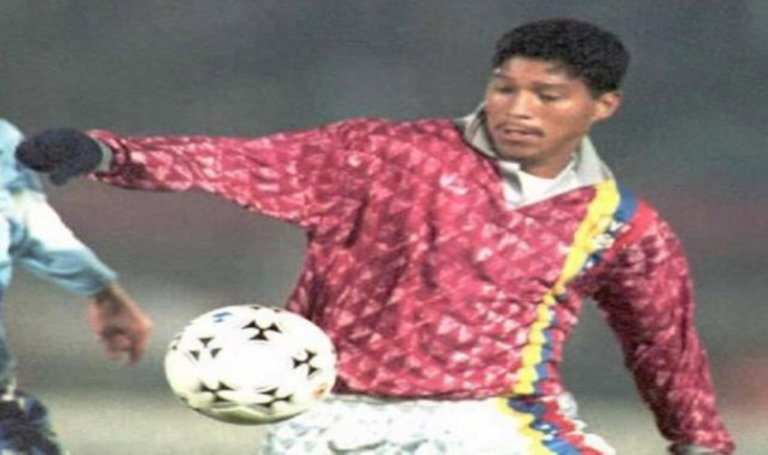 STALIN RIVAS.
Delantero zurdo de muy buen trato al balón, que supo representar la camisa de la selección en cuatro copas Américas aunque su tasa de goles con la selección no es muy alta tiene mucho respeto entre el gremio deportivo por sus temporadas en el fútbol venezolano donde supo vestir diferentes camisetas y tener el honor de ser el primer futbolista Venezolano en jugar en una liga Europea cuando se integró a las filas de standard Lieja en 1992.
A left-handed striker of very good treatment of the ball, who knew how to represent the shirt of the national team in four Copa Americas although his goal rate with the national team is not very high has much respect among the sports guild for his seasons in Venezuelan football where he knew how to wear different shirts and have the honor of being the first Venezuelan footballer to play in a European league when he joined the ranks of Standard Liege in 1992.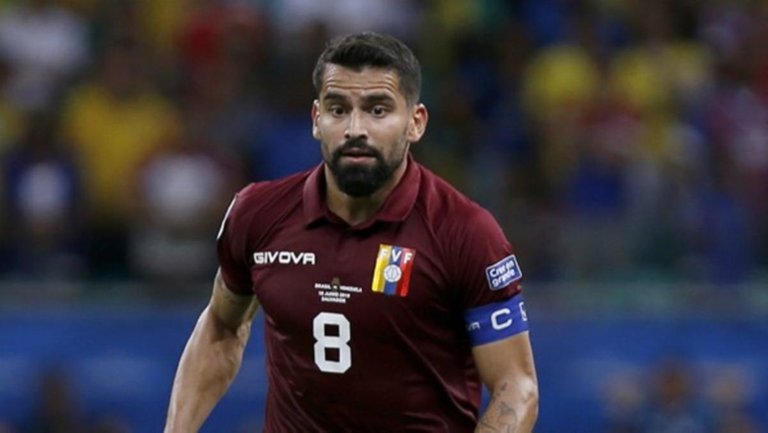 TOMÁS RINCÓN
Palabras sobran si de describir la importancia y el legado que ha implantado el actual capitán de la selección, mediocampista fuerte con mucha inteligencia dentro del terreno de juego, experiencia en Europa en la Bundesliga y la Serie A en esta últimas donde aún se encuentra jugando en el Torino, "El General" es el único venezolano es ser campeón de la liga Italiana cuando lo logró vistiendo los colores de la Juventus de Turín.
Words are left over if you describe the importance and legacy that has been implemented by the current captain of the national team, strong midfielder with a lot of intelligence within the pitch, experience in Europe in the Bundesliga and Serie A in the latter where he is still playing for Torino, "El General" is the only Venezuelan is to be champion of the Italian league when he achieved it by wearing the colors of Juventus in Turin.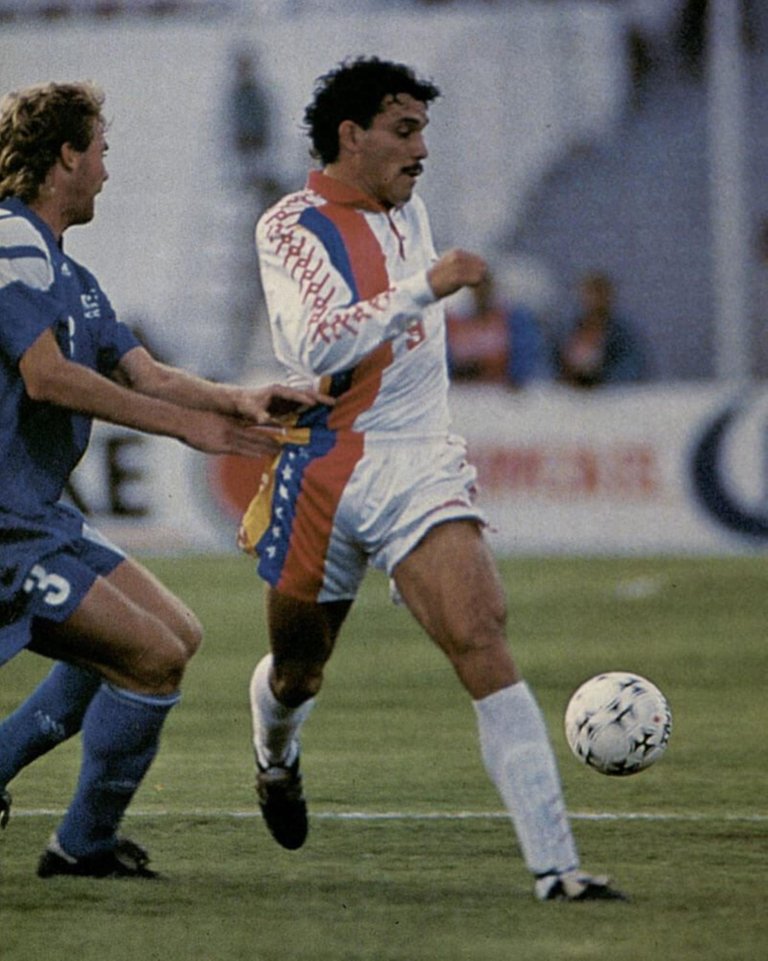 JOSÉ LUIS DOLGETTA
Para dejar huella en la selección se debe realizar un logro destacado que no sea fácil de batir por todos y perdure en los recuerdos, este es el caso de Dolgetta que puede presumir ser único jugador de la selección Venezolana en ser el máximo anotador de una edición de la copa América y fue en 1993 con sede en Ecuador, un dato no menor tomando en cuenta que por esos años no se veía el fútbol más vistoso en la selección.
To make your mark on the selection you must make a remarkable achievement that is not easy to beat for everyone and last in the memories, this is the case of Dolgetta who can boast of being the only player of the Venezuelan national team to be the top scorer of an edition of the Americas Cup and it was in 1993 based in Ecuador , a fact not less taking into account that for those years the most showy football was not seen in the national team.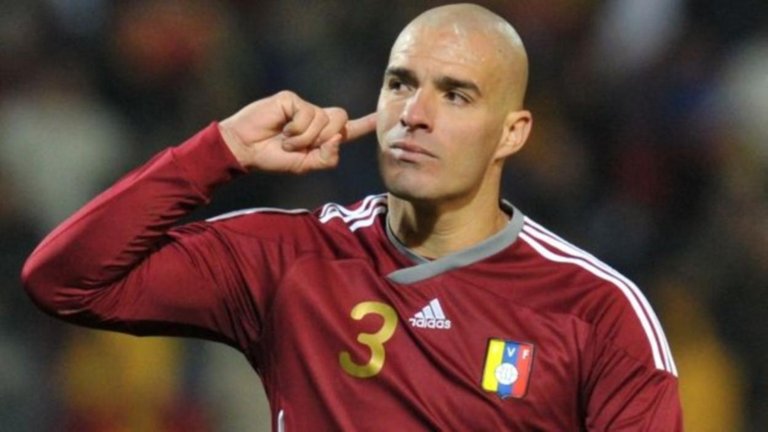 JOSE MANUEL REY.
Como olvidar aquel gran gol de tiro libre de Rey en contra de Ecuador por eliminatorias mundialistas, Solo existen tres futbolistas con 100 o más partidos jugados con la camiseta de la selección y uno de ellos es José Manuel Rey, defensa con una pegada prodigioso muy controlada de mucho gol que participó en seis ediciones de copas Américas, además de contra con participación en ligas europeas, latinoamericanas y locales ganando un total de 11 títulos en su carrera.
Like forgetting that great free-kick goal of Rey against Ecuador by World Cup qualifiers, There are only three footballers with 100 or more matches played with the shirt of the national team and one of them is José Manuel Rey, defense with a prodigious hitting very controlled of a lot of goal that participated in six editions of Copa Americas, in addition to against with participation in European leagues , Latin American and locals winning a total of 11 titles in their career.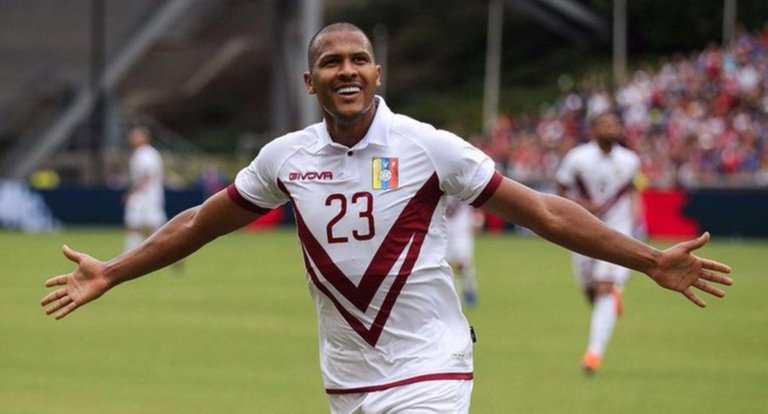 SALOMÓN RONDÓN.
Palabras sobran cuando hablamos del máximo goleador de la historia de la selección Venezolana, futbolista que ha visto crecer su carrera en tres continentes diferentes con mucha experiencia en Europa y que en la actualidad es la principal arma de ataque con la que cuenta la selección, jugador corpulento que ha marcado goles en Uefa Champions League y la Premier League torneos mucho nivel, el delantero arrastra muchas marcas además de ser un excelente cabeceador simplemente un killer del área.
Words are left over when we talk about the top scorer in the history of the Venezuelan national team, a footballer who has seen his career grow on three different continents with a lot of experience in Europe and which is currently the main attack weapon that the national team has, a burly player who has scored goals in Uefa Champions League and the Premier League tournaments a lot of level , the striker drags many marks besides being an excellent headboard just a killer in the area.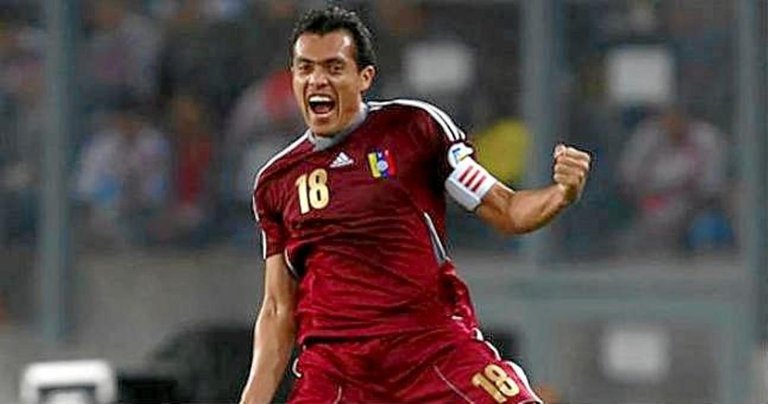 JUAN ARANGO.
Insignia de la selección Venezolana por excelencia, mediocampista ofensivo que para muchos es el mejor futbolista que ha visto crecer Venezuela y los datos no contradicen esta afirmación, puesto que es el jugador con más presencias con la camiseta vinotinto con 128 partidos en su haber y marcado 22 goles la mayoría de tiros libres que era su especialidad, tuvo participación en el viejo continente vistiendo los colores del Mallorca español donde dejo temporadas muy buenas y el Borussia Mönchengladbach Alemán donde jugó la Uefa Europa League.
Insignia of the Venezuelan national team par excellence, offensive midfielder who for many is the best footballer to have seen Venezuela grow and the data do not contradict this claim, since he is the player with the most presences with the vinotinto shirt with 128 games to his credit and scored 22 goals most free throws that was his specialty, he had participation in the old continent wearing the colors of Spanish Mallorca where I leave very good seasons and Borussia Munchengladbach German where he played in the Uefa Europa League.

Créditos:
Imagen de portada armada por mi en Canva.
Elemento 1. Elemento 2. Traductor.
Credits:
Cover image armed by me in Canva.
Item 1. Item 2. Translator.