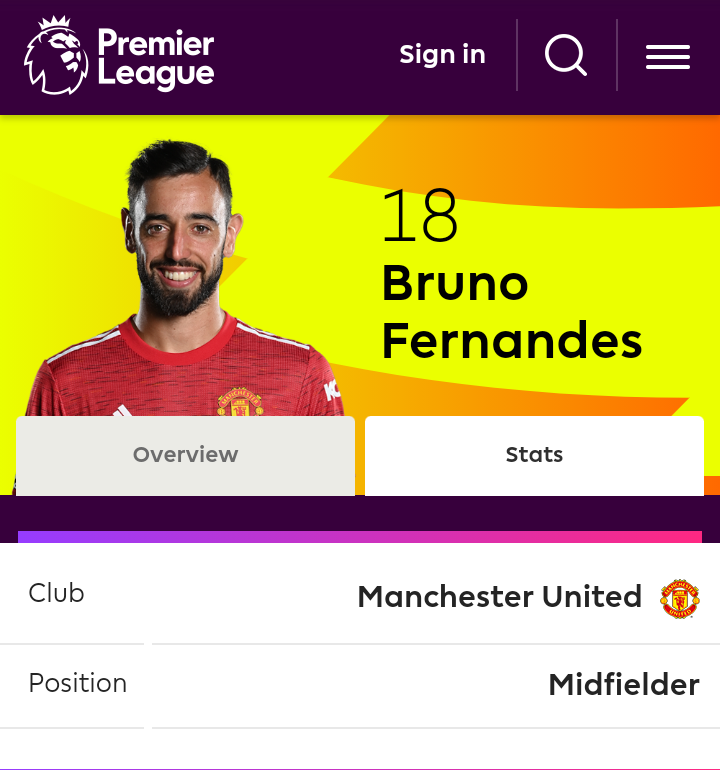 screenshoted from fpl app
ESPAÑOLA
---
Detén el odio ya. No soy un fanático del Manchester United, pero he llegado a amar a Bruno por su habilidad y dedicación al juego. Es un jugador que apenas se apaga en un partido de fútbol y siempre da el 100%. Ayer escribí sobre él mereciendo el premio al mejor jugador de la liga y ahora ganó el premio al jugador del mes.
Este premio fue el tercero de la temporada 2020/2021 y además ayuda a borrar las dudas sobre su calidad. No todos los días ves jugadores de la clase y la técnica de Bruno porque son raros. Como mediocampista ofensivo, hace más de lo que es la descripción del trabajo.
Rastrear el balón cuando tu equipo no lo tiene es una parte del juego que lo hace único. Es normal que los jugadores con mentalidad de ataque se mantengan al frente y acepten un balón de sus compañeros defensivos. Bruno es diferente, prefiere meterse en la toma del balón y reír un ataque por la espalda.
Ganar su tercer premio PL jugador del mes demuestra que otros ven lo talentoso que es. Todavía no hará que esto se le meta en la cabeza, ya que continuará luchando por la grandeza. Su aportación al equipo ha estado inmersa. También ha encontrado una manera de mejorar a los jugadores que lo rodean. Está prácticamente en los buenos libros de todos.
Antes de su compra para el equipo de Manchester el año pasado, el man united parecía un equipo que carece de propósito y dirección. Crean menos goles y conceden goles con cualquier tiros enfrentados. Bruno, siendo un centrocampista ofensivo, se aseguró de que los oponentes recibieran menos balón defendiendo con fuerza desde la delantera. No hay mejor forma de defender que esa.
Le ha dado al atacante más razones para mantenerse al frente, ya que su pase siempre encontraría a un jugador en cualquier lugar. Ya sean pases cortos o largos, cualquiera que haga Bruno es siempre perfecto. Como portugués también, la gente minimiza sus habilidades de regate. No tiene muchas habilidades, pero siempre encuentra la manera de alejarse de situaciones difíciles.
Debido a lo importante que es para el equipo, rara vez descansa. Aunque eso demuestra lo importante que es, todavía necesita descansar para no cansarse. Aunque el dividendo de pagar siempre está dando sus frutos, ya que el Manchester United actualmente encabeza la clasificación de la liga con 3 puntos. Parecen imparables a pesar de tener un colapso en la Champions League.
Bueno, una gran enhorabuena a Bruno una vez más, ya que este honor ayudará a fortalecer aún más su afirmación de por qué debería ser nombrado el jugador más valioso de la liga inglesa en mayo. Independientemente de si Manchester gana la liga o no, nadie más en la liga se lo merece más.
Esta es la cuarta vez que gana jugador del mes desde que el Manchester United lo compró. Lo bueno de todo es que ha ganado el premio tres veces también esta temporada. Un gran enhorabuena a Bruno Fernández y la familia del Manchester United.
ENGLISH
---
Stop the hate already. I am not a Manchester United fan but I have grown to love Bruno because of his ability and dedication to the game. He is one player that hardly switched off in a football match and always gives 100%. I wrote about him deserving the best player award in the league yesterday and now, he won the player of the month.
This award was his third of the 2020/2021 season and it further helps erase the doubt of his quality. It's not every day you see players of Bruno class and technique because they are rare. As an attacking midfielder, he does more than what the job description is.
Tracking the ball back when your team doesn't have the ball is one game part of his that makes him unique. It's normal for attack-minded players to stay upfront and accept a ball from their defensive teammates. Bruno is different, he prefers to be involved in getting the ball and laughing an attack from the back.
Winning his third PL player of month award shows that others see how talented he is. He still won't make this get Into his head as he will continue to strive for greatness. His contribution to the team has been immersed. He has also found a way to upgrade the players around him. He is virtually on everyone's good books.
Before his purchase to the Manchester side last year, man united looked like a team that lacks purpose and direction. They create fewer goals while conceding goals with any shots faced. Bruno, being an attacking midfielder made sure that opponents get less of the ball by defending hard from upfront. There is no better way to defend than that.
Has given the attacker more reason to stay up front as his pass would always find a player anywhere. Either short passes or long ones, anyone Bruno does is always inch-perfect. As a Portuguese also, people downplay his dribbling skills. He doesn't do many skills but he always finds a way to remove himself from difficult situations.
Due to how important he is for the team, he rarely gets rested. Although that shows how important he is, he still needs To get his rest so as not to tire out. Although the dividend of paying always is paying off as Manchester United are currently top of the league table with 3 points. They seem unstoppable despite having a meltdown in the Champions League.
Well, a big congrats to Bruno once more as this honor will further help strengthen his claim as to why he should be named the most valuable player in the English league come May. Regardless of either Manchester wins the league or not, no one else in the league is more deserving.
This is the fourth time he has won player of the month since Manchester United bought him. The good part of it all is that he has won the award three times also this season. A big congrats to Bruno Fernandez and the Manchester united family.