Hola amigos de #hive y en especial a los de la comunidad @fulldeportes a quienes agradezco por el apoyo brindado.
El día de hoy vengo hablarles sobre los Rayos X no en el término médico sino entorno al mundo del ajedrez, como todos sabemos en la medicina los rayos x tienen como finalidad ver las partes internas del cuerpo a través de imágenes que traspasan nuestra piel, la temática es la misma en el ajedrez, vamos a explicarles de que se trata.
Rayos X en el Ajedrez.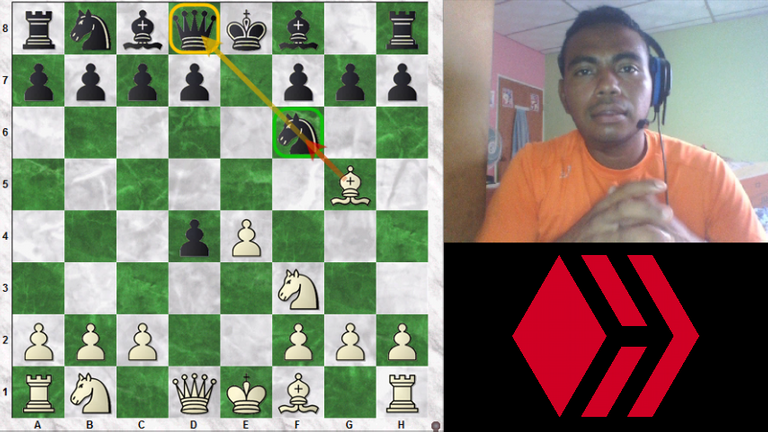 Como podemos apreciar en la imagen el Alfil en g5 directamente está atacando al Caballo en f6 pero mirando más allá de esa amenaza podemos notar que en esa misma diagonal está la Dama negra en e8 por lo tanto la Dama negra está bajo los rayos x del Alfil de g5, así que se encuentra el alfil haciendo una doble amenaza.
Normalmente cuando caes bajo los rayos x del enemigo es una desventaja importante porque casi en un 80 % de las veces terminas perdiendo una pieza, bien sea las que está bajo rayos x o la que está clavada impidiendo la caída de la otra pieza.
En la imagen que muestro mediante este escrito, es una posición muy común en las aperturas y casi siempre se nos conseguimos con esta posición.
En Conclusión.
Podemos decir que los rayos x en el ajedrez, es la acción en la que una pieza clavada nos impide la captura de una pieza de mayor valor, la solución a esto es atacar a la pieza que nos ve con rayos x con el fin de capturarla o retirarla de la casilla desde nos ataca, los alfiles, las Torres y la Dama son las piezas que pueden llevar a cabo esta acción, mientras que los peones y los Caballos necesitan combinaciones con otras piezas para realizar esta acción.
---
Gracias por ver y leer!!!/Thanks for watching and reading!!!
---
El tablero utilizado para la demostración es del software Chessbase15 y todos los derechos de autor pertenecen a la compañía Chessbase. Solo anoté las jugadas y las explico en este tablero.
The board used for the demonstration is from the software Chessbase15 and all copyrights belong to the company Chessbase. I only annotated the moves and explain them on this board.
Las imágenes son capturas de pantalla en el desarrollo de la partida.
The images are screenshots during the development of the game.
---

¡¡¡APOYA MI CANAL EN YOUTUBE!!!/ ¡¡¡SUPPORT MY CHANNEL ON YOUTUBE!!!
---