ESTOS SON MIS TRES DEPORTES FAVORITOS / THESE ARE MY THREE FAVORITE SPORTS [ESP/ ENG]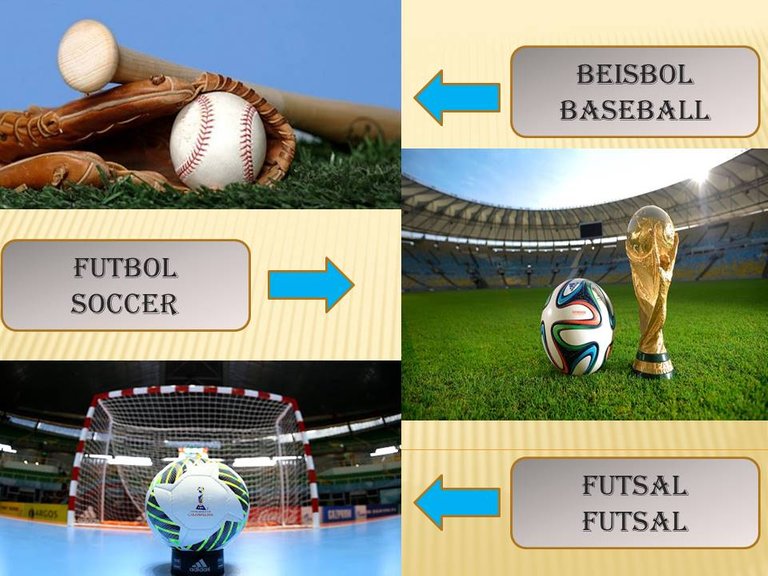 FUENTE 1, 2, 3
Hola amigos Hive y de @Fulldeportes, en esta oportunidad quisiera unirme a la iniciativa de la amiga @yolimarag y compartir con ustedes mis tres deportes Favoritos, Beisbol, Futbol y Futsal, los cuales practicaba a diario cuando estaba más joven, ahora los practico pero con menos frecuencia igual me siguen apasionando estos deportes, la práctica de ellos me enseñaron disciplina, carácter, motivación y esfuerzo, puedo decir con gran satisfacción que los deportes fueron un pilar fundamental en mi formación y en mi vida, espero les guste.
Hello friends Hive and @Fulldeportes, this time I would like to join the initiative of the friend @yolimarag and share with you my three favorite sports, baseball, soccer and futsal, which I practiced daily when I was younger, now I practice them but less often but I am still passionate about these sports, the practice of them taught me discipline, character, motivation and effort, I can say with great satisfaction that sports were a fundamental pillar in my training and in my life, I hope you like it.
Quisiera hablar del beisbol y la importancia que tuvo en mi vida, lo comencé a practicar a la edad de cinco años con la ayuda de un tío que para mí es uno de los mejores jugadores que he conocido, el me enseño todo lo que se a la edad de 10 años ya me había consolidado como titular de la posición que más amo al jugar 1B, ya que crecí viendo al que para mí es el mejor primera base Andrés "El Gato" Galarraga, todos mis uniformes tienen el número 4 en su honor, de el tome cosas que el usaba al momento de defender su posición.
I would like to talk about baseball and the importance it had in my life, I started practicing it at the age of five with the help of an uncle who for me is one of the best players I have ever known, he taught me everything I know, at the age of 10 I had already established myself as a starter of the position I love the most playing 1B, since I grew up watching who for me is the best first baseman Andres "El Gato" Galarraga, all my uniforms have the number 4 in his honor, I took things from him that he used when defending his position.
Con el tiempo me y las necesidades del equipo me adapte a jugar otras posiciones como la receptoría, los files y en algunas oportunidades fungía como pícher, también puedo destacar que soy fanático de los Navegantes del Magallanes en la LVB y en las grandes ligas siempre me ha gustado el equipo de los Bravos de Atlanta, el estadio que mas me gusta es el Fenwick Park con su mítico Mostro Verde, también puedo destacar que me gusta seguir la trayectoria de los venezolanos en las grandes ligas por eso puedo decir que es una pena la lesión de Ronald Acuña quien estaba colocando números asombrosos esta temporada.
With time and the needs of the team I adapted to play other positions such as catcher, the files and sometimes served as a pícher, I can also emphasize that I am a fan of the Navegantes del Magallanes in the LVB and in the big leagues I have always liked the team of the Atlanta Braves, The stadium that I like the most is the Fenwick Park with its mythical Green Monster, I can also emphasize that I like to follow the trajectory of the Venezuelans in the big leagues so I can say that it is a shame the injury of Ronald Acuña who was putting amazing numbers this season.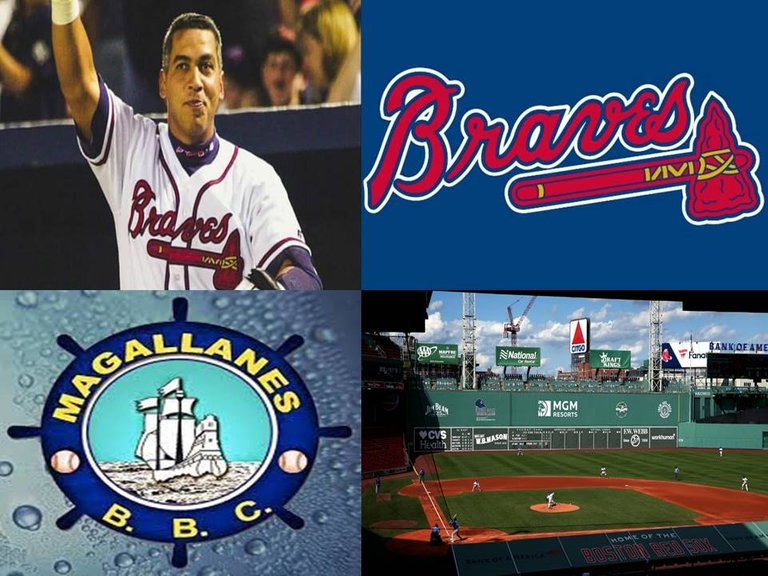 FUENTE 1, 2, 3, 4
A la edad de 13 años comencé a practicar futbol desempeñándome como central derecho esto debido a mi estatura y contextura esta posición me gustaba ya que crecí viendo a José Manuel Rey y a Lucio el central de la Selección Brasileña de Futbol, al cabo de un año me quede con la posición siendo titular indiscutible en el equipo juvenil y mayor de mi pueblo desplazando a personas que tenían más tiempo que yo practicando el deporte, me destaque por mi forma de defender y porque tenía una buena pegada para los tiros libres y los cobros a balón parado.
At the age of 13 years old I started practicing soccer playing as a right center back due to my height and build, I liked this position because I grew up watching Jose Manuel Rey and Lucio the center back of the Brazilian National Soccer Team, after a year I stayed with the position being the undisputed starter in the youth and senior team of my town displacing people who had more time than me practicing the sport, I stood out for my way of defending and because I had a good hit for free kicks and set pieces.
También me desempeñe en otras posiciones como el medio campo y la delantera en la cual destacaba por mi picardía y la forma que tenía para burlas a los rivales además de mi facilidad para marcar goles, mi equipo en la liga de FUTVE es el Trujillanos F.C. y a nivel Internacional el Barcelona F.C., una anécdota que puedo contar es que en el año 2009 asistí a la final de la copa Venezuela jugada entre el Trujillanos F.C y el Caracas F.C. el juego de ida se disputo en el estadio José Alberto Pérez de la Ciudad de Valera hay entendí porque al estadio lo habían bautizado con el nombre del cementerio de los Gigantes asistir a esa final con un estadio a reventar es algo que no puedo describir con palabras.
I also played in other positions such as midfield and forward in which I stood out because of my playfulness and the way I had to make fun of the rivals in addition to my facility to score goals, my team in the FUTVE league is the Trujillanos F.C. and at the international level the Barcelona F.C., An anecdote that I can tell is that in 2009 I attended the final of the Venezuela Cup played between Trujillanos F.C. and Caracas F.C. the first leg game was played at the Jose Alberto Perez stadium in the city of Valera there I understood why the stadium had been named the cemetery of the Giants to attend that final with a packed stadium is something that I can not describe in words.
FUENTE 1, 2, 3, 4
Y mi tercer deporte favorito es el Fustal, el cual practico desde los 7 años cuando lo comencé a practicar lo hacíamos colocando dos piedras que fungían como las porterías en este deporte me destaque rápidamente como defensor y portero, también fungía como delantero destacando como goleador del equipo recibiendo el título de goleador en diferentes torneos de futbol menor, Fui capitán del equipo por varios años, obtuvimos resultados muy buenos a nivel regional saliendo sub campeones en el año de 1999 perdiendo en la final contra el Equipo cañeros del Cenizo con marcador de 5 a 3.
And my third favorite sport is the Fustal, which I practice since I was 7 years old when I started practicing it we did it by placing two stones that served as the goals in this sport I quickly stood out as a defender and goalkeeper, I also served as a striker, standing out as the scorer of the team receiving the title of scorer in different minor soccer tournaments, I was captain of the team for several years, we obtained very good results at regional level being sub champions in 1999 losing in the final against the Cañeros del Cenizo team with a score of 5 to 3.
Mi equipo de futbol en la extinta liga nacional de Futsal era el Trujillanos quien salió campeón de la misma en dos oportunidades, puedo destacar que en los equipos de conjunto es el único deporte que le ha dado un logro internacional al país al titularse campeón mundial en el año de 1997, ganándole a equipos de la talla de Brasil, Argentina, Portugal y en la gran final derrotando a Uruguay con un contundente 4-0, espero que pronto vuelvan a reactivar la liga nacional de Futsal y la selección de Venezuela pueda volver a esos caminos de gloria de antaño en el próximo mundial de la categoría que se disputara en Lituania en el me de Septiembre de este año SUERTE VINOTINTO.
My soccer team in the extinct national futsal league was the Trujillanos who was champion of the same twice, I can emphasize that in the joint teams is the only sport that has given an international achievement to the country to be titled world champion in 1997, beating teams like Brazil, Argentina, Portugal and in the final defeating Uruguay with a resounding 4-0, I hope soon to reactivate the national Futsal league and the selection of Venezuela can return to those paths of glory of yesteryear in the next world of the category to be held in Lithuania in the me of September this year SUERTE VINOTINTO.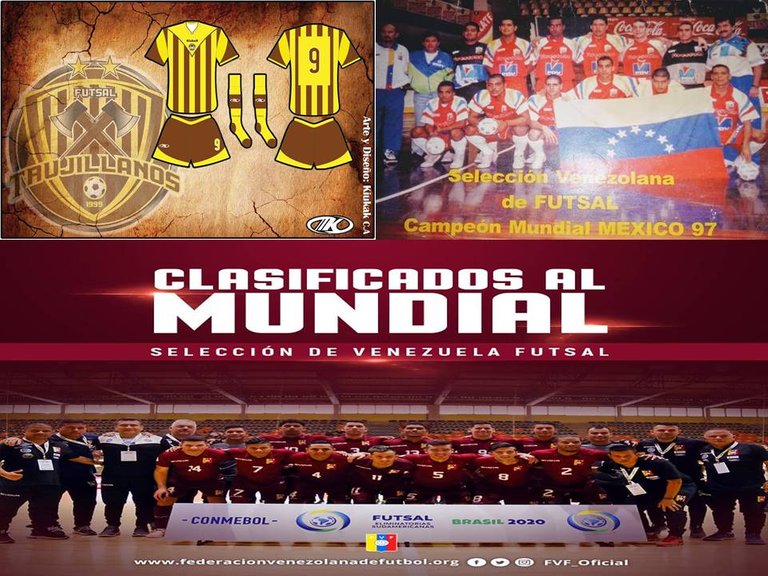 FUENTES 1, 2, 3
Espero les allá gustado esta publicación y las anécdotas que en ella destaco será hasta una próxima publicación muchas gracias.
I hope you liked this publication and the anecdotes that I highlight in it will be until a next publication thank you very much.
Translated with https://www.deepl.com/
---
---