UN GRANDE EL FUTBOL VENEZOLANO PARTE #1 / A GREAT VENEZUELAN SOCCER PART #1 [ESP/ ENG]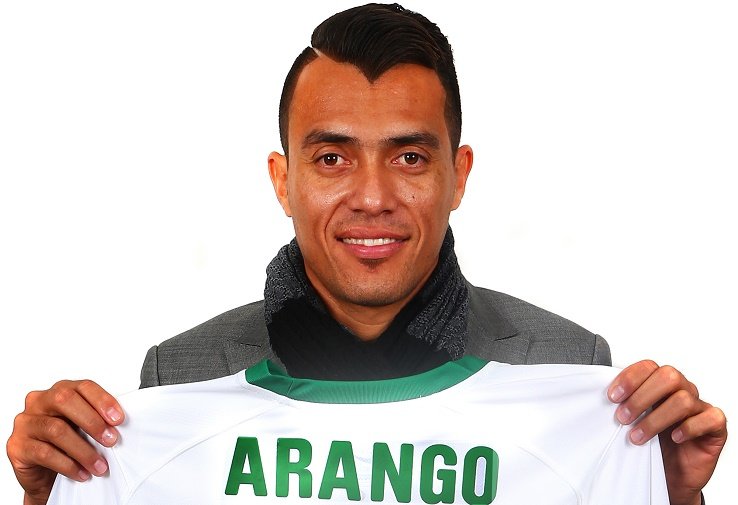 FUENTE
Hola amigos de @Fulldeportes, hoy hago mi primera publicación en esta comunidad que me parece muy interesante, ya que soy un amante de los deportes, en esta ocasión quiero hablar de un gran futbolista que cambio la ideología que se tenía sobre el futbolista venezolano en el mundo, Juan Fernando Arango Sáez también conocido como Arangol, El Capi o La Zurda de Oro, y su trayectoria en los clubes que milito, espero les guste el punto de vista que tengo de Él.
Hello friends of @Fulldeportes, today I make my first publication in this community that I find very interesting, since I am a sports lover, this time I want to talk about a great footballer who changed the ideology that was held about the Venezuelan footballer in the world, Juan Fernando Arango Sáez also known as Arangol, El Capi or La Zurda de Oro, and his career in the clubs I play, I hope you like the point of view I have of him.
Nació el 16 de Mayo de 1980 en el estado de Maracay Venezuela, su primer equipo profesional en Venezuela fue Nueva Cádiz Fútbol en el año de 1997, perteneciente a la Segunda División, con el que consumo el ascenso del club a la Primera División, en el año de 1998 pasó el Caracas Futbol Club, en estos clubes destaco por su gran pegada y visión de juego en el campo, llamando la atención de clubes internacionales.
He was born on May 16, 1980 in the state of Maracay Venezuela, his first professional team in Venezuela was Nueva Cadiz Football in 1997, belonging to the Second Division, with which he consumed the promotion of the club to the First Division, in 1998 passed the Caracas Football Club, in these clubs stood out for his great punch and vision of play in the field, attracting the attention of international clubs.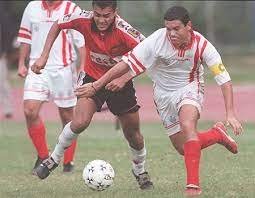 FUENTE
En el año del 2001 llega al futbol Mexicado donde milito en clubes como el Monterey, Pachuca y Puebla, aquí se destacó y termino de crecer futbolísticamente.
In the year 2001 he arrived to Mexican soccer where he played in clubs like Monterey, Pachuca and Puebla, here he stood out and finished his soccer growth.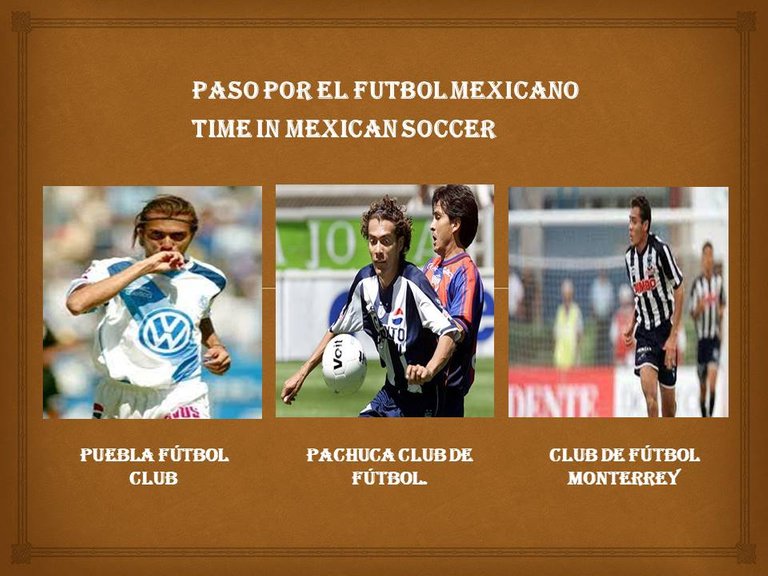 FUENTE 1,2,3
En el año 2004 dio el gran salto al futbol Europeo con el Real Club Deportivo Mallorca, donde destaco y se convirtió en el máximo asistidor y el segundo máximo goleador del club en Primera División, aquí tuvo actuaciones destacadas ayudando al equipo a salvarse del descenso en todas las temporadas que milito en el Club, se convirtió en el primer venezolano en marcarle gol al Real Madrid. Aquí les dejo el Link
In 2004 he made the big leap to European soccer with Real Club Deportivo Mallorca, where he stood out and became the top scorer and the second top scorer of the club in the First Division, here he had outstanding performances helping the team to save itself from relegation in all the seasons he played in the Club, he became the first Venezuelan to score a goal to Real Madrid. Here is the Link
También puedo destacar que en el Mallorca fue donde lo vi marcar el mejor gol que ha marcado en clubes, para mí en un juego contra la Real Sociedad recibiendo de un saque de banda con el pecho y perfilándose para su pierna zurda colocando el valón en el Angulo superior derecho de la portería dejando sin oportunidad al portero. Aquí les dejo el Link
I can also highlight that in Mallorca was where I saw him score the best goal he has scored in clubs, for me in a game against Real Sociedad receiving a throw-in with his chest and profiling for his left foot placing the ball in the upper right corner of the goal leaving no chance to the goalkeeper. Here is the Link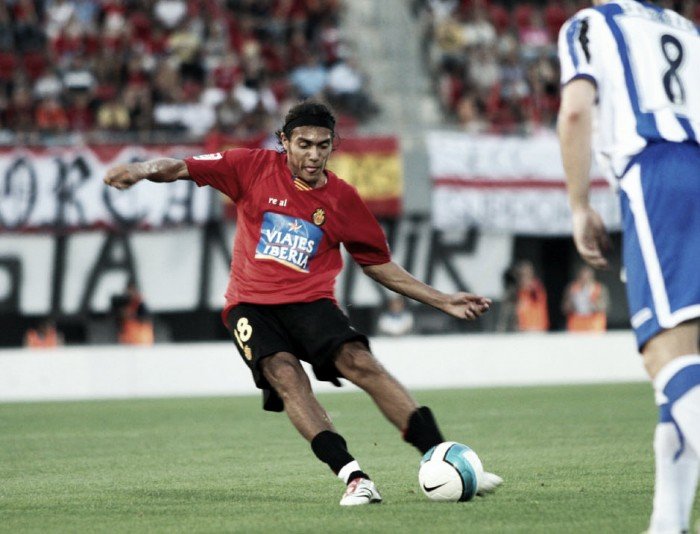 FUENTE
En el año 2009 llega al Borussia Mönchengladbach de la Bundesliga, donde tubo actuaciones muy destacadas y donde exploto al máximo los tiros libres teniendo mejor porcentaje que figuras de la talla de Messi y Cristiano Ronaldo siendo elogiado por compañeros, técnicos jugadores y grandes conocedores del juego, en el periodo que permaneció en el Club fue considerado como el mejor cobrador de tiros libres de la Bundesliga.
In 2009 he arrived at Borussia Monchengladbach in the Bundesliga, where he had very outstanding performances and where he exploited to the maximum the free kicks having better percentage than figures like Messi and Cristiano Ronaldo being praised by teammates, technical players and great connoisseurs of the game, in the period he remained in the Club he was considered the best free kick taker in the Bundesliga.
Con el club logro clasificar a la previa de la UEFA Champions League en la temporada 2011/12 y a la previa de la UEFA Europa League 2014/15. Aquí les dejo el Link de los mejores goles de Juan Arango en Alemania.
With the club he managed to qualify to the UEFA Champions League qualifiers in the 2011/12 season and to the UEFA Europa League qualifiers in 2014/15. Here is the Link to the best goals of Juan Arango in Germany.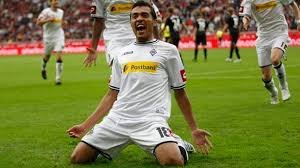 FUENTE
En el año 2014 luego de diez años llega nuevamente a la liga mexicana, al Club Tijuana de la mano del Técnico venezolano Cesar Farías donde nuevamente destaco por sus actuaciones.
In the year 2014 after ten years he arrives again to the Mexican league, to Club Tijuana under the hand of the Venezuelan coach Cesar Farias where he again stood out for his performances.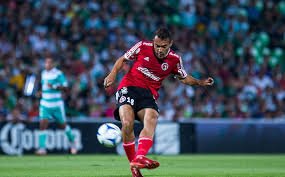 FUENTE
En el año de 2016 llega al New York Cosmos de la North American Soccer League o segunda división del futbol estadounidense, donde destaca y se convierte en el goleador del equipo en esa temporada.
In the year of 2016 he arrives to the New York Cosmos of the North American Soccer League or second division of American soccer, where he stands out and becomes the scorer of the team in that season.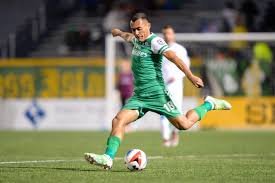 FUENTE
Al finalizar la temporada con el New York Cosmos firma un contrato por seis meses con el Zulia Futbol Club de la primera división del futbol venezolano regresando luego de 17 años, con quien participa en el campeonato local y en la copa libertadores convirtiendo el primer gol del equipo en la competición Internacional. Al finalizar el contrato regresa al el New York Cosmos.
At the end of the season with the New York Cosmos he signs a six-month contract with Zulia Futbol Club of the first division of Venezuelan soccer returning after 17 years, with whom he participates in the local championship and in the Copa Libertadores becoming the first goal of the team in the International competition. At the end of the contract he returned to the New York Cosmos.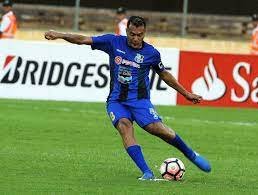 FUENTE
Espero les allá gustado esta publicación la próxima entrega les estaré hablando de su trayectoria en la Selección Nacional. Y así seguir destacando el deporte nacional e internacional.
I hope you liked this publication, next time I will be talking about his trajectory in the National Team. And thus continue highlighting the national and international sport.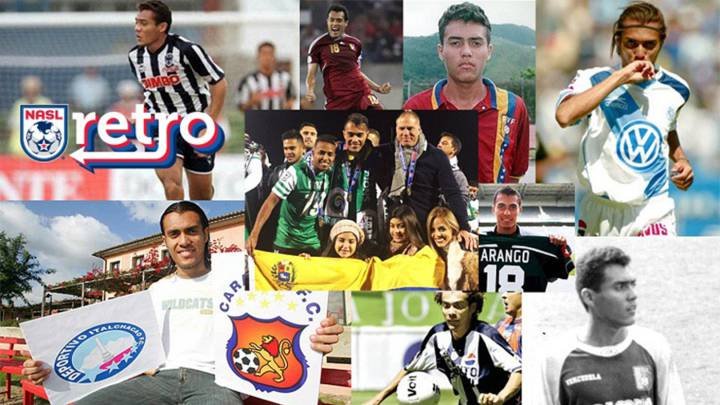 FUENTE
FUENTES CONSULTADAS:
SOURCES CONSULTED:
https://blogs.20minutos.es/
https://www.bundesliga.com/es/noticias/huella-latina-arango-borussia-moenchengladbach-leyenda.jsp
https://es.wikipedia.org/
http://venezuelaehistoria.blogspot.com/2018/05/juan-fernando-arango-saenz.html
Translated with https://www.deepl.com/
---
---