Hello guys,
How are you ? Hopefully you all are fine and I am also well. I have recently claimed my season reward cards from splinterlands. I am gonna show you my reward cards and explain about my favourite cards.
@Splinterlands always curate quality contents made about splinterlands. You have to just made a quality content, share your content to other social medias and put your steemit post link in the comment section of their " Splinterlands weekly curation challenge" and then splinterlands curators will check your content and will upvote it.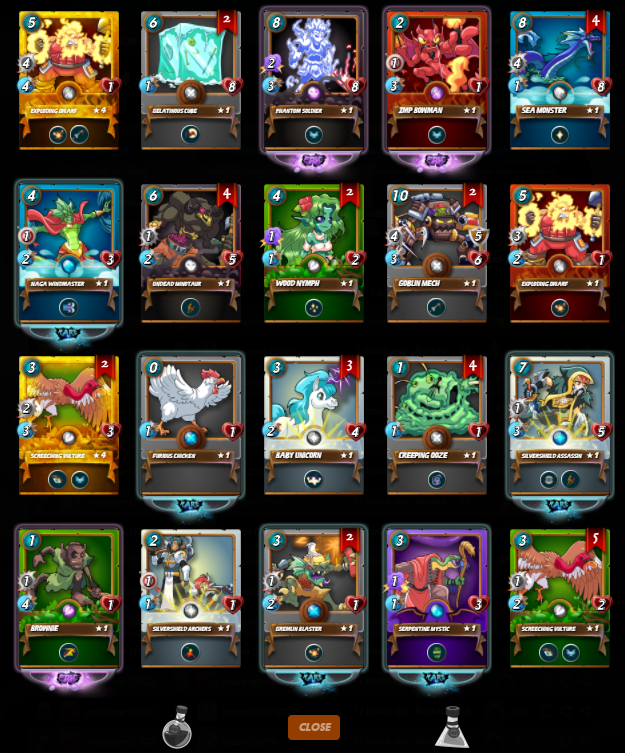 I claimed these cards as season reward. I received 40 reward cards because I was in the Diamond III league. Sad thing is that there is no legendary ( my bad luck). But I am satisfied with these cards. There are three gold foil cards. One gold foil Exploding Dwarf and two Screeching Vulture. Also I got 4 epic cards and 5 rare cards. Now I am gonna explain about my favorite cards from here.
Exploding Dwarf
Exploding Dwarf is one of my favorite cards while the rulesets are Melee Myhem and Super Sneak. Otherwise I don't use this. I like this card because of it's Blast ability with high damage and speed. But using it quite risky because of it's health.
Gelatinous Cube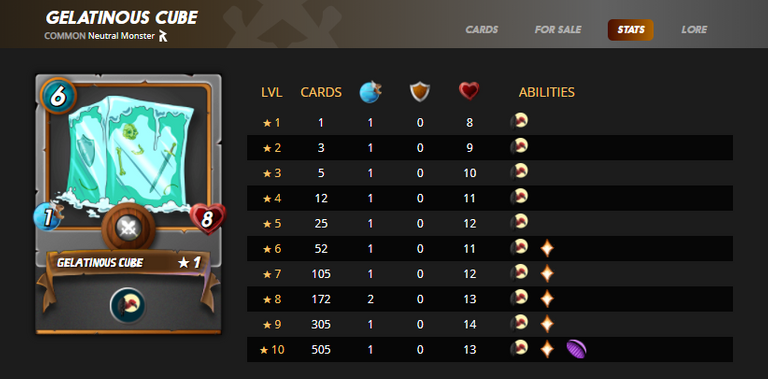 I like this card because of it's Scavenger and Heal ability. I used this card in some of my battles and it helped me a lot. I normally use it in the first position. Using this card with a tank heal card will greatly help you. Scavenger means Gains 1 max health each time any monster dies.
Phantom Soldier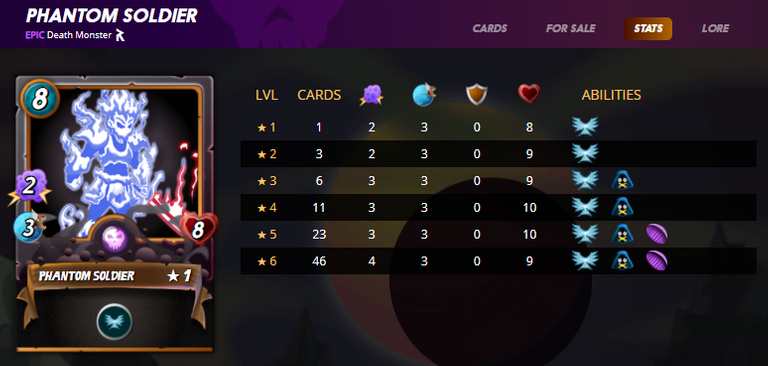 I like this card because of it's Flying and Silence ability with high magic damage. Silence means Reduces the Magic Attack of all enemy Monsters. But it costs too many mana. So I use it only in high mana cap battles.
Imp Bowman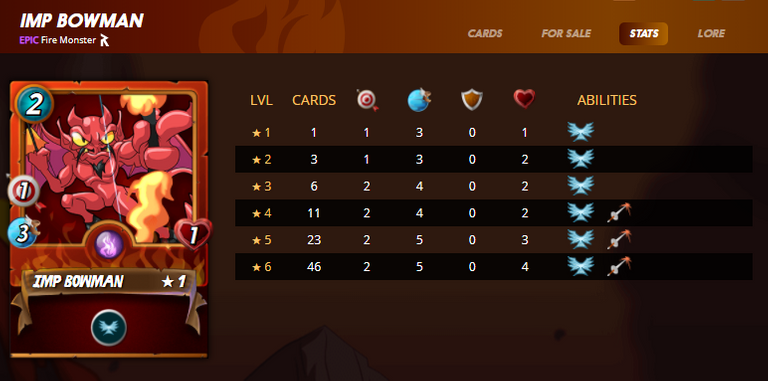 I like this card because it costs only 2 mana. Also it is a Flying card and helps in the Earthquack matches but it has low health. It is a good card with Flying and Piercing ability. Piercing means f Melee or Ranged attack damage is in excess of the target's Armor, the remainder will damage the target's Health.
Sea Monster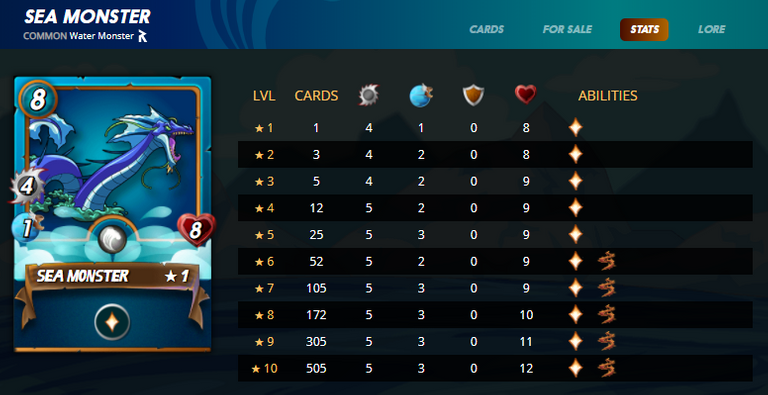 Once I liked this card when I was a newbie on Splinterlands. This card literally helps much to the new players. Also it is very useful card in the lower leagues. I loved this card because of it's Heal ability. But now I don't use this card as it costs too many mana.
Naga Windmaster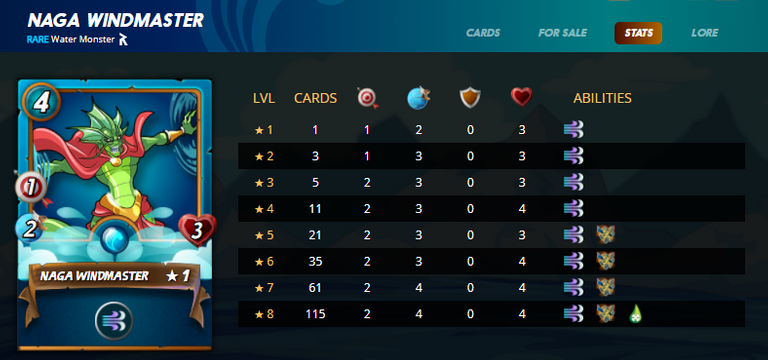 I like this because of it's Headwinds and Shatter ability. Headwinds means Reduces the Ranged attack of all enemy Monsters. And Shatter means Target's armor is destroyed when hit by an attack from Monsters with Shatter. Also it has quite good damaging power and speed.
Wood Nymph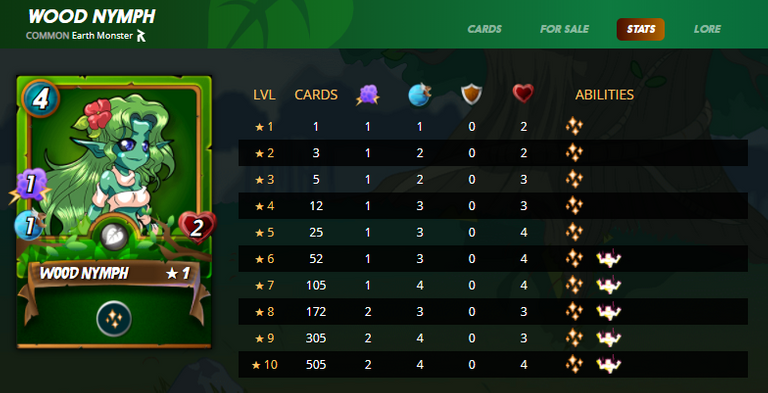 I can't think playing without it when I play with Earth splinter. This is one of the most important cards of Earth splinter. My Flesh Golem and Wood Nymph combination works good almost every time. It's important because of it's Tank Heal ability. Also it has Strengthen ability.
Screeching Vulture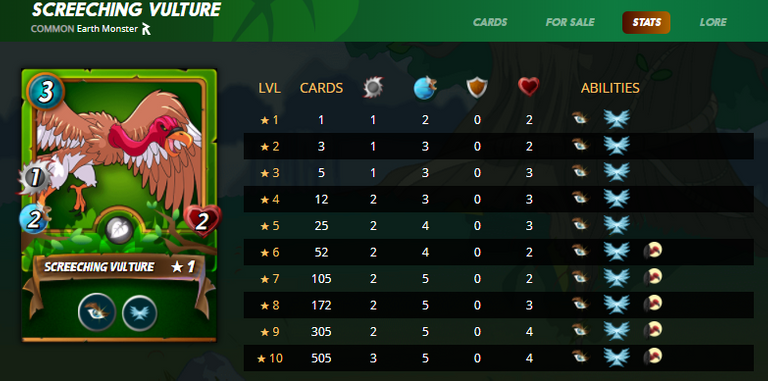 I like this card for it's Opportunity ability. Opportunity ability means Monsters with the Opportunity ability may attack from any position and will target the enemy Monster with the lowest health. Also it is a Flying card which is very helpful in Earthquack matches. It has also Scavenger ability from level six.
Furious Chicken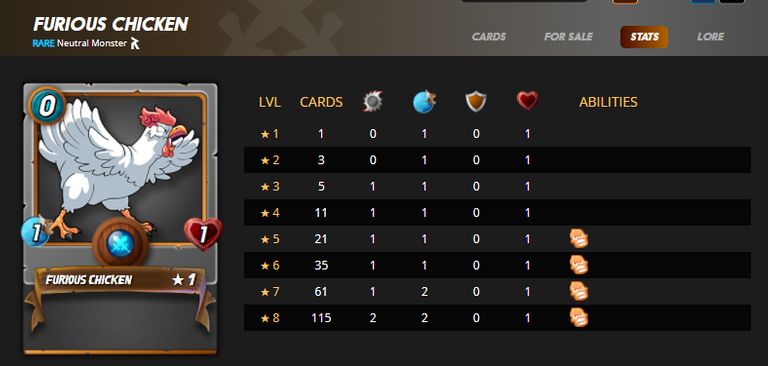 Now a days I use this card in every matches because it costs no mana. It's a very useful card in low mana cap battles. It really helps the players. Sometimes it helps from the front ( if you use it in the first place) and sometimes it helps from the behind ( from opponent's sneak cards).
Creeping Ooze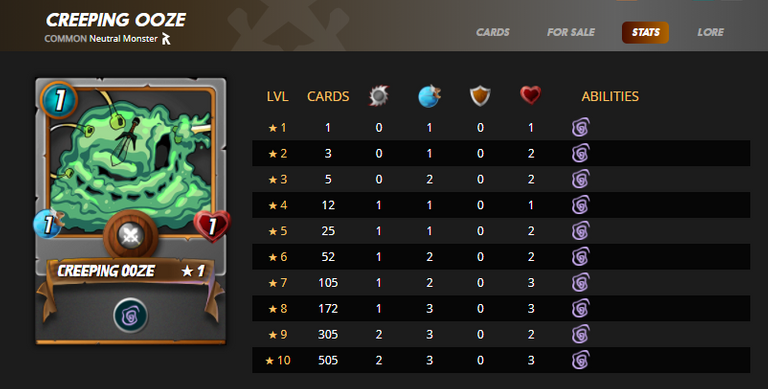 It's a very helpful card only for it's low mana and Slow ability. It costs 1 mana only. Slow ability means Reduces the Speed of all enemy Monsters. I always use this if I have 1 mana to fill up.
Silvershield Assasin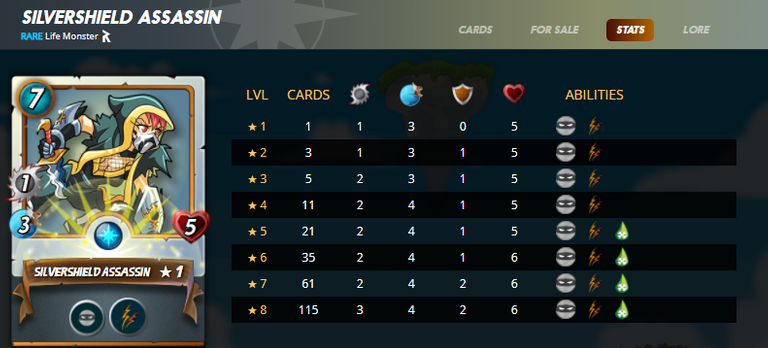 This is one of my favorite cards of Life splinter. It's a new reward card with Sneak, Double Strike and Poison ability. I use this card when I play with Life splinter. Sneak means Targets the last Monster on the enemy Team instead of the first Monster. Double Strike means Monster attacks twice each round and Poison means Attacks have a chance to apply poison, which does automatic damage to the target at the beginning of each round after the poison is applied.
Brownie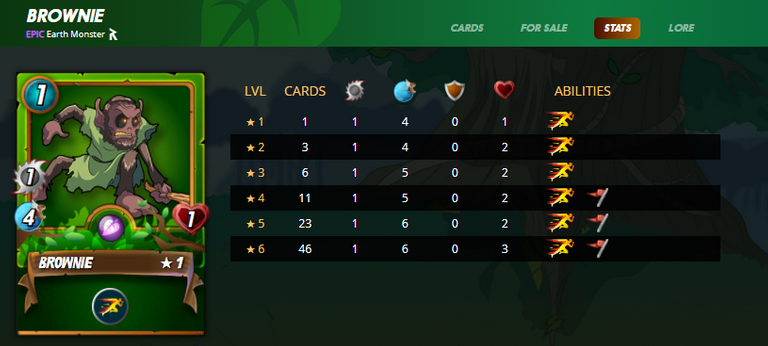 One of my favorite cards of Earth splinter because of it's low mana and Swiftness ability. It costs only 1 mana. Swiftness means All friendly Monsters have increased Speed. Also it has high speed which helps in the battles of Melee Myhem or Super Sneak.
This is all. These are the cards I like from this season reward cards I received. I got -
28 Common cards.
5 Rare cards
4 Epic cards
3 Gold Foil Common cards
No Legendary cards.
I always wait eagerly to claim a Legendary cards espicially Lord Arianthus because I didn't receive it yet and I don't have any of this.
Thanks everyone for reading my blog. If you find my articles/videos helpful/enjoyable, consider following me. And don't forget to share your thoughts in the comment section below.
bdcommunity is an initiative on the steem blockchain trying to help all Bangladeshi standard authors and share their work and knowledge, to improve their skills. If you are from Bangladesh then you are welcomed here. If you are non Banngladeshi you are also welcomed here as bdcommunity help not only Bangladeshis but also foreigners.
If you want to help @bdcommunity then you can delegate some sp there.
Join bdcommunity on Discord
Subscribe my YouTube Channel
Join Brave and earn BAT tokens from now. Click here