Seems the hero of the 4-0 Liverpool triumph against Barcelona is no longer needed at Anfield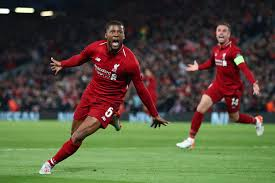 The Dutch Liverpool player, Gini Wijnaldum, has recently been linked with a move to FC Barcelona, who has just hired Dutchman Ronald Koeman as coach at the club. It is no secret that Barcelona are engaged in a purge of the club, where they are entering a rebuilding phase of the club. Therefore, new players are also needed.
According to the English media Mirror, Liverpool have put a very modest price on Wijnaldum, who has entered his final year of his Liverpool contract. There should be approx. £25 for the Dutchman. If you think about today's prices in the transfer market, it looks like a very nice price for the 29-year-old midfielder.
If Liverpool choose to sell Wijnaldum, it could indicate that the money will be used to finance a purchase of Spanish Thiago Alcantara, who has also been heavily rumored to the Merseyside club over the summer.