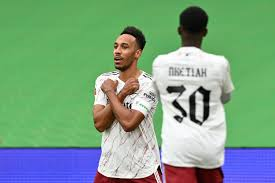 Okay, from my point of view, and also the past matches that have seen, I think it's safe to say without Aubameyang, Arsenal would be in a difficult situation. However, the London club need not speculate anymore about vwhere the future of the star player lies. After lengthy negotiations, Arsenal have now announced that the club's biggest star has extended his contract with Arsenal.
The 31-year-old Gabonese have signed a three-year extension, and will thus be on contract at Arsenal until 2023. Several media have long reported that the agreement has been signed for a while, but the extension has only been confirmed now.
Aubameyang switched to Arsenal in 2018 for around £45 million pounds from Borussia Dortmund. At Arsenal, he has since played 86 Premier League games and scored 55 goals. He was in his first season shared top scorer in the Premier League with city striker, Aguero, and last season he finished in a shared second place with Leicester City striker, Jamie Bardy. No player has scored more Premier League goals than Aubameyang's since his arrival at Arsenal.
In addition to all the many goals, Aubameyang is also "The Gunners" official captain.