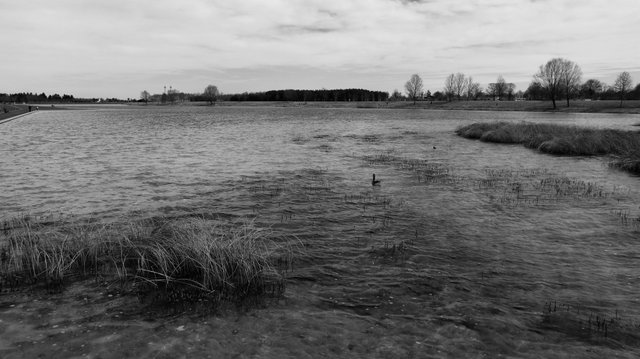 My Actifit Blog #568 | 26 February 2020 |
Sometimes it is really better to reproduce the mood of a landscape in black and white than in color as in the cover picture above.
Today was a gloomy day, cloudy with light rain and lots of wind.
It was a day to rather stay at home and do other things, like reading a good book.
At the moment I'm reading a very interesting book about a certain breathing technique, which is very beneficial for everybody, especially for those who do sports.
The book is called: "The Oxygen Advantage" by Patrick McKeown. For me it is the most exciting book I have read in a long time. The exercises in it are all easy to follow, the scientific principles behind them are well documented.
My breathing behaviour has changed fundamentally in the last two weeks, the positive effects can already be felt: more energy during the day and more focused, better sleep and the running training with nasal breathing only is much, much easier.
If you would like to find out more about this breathing method, please follow this link:

Manchmal ist es wirklich besser die Stimmung einer Landschaft in schwarz/weiß wiederzugeben als in Farbe wie im obigen Cover Bild.
Heute war ein trüber Tag, wolkenverhangen mit leichtem Regen und viel Wind.
Ein Tag eher um zu Hause zu bleiben und anderen Beschäftigungen nachzugehen, z.B. ein gutes Buch zu lesen.
Im Moment lese ich ein sehr interessantes Buch über eine bestimmte Atemtechnik, die allen und gerade denjenigen, die Sport treiben, sehr zugute kommt.
Das Buch heißt: "The Oxygen Advantage" von Patrick McKeown. Es ist für mich das spannendste Buch, das ich seit langem gerade lese. Die Übungen darin sind alle leicht nachzuvollziehen, die wissenschaftlichen Grundlagen dahinter sind belegt.
Mein Atemverhalten hat sich in den letzten zwei Wochen grundlegend geändert, die positiven Auswirkungen sind bereits zu spüren: mehr Energie am Tag und fokussierter, besserer Schlaf und das Lauftraining bei ausschließlicher Nasenatmung fällt viel, viel leichter.
Wer sich näher über diese Atemmethode informieren möchte, folge bitte diesem Link:

Stats for Today
Walking: 3 km
Current Total 2020:

336 km
Activity Count: 5 806 steps

(counted by my Fitbit device synced with actifit fitness tracker)
Activity Type:
Walking, Daily Activities
Current Actifit User Rank: 63 (+15.10)*
*Holding 151.00 AFITX tokens
Rewarded Activity Reports: Level 8/10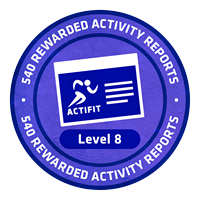 Next Badge: Level 9 needs to have 720 Rewarded Activity Reports!

How to start your actifit/steem account:
• Buy some STEEM first!
• STEEM is an investment, not only a blogging platform!
• You can use Bitvavo or any other exchanges which trade STEEM
• Signup for an actifit/STEEM-account here
• Download the app for Android or IOS
• Join Actifit's community on Discord for discussions and help
• Follow @actifit for daily News and Statistics
• Read the Official White Paper for further information on the project!
• Please vote for @actifit as witness!! The team is doing an excellent job!
• Get upvotes from @actifit by posting your daily activities!
• Make at least 5K steps daily! Now you are ready to go to the Moon!
• Distance to the Moon is avg. 385K km! Enjoy your lifelong travel! 😄


This is the actifit posting account of @peter2017, an ambitious guy with a bunch of old bones. I'm trying to enhance my health and fitness mainly by running, walking, cycling and swimming.
Please support and follow my progress! Thanks so much!
In addition your steps can earn Sweat-Coins! Please use the following link to download the app: Sweat-Coins
Life is Motion! Live an active Lifestyle to stay healthy and fit!




Photos © by actifit-peter
Who-Am-I ?