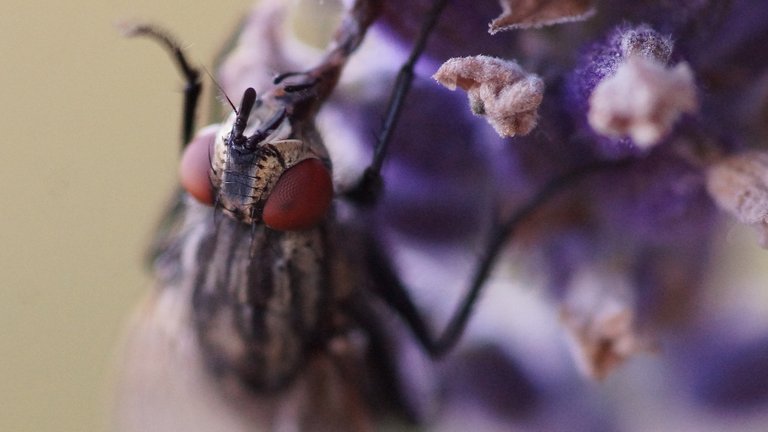 My Actifit Blog #703 | 5 August 2020 |
Today I got a new tripod for my camera, which I had to test immediately. My old tripod is used up and does not serve well anymore. It wobbles and the responsible screws can't be tightened anymore.
For landscape photography and everyday motives I generally do not need a tripod. But when it comes to macro photography, it is almost a "must".
Since I have some plants on my balcony, which are visited by all kinds of insects, a normal fly had to serve as model.
Unfortunately the light conditions were not that good anymore, also the fly didn't really want to keep still, but I think you can still see many details.
Yes, even flies can have very nice eyes and an interesting backside! :-)
By the way: shortly after getting up I ran 7 km today. That was a great start into the day!

Heute bekam ich ein neues Stativ für meine Kamera geliefert, das ich natürlich sofort testen musste. Mein altes Stativ hat ausgedient und leistet keine guten Dienste mehr. Es wackelt und die dafür zuständigen Schrauben lassen sich nicht mehr festziehen.
Für Landschaftsaufnahmen und Alltagsmotive benötige ich im Allgemeinen kein Stativ. Wenn es allerdings um Makroaufnahmen geht, dann ist es schon fast ein "Muss".
Da ich auf meinem Balkon einige Pflanzen habe, die von allerlei Insekten besucht werden, musste eine ganz normale Fliege als Modell dienen.
Die Lichtverhältnisse waren leider nicht mehr so gut, auch wollte die Fliege nicht wirklich still halten, aber ich denke, man kann dennoch ganz gut viele Details sehen.
Ja, auch Fliegen können sehr schöne Augen und ein interessantes Hinterteil haben! :-)
Übrigens: kurz nach dem Aufstehen bin ich heute noch 7 km gelaufen. Das war ein toller Start in den Tag!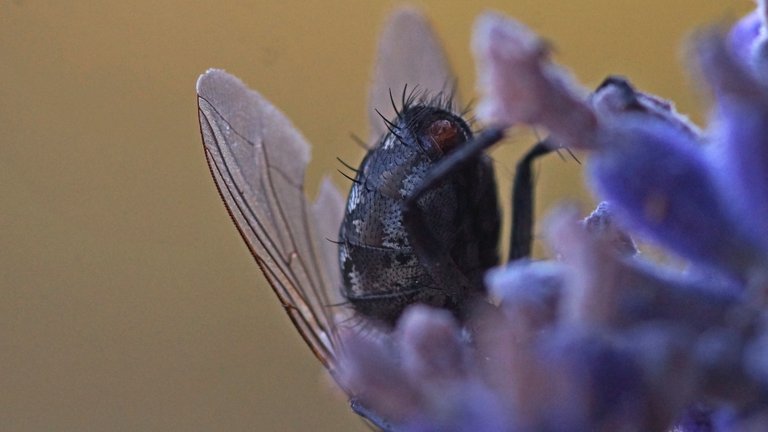 Stats for Today
Running: 7 km
Current Total 2020:

1 425 km
Activity Count: 11 189 steps

(counted by my Fitbit device synced with actifit fitness tracker)
Activity Type:
Running, Daily Activities
Current Actifit User Rank: 63 (+17.00)*
*Holding 170.00 AFITX tokens
Rewarded Activity Reports: Level 8/10
Next Badge: Level 9 needs to have 720 Rewarded Activity Reports!

How to start your actifit/HIVE account:
• Signup for a HIVE-account here or here
• Download the app for Android or IOS
• Join Actifit's community on Discord for discussions and help
• Follow @actifit for daily News and Statistics
• Read the Official White Paper for further information on the project!
• Please vote for @actifit as witness!! The team is doing an excellent job!
• Make at least 5K steps daily and get upvotes from @actifit!
• Now you are ready to go to the Moon!
• Distance to the Moon is avg. 385K km! Enjoy your lifelong travel! 😄

This is my actifit posting account! I'm trying to enhance my health and fitness mainly by running, walking and cycling.
Please support and follow my progress! Thanks so much!
In addition your steps can earn Sweat-Coins!
Please use the following link to download the App (IOS or Android):
Sweat-Coins
Life is Motion! Live an active Lifestyle to stay healthy and fit!




Photos © by actifit-peter
Who-Am-I ?