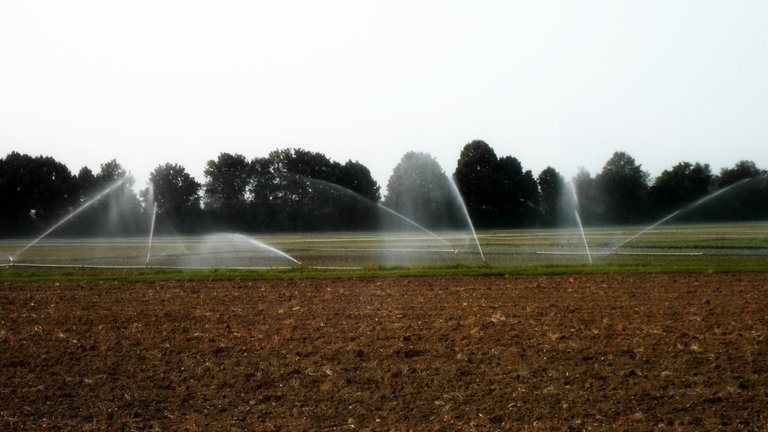 My Actifit Blog #708 | 11 August 2020 |
Today it became really hot again - over 30 degrees Celsius. Nature sighs a little bit. People too. In some places in Germany water has to be rationed in smaller communities and the necessary water is brought to the people by the fire department!
Not before 19.00 o'clock in the evening I made a 30 km round trip with my bicycle around my place of living. During this trip I saw some water sprinklers in a field to give the young plants enough water, because during the day the sun relentlessly is drying out the soil.
The next days it will be similarly hot, but there will also be local thunderstorms and rain.

Heute wurde es wieder richtig heiß - über 30 Grad Celsius. Die Natur stöhnt ein wenig. Die Menschen auch. Mancherorts in Deutschland muss in kleineren Gemeinden Wasser rationiert werden und das notwendige Wasser wird mit der Feuerwehr zu den Leuten gebracht!
Erst um 19.00 Uhr abends machte ich eine 30 km Radfahrt um meinen Wohnort. Dabei sah ich einige Wassersprenkler auf Feldern um den jungen Pflanzen genügend Wasser zu geben, da während des Tages die Sonne unerbittlich die Böden austrocknet.
Die nächsten Tage wird es ähnlich heiß sein, allerdings wird es auch örtlich heftige Gewitter und Regen geben.

Stats for Today
Cycling: 30 km
Current Total 2020:

1 490 km
Activity Count: 11 534 steps

(counted by my Fitbit device synced with actifit fitness tracker)
Activity Type:
Cycling, Daily Activities
Current Actifit User Rank: 63 (+17.00)*
*Holding 170.00 AFITX tokens
Rewarded Activity Reports: Level 8/10
Next Badge: Level 9 needs to have 720 Rewarded Activity Reports!

How to start your actifit/HIVE account:
• Signup for a HIVE-account here or here
• Download the app for Android or IOS
• Join Actifit's community on Discord for discussions and help
• Follow @actifit for daily News and Statistics
• Read the Official White Paper for further information on the project!
• Please vote for @actifit as witness!! The team is doing an excellent job!
• Make at least 5K steps daily and get upvotes from @actifit!
• Now you are ready to go to the Moon!
• Distance to the Moon is avg. 385K km! Enjoy your lifelong travel! 😄

This is my actifit posting account! I'm trying to enhance my health and fitness mainly by running, walking and cycling.
Please support and follow my progress! Thanks so much!
In addition your steps can earn Sweat-Coins!
Please use the following link to download the App (IOS or Android):
Sweat-Coins
Life is Motion! Live an active Lifestyle to stay healthy and fit!




Photos © by actifit-peter
Who-Am-I ?