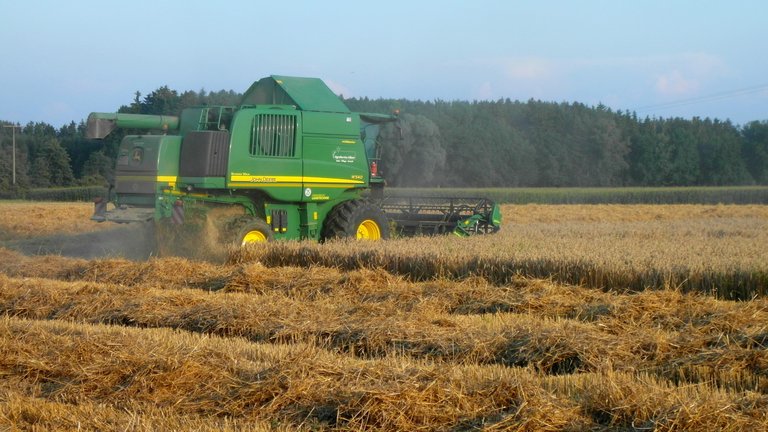 My Actifit Blog #709 | 12 August 2020 |
Similarly hot as yesterday, I recall with pleasure the saying "the early bird eats the worm" and went outside at 8.00 am and did an interval run.
If anyone doesn't know what that is, here's a brief explanation.
During an interval run you define for yourself either time or distance dependent a very fast running phase (up to 90% of your own maximum speed), then a break of one or maximum 2 minutes and repeat this rhythm 7 - 9 times. Normally you do a warm up of few kilometers and also a cool down after the run.
My plan was: 200 m fast running, then a 1 minute break (slow jogging) and this 9 times in a row. Everything went well, but in the end I was quite exhausted. During the fast running phases I reached a pace of 4:30 min./km.
In the evening I went for a walk and watched a farmer harvesting his wheat field with a big and also very loud machine.

Ähnlich heiß wie gestern, erinnere ich mich gern an den Spruch "der frühe Vogel frisst den Wurm" und ging um 8.00 Uhr morgens nach draußen und machte einen Intervall-Lauf.
Sollte jemand nicht wissen, was das ist, hier kurz eine Erklärung.
Bei einem Intervall-Lauf definiert man für sich selbst entweder zeit- oder distanzabhängig eine sehr schnelle Laufphase (bis zu 90% des eigenen Höchsttempos), danach eine Pause von einer oder maximal 2 Minuten und wiederholt diesen Rhythmus 7 - 9 mal. Normalerweise macht man auch noch eine Aufwärmphase von einigen Kilometern und eine Cooldown Phase nach dem Lauf.
Mein Plan war: 200 m sehr schnelles Laufen, dann 1 Minute Pause (langsames Joggen) und dies 9 mal hintereinander. Es ging alles bestens, am Ende war ich dann doch einigermaßen erschöpft. Bei den schnellen Laufphasen erreichte ich ein Temp von 4:30 Min./km.
Am Abend machte ich noch einen Spaziergang und konnte einem Bauern zusehen, wie er sein Weizenfeld mit einer großen und auch sehr lauten Maschine aberntete.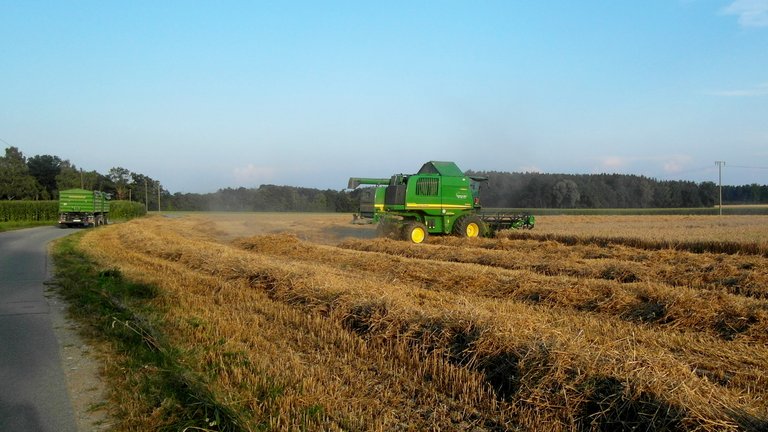 Stats for Today
Running: 5 km • Walking: 6 km
Current Total 2020:

1 501 km
Activity Count: 20 872 steps

(counted by my Fitbit device synced with actifit fitness tracker)
Activity Type:
Cycling, Daily Activities
Current Actifit User Rank: 63 (+17.00)*
*Holding 170.00 AFITX tokens
Rewarded Activity Reports: Level 8/10
Next Badge: Level 9 needs to have 720 Rewarded Activity Reports!

How to start your actifit/HIVE account:
• Signup for a HIVE-account here or here
• Download the app for Android or IOS
• Join Actifit's community on Discord for discussions and help
• Follow @actifit for daily News and Statistics
• Read the Official White Paper for further information on the project!
• Please vote for @actifit as witness!! The team is doing an excellent job!
• Make at least 5K steps daily and get upvotes from @actifit!
• Now you are ready to go to the Moon!
• Distance to the Moon is avg. 385K km! Enjoy your lifelong travel! 😄

This is my actifit posting account! I'm trying to enhance my health and fitness mainly by running, walking and cycling.
Please support and follow my progress! Thanks so much!
In addition your steps can earn Sweat-Coins!
Please use the following link to download the App (IOS or Android):
Sweat-Coins
Life is Motion! Live an active Lifestyle to stay healthy and fit!




Photos © by actifit-peter
Who-Am-I ?