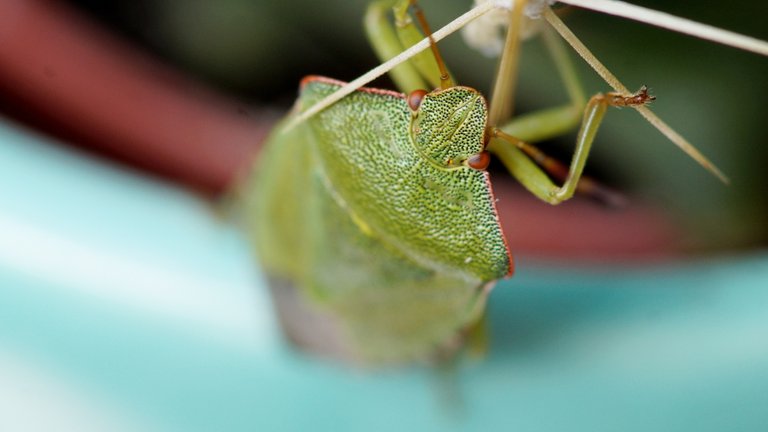 My Actifit Blog #712 | 15 August 2020 |
Today on one of my balcony plants (in this case a small cactus) there was a vivid tree bug, to be more precise - it was a green stink bug!
I think I managed to take two good pictures of this small and also completely harmless insect. You can even see the compound eyes and two more very small eyes above the main eye.
In the evening I made a 30 km bike tour to the neighbouring lake.

Auf einer meiner Balkonpflanzen (in diesem Fall ein kleiner Kaktus) befand sich heute eine muntere Baumwanze, genauer gesagt - es war eine grüne Stinkwanze!
Ich denke es sind mir zwei gute Aufnahmen von diesem kleinen und auch völlig harmlosen Insekt gelungen. Man kann sogar die Facettenaugen gut erkennen sowie zwei weitere ganz kleine Augen über dem Hauptauge.
Am Abend machte ich noch eine Radtour über 30 km zum benachbarten Badesee.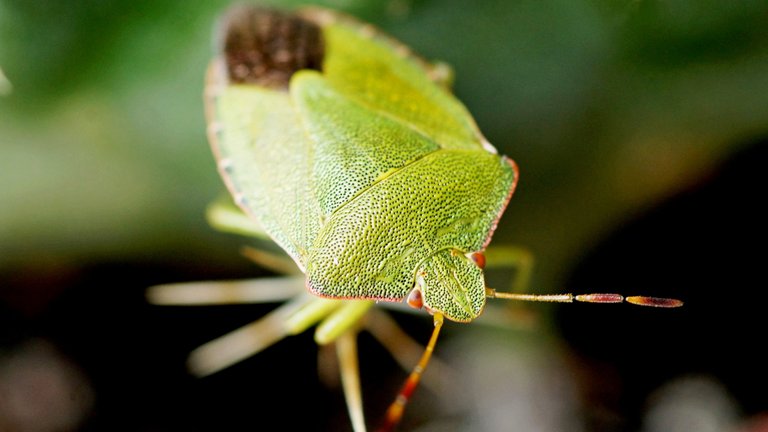 Stats for Today
Cycling: 30 km
Current Total 2020:

1 566 km
Activity Count: 10 343 steps

(counted by my Fitbit device synced with actifit fitness tracker)
Activity Type:
Cycling, Daily Activities
Current Actifit User Rank: 63 (+17.00)*
*Holding 170.00 AFITX tokens
Rewarded Activity Reports: Level 8/10
Next Badge: Level 9 needs to have 720 Rewarded Activity Reports!

How to start your actifit/HIVE account:
• Signup for a HIVE-account here or here
• Download the app for Android or IOS
• Join Actifit's community on Discord for discussions and help
• Follow @actifit for daily News and Statistics
• Read the Official White Paper for further information on the project!
• Please vote for @actifit as witness!! The team is doing an excellent job!
• Make at least 5K steps daily and get upvotes from @actifit!
• Now you are ready to go to the Moon!
• Distance to the Moon is avg. 385K km! Enjoy your lifelong travel! 😄

This is my actifit posting account! I'm trying to enhance my health and fitness mainly by running, walking and cycling.
Please support and follow my progress! Thanks so much!
In addition your steps can earn Sweat-Coins!
Please use the following link to download the App (IOS or Android):
Sweat-Coins
Life is Motion! Live an active Lifestyle to stay healthy and fit!




Photos © by actifit-peter
Who-Am-I ?