Actifit Anniversary Celebration Contest: Refer Friends & Earn 1000+ HIVE
Following our prior announcement on Actifit's 2nd anniversary, it brings us great pleasure to kick off the first contest as part of our celebration month!
Refer Friends & Earn 1000+ HIVE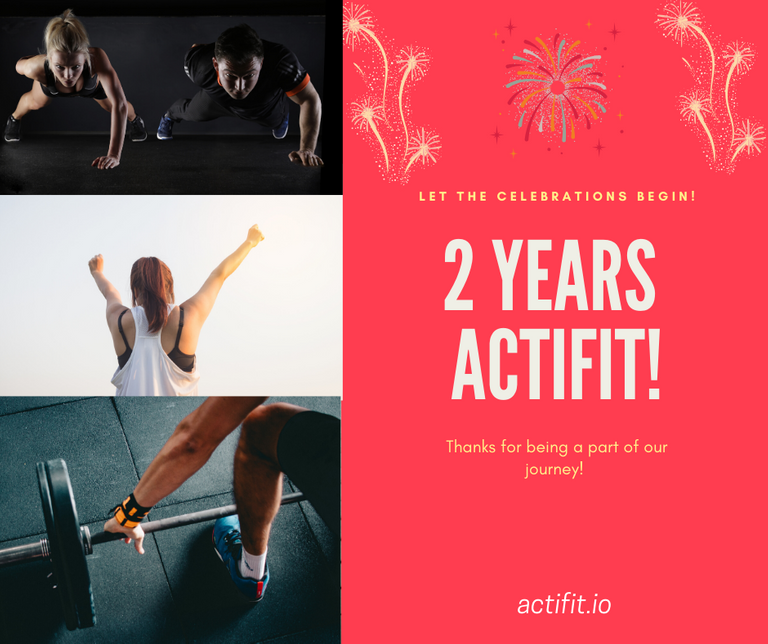 We recently revamped our whole referral mechanism for actifit to make it more motivating for you to bring new users to actifit (& hive). Quoting our latest announcement:
Today, we are revamping the referral system via introducing new recurring rewards for users referring new signups via actifit:

We are keeping the existing reward, whereby you receive one time AFIT amount equal to 20% of the AFIT rewards your referral earns upon successful signup (usually minimum 20 AFIT)
Up to 35% of your referral's actifit report rewards for one month, across all tokens rewarded (AFIT, HIVE, ...). So whatever your referred user's actifit reports earn, you are earning up to 35% (minimum of 20%) across all relevant tokens associated with those reports (AFIT, HIVE,...). The base rewards start at 20%, and they increase by 5% for meeting each of the extra criteria (User Rank level, AFIT balance held in your actifit.io wallet, and AFITX held on hive-engine or steem-engine).
While this could get pretty rewarding to you for the first month, we also wanted to base our first contest on referrals, to even allow you to earn more HIVE!
Your friends will need to signup using your referral link, which is via the format https://actifit.io/signup?referrer=YOURUSERNAME.
You can easily find your referral link and more details by visiting your referral page.
Timeline & Prizes
The contest will run across the month of July. In addition to all the standard referral rewards, the top referrers who bring the most new signups via actifit.io are eligible to earn the below rewards:
#1: Top referrer earns 400 HIVE
#2: 2nd top referrer earns 200 HIVE
#3: 3rd top referrer earns 100 HIVE
#4 - 10: Referrers 4-10 earn 50 HIVE Each
Valid referrals will show on your own referrals page on actifit.io following their signup.
So what are you waiting for? spread the news, let's have fun, bring more users to actifit & hive, and get rewarded while doing so!
---
---