We are happy to present you with another update pertaining changes we have recently implemented to improve your actifit experience while exploring and using your beloved rewarding fitness & health app, actifit!
Yield Farming Page
One of the large recent hypes storming the crypto world is DEFI. And one of the key aspects of DEFI is yield farming.
Unfortunately while many yield farming projects turn/ed out to be scams, or are associated with crazy high fees, while also potentially posing high risk to your funds, actifit using hive blockchain has been providing yield farming since its initiation, without such risks or fees!
As many of you are already know, delegating HIVE to actifit provides you with daily AFIT yield. The advantages that this has over all the other ethereum based DEFI is many fold:
No risk of losing your funds: While delegating your HIVE to actifit, you do not risk losing your funds, as they remain in YOUR OWN WALLET.
No fees: gas fees have been tremendous on ethereum. With hive, there are NO FEES (you have RC which you do not pay for, and is limited by your existing power) so performing your staking/power up costs you ZERO fees. Similarly the delegation has ZERO fees.
Authentic project: Actifit has been running for over 2 years now, and we have a committed community, while also being committed to our project and our community.
For all those purposes, and to highlight yield farming via actifit on hive, we created the new yield farming page.
At the moment, your estimated APY is of 92.256% for delegating your HIVE to actifit. The APY is actually slightly higher as delegators also receive weekly payouts in HIVE as well, but the page focuses solely on AFIT daily yield.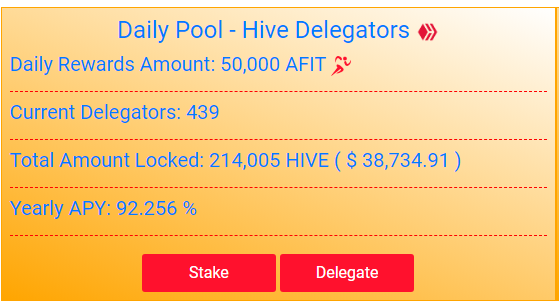 You can see the daily rewards in AFIT as well just below this section.
Feel free to check out and share the new Yield Farming Page
Keep up with your friends
As part of keeping up with your friends, we found it to be essential to be notified of any new posts that your friends are making.
For this purpose, and as we have been adding several types of notifications, we have implemented on actifit.io notifications that will let you know when your friends have created a new actifit report, so as you ca check what they have been up to!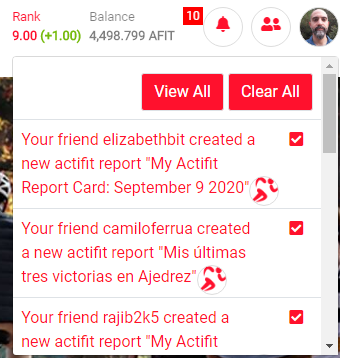 Get notified on your own reports
As part of this new notification type, also once you create your own actifit report via the app, you will receive a notification also on your actifit.io account, confirming that the process went through smoothly.
This will also provide you with quick access to your report from the notifications bar should you need to make any changes/edits, or just check on the report, votes and comments from users.

New UI Improvements
We have been making adjustments to the user experience on actifit.io, particularly with the introduction of the market HIVE payment support, gadgets contest,...
As part of the new enhancements, we have revamped the whole top menu bar experience, improving its UI, while also making it accessible anywhere on the site.


You will notice some components of the menu on the main page are slightly different than other pages, as they reference items on the landing page (such as news, team...).
Meanwhile on the inner pages, you will find a menu reference to the home page to redirect you back to your page of control.

We have also made other UI improvements across the site, covering main page and wallet page, and are continuously working on others.
New Shortened Links
In additional effort to improve SEO, and to allow shorter links to be shared on social media, we have implemented a URL shortener for actifit, which maintains a sub-domain of actifit (links.actifit.io), while also capturing keywords (or other combinations) to create shorter urls.
You can notice our latest twitter share used the link https://links.actifit.io/gadget-prize-ab9ed
We are continuously working on new features, changes, and improvements. If you have any ideas or feedback, feel free to share them via discord.
---
@actifit team
Did you stock up on your gadgets yet? Head over to Actifit Market NOW to WIN!
Support our witness on Hive, vote for us or set us as proxy on actifit profile, via peakd, or hive blog.