We are excited bring you another update for actifit core development, and to officially announce major new functionality that has been in the making for a while now!

Actifit Gadget Prize Draw
In alignment with launching the capability to buy gadgets using HIVE as an alternative to AFIT (more on that below), we have officially launched the Actifit Gadget Prize Draw, which allows one lucky winner to win the pool of HIVE every 4 days.
By buying gadgets on Actifit Market using HIVE, not only are you getting the benefits of getting gadgets to boost your rewards, yet you are now eligible for winning every 4 days.
For every purchase you make:
50% of the amount will go to the prize pool
25% will go to a fund to buy back AFIT tokens from the market
remaining 25% will go to support actifit project.
The pricing of gadgets in HIVE is dynamic, and is based on AFIT price on hive-engine.com.
The gadget prize draw rules are as follows:
The more tickets you have, you are more likely to win the prize.
You need to have at least 1,000 AFIT in your wallet to get tickets.
For every single gadget you buy with HIVE, you receive 1 ticket.
The prize pool shows the current value of the pending reward.
The draw occurs every 4 days, after which all entries are reset for another draw.
You can see more details on Actifit Market Page. Good luck to all of you!
New Market Cart Functionality
One of the frequently requested features on actifit market was the capability to buy multiple gadgets in one shot. We made that happen!
As of now, instead of buying each gadget separately, you can actually add gadgets to the cart, and then checkout the cart.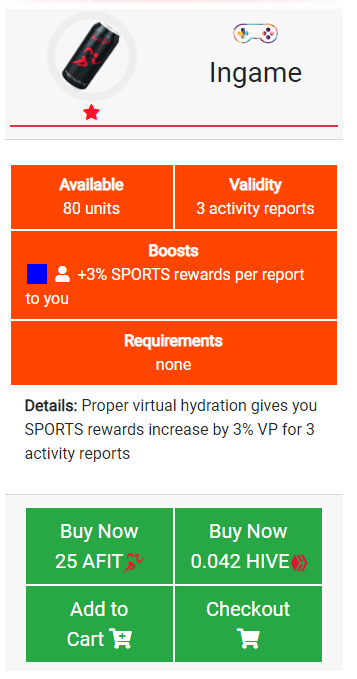 Once you have selected the proper gadgets to "add to cart", you can click the "checkout button", which will pop your cart.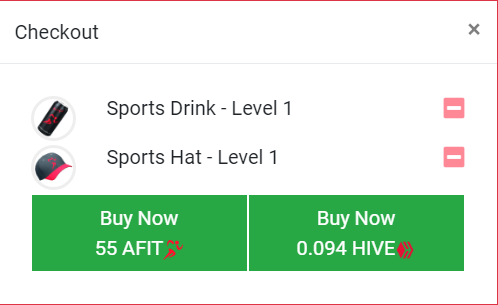 You can remove gadgets or proceed with buying, using either AFIT or HIVE options.
After the purchase is complete, you can even activate all gadgets with one click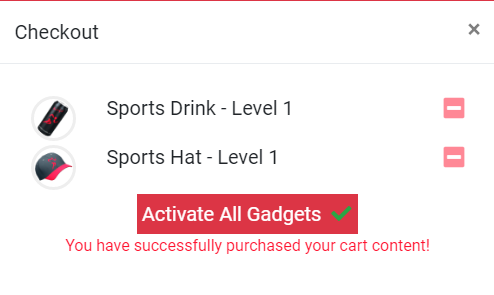 Buy With HIVE
As highlighted above, you can notice that the capability to buy with HIVE (in addition to AFIT) has been added to actifit market.
The pricing of gadgets is fixed in AFIT (existing prices), and is calculated dynamically based on AFIT/HIVE price under hive-engine.com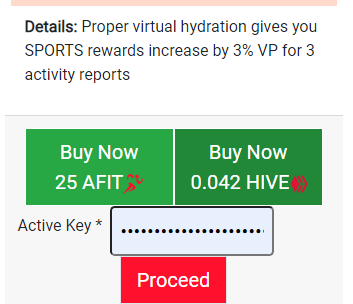 Your private active key is required to make the purchase as is the case with any wallet transaction. It would be definitely easier to use the cart for bulk purchases as you would need to only enter it once and pay once, while earning all tickets according to your gadget count being purchased.
Please note that we do NOT store your private active key anywhere
We believe this is a key advancement in actifit market functionality, as we plan to further expand our market offerings to more third party providers and introduce new real product offerings to our users.
---
@actifit team
Support our witness on Hive, vote for us or set us as proxy on actifit profile, via peakd, or hive blog.