It brings us great pleasure to be able to celebrate with all of you Actifit turning 2 years old!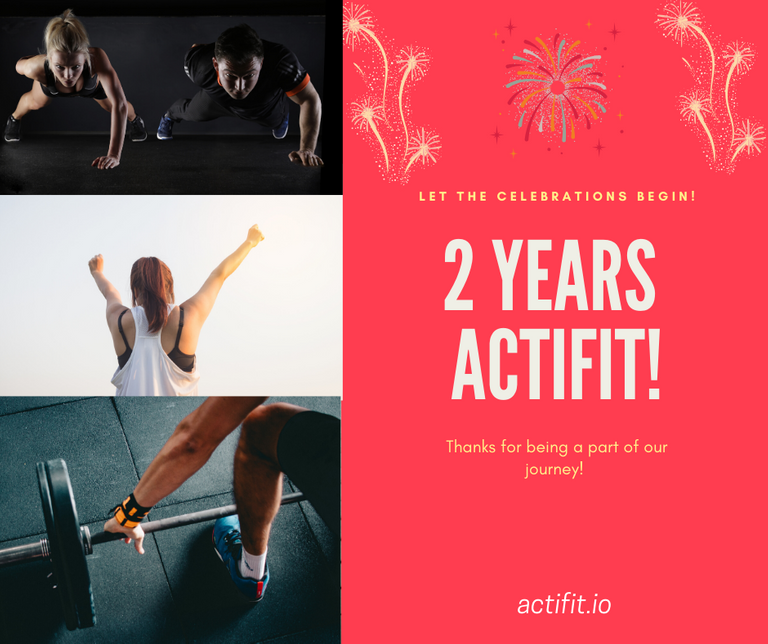 Actifit Today 2 Years Old..A Month of Celebrations
On this same day 2 years back, June 27, 2018, Actifit was officially announced to the public. The rest is history.
We have been growing ever since, thanks to all of you, our amazing and supportive community, and thanks to our wonderful team and supporters.
We have came across a lot of ups and downs, but one thing was constant, our willingness and perseverance to grow actifit.
Since the beginning, today, and in the future, we have been introducing new features to actifit, and plan to continue doing so as we plan to grow our user base further and expand across the whole cryptosphere.
Upcoming Contests With 1,000+ HIVE Rewards
For this year's anniversary, we would like to first dedicate the month of July as a month of celebrations, whereby we plan to allocate 1,000+ HIVE to reward via different competitions.
The competitions will be announced as of next week, so stay tuned to see what we have planned for you :) :)
New User Referral System
In coordination with our anniversary, and in light of planning for more user growth, we have been brainstorming about a new incentive mechanism for rewarding referrals to actifit.
Our old system included a 20% onetime reward of the initial user's reward signup.
Today, we are revamping the referral system via introducing new recurring rewards for users referring new signups via actifit:
We are keeping the existing reward, whereby you receive one time AFIT amount equal to 20% of the AFIT rewards your referral earns upon successful signup (usually minimum 20 AFIT)
Up to 35% of your referral's actifit report rewards for one month, across all tokens rewarded (AFIT, HIVE, ...). So whatever your referred user's actifit reports earn, you are earning up to 35% (minimum of 20%) across all relevant tokens associated with those reports (AFIT, HIVE,...). The base rewards start at 20%, and they increase by 5% for meeting each of the extra criteria (User Rank level, AFIT balance held in your actifit.io wallet, and AFITX held on hive-engine or steem-engine).
We believe this could be greatly motivational for you to bring new users, but also to support them by rewarding their content as well.
The general format of your referral link is https://actifit.io/signup?referrer=YOURUSERNAME
You can find your referral link and more details by visiting your referral page.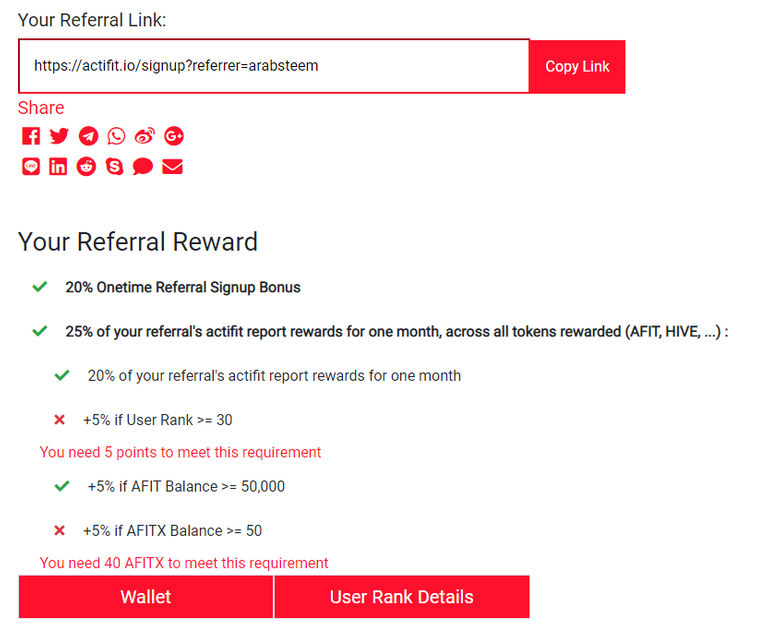 New User Rank Screen
The Actifit User Rank system is responsible for the user's daily rewards, is a measure of how active on actifit and supportive of the project you are, and now affects your referral user rewards as well.
To make the whole system more transparent, and to give you insights as to how soon you can move to a next level, we have made a new detailed page for the user rank, which you can access by clicking on your "user rank" under the "user menu"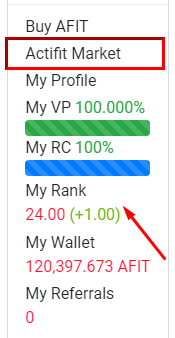 The different components and a breakdown of your user rank are displayed with a relevant description. The dark green boxes are the ones meat, and the lighter ones are the next levels for you to reach.
By hovering over the boxes, you can see the threshold for each of the ranges for moving over to the next level and increasing your user rank.


For more details, check out your user rank page
This is it for today's update, stay tuned for further announcements starting next wweek in celebrations of
---
Support our witness on Hive: vote for us via peakd or hive blog wallet or set us as proxy via peakd
Our amazing team
@alfamano | @alokkumar121 | @ciuoto | @ckole | @katerinaramm | @priyanarc | @rabihfarhat | @pjansen | @thereikiforest | @silvertop | @elizabethbit | @deepu7 | @kpreddy

Haven't downloaded Actifit yet? download it from the playstore or from the app store and start your journey to fitness and rewards!