We are happy to bring you another set of updates to your actifit experience. Let's get on with it !
Actifit.io Improvements - Notifications View
We have rolled out over the last week new changes relating to the notifications on actifit.io to improve your user experience, particularly if you wish to keep track of your notifications history, or if you mistakenly hid a notification that you wanted to look into again.
As of now, clicking the notifications icon will actually display 2 additional buttons: "View All" & "Clear All".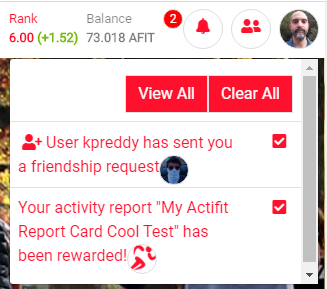 The Clear All button will allow you to easily mark all your notifications as read.
The View All button will lead you to a new screen that allows viewing all your read/unread notifications, and then taking proper action.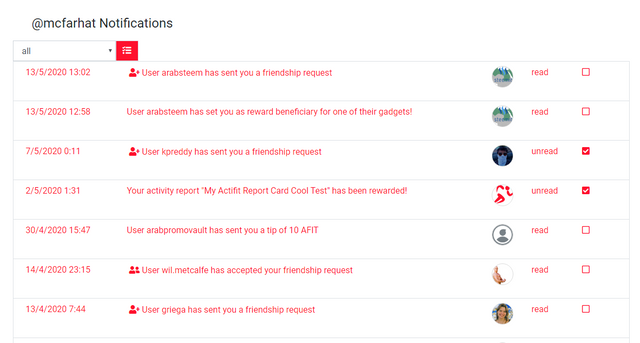 Within the screen, you can decide to filter out notifications by read/unread ones. You can also mark all as read using the icon to the top left.
The details of all notifications are visible there. The date, user, description, as well as the capability to change the status, on the fly, of the notification.
Notifications which are already read can be ticked to be marked as unread again, and vice versa.
Although there are limited types of notifications at the moment on actifit, yet as we add more we believe this will help improve the user experience and become a very useful tool for you to track your actifit interactions.
Actifit.io Hive Engine Support
We have been working on adding further support for hive-engine on your wallet interaction page. And we have officially setup proper support so that when you are logged in under "Hive" option, your interactions will actually be with hive-engine. Meanwhile logging in with "Steem" option will still transact with Steem-engine.
We have implemented it as such to maintain the support for users who have balances on steem-engine or who are receiving rewards for tokens available there.
You can now see your AFIT balance on both exchanges at the top

All interactions with supported hive-engine tokens are now fully available via actifit.io wallet, including transferring, powering up, down, or withdrawing (for SWAP.HIVE, the HIVE PEGGED token). Similarly existing interactions with steem-engine token are fully functional while using "Steem" blockchain option.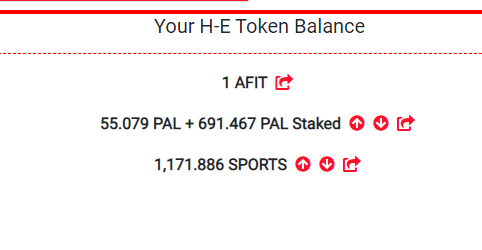 We have also added support for direct link to allow purchasing AFIT/AFITX on hive-engine as well.
Now you can also move AFIT tokens from hive-engine to your actifit.io wallet
We are still working on finalizing the implementation of moving AFIT tokens from your actifit.io wallet over to hive-engine AFIT wallet, but also on allowing smooth transition of AFIT/AFITX tokens from steem-engine over to hive-engine, for anyone who wishes to make that happen. We believe we will be able to finalize this within this week.
Additionally, all post rewards now also display proper data based on hive-engine tokens, particularly for tokens on hive-engine. Token rewards on steem-engine remain supported by the "steem" view.

As always, we have implemented other bug fixes and general improvements to the layout/functionality of the site.
Weekly Delegator Payouts Sent
Another week, another round of payouts sent to our delegators. Thank you for supporting actifit!
On Hive, rewards went out to 458 delegators, with a total rewards of 123.856 HIVE & 31.426 HBD
On Steem, rewards went out to 388 delegators, with a total rewards of 88.984 STEEM & 11.257 SBD
Witness Status
Actifit is proud to be continuously supporting Hive via running our own witness node.
We have not missed any blocks during the last week.
If you would like to support our witness, vote for us via peakd or hive blog wallet or set us as proxy via peakd
---
Support our witness on Hive: vote for us via peakd or hive blog wallet or set us as proxy via peakd
Our amazing team
@alfamano | @alokkumar121 | @ciuoto | @ckole | @katerinaramm | @priyanarc | @rabihfarhat | @pjansen | @thereikiforest | @silvertop | @elizabethbit | @deepu7

Haven't downloaded Actifit yet? download it from the playstore or from the app store and start your journey to fitness and rewards!