We are happy to bring you another set of updates to your actifit experience.
Throughout the past week, we have made lots of improvements to the user experience overall on actifit & actifit.io.
As you're probably aware, actifit has launched the latest update to its actifit iOS app, version 0.7.0, which includes integration with Apple's Health app, allowing syncing data back from thousands of devices including Apple Watch.
If you missed the announcement, and for more details, you can find it here
For this week, we have more cool stuff that have been already made available on actifit.io, as follows.
Reward, Tips, & Gadget Notifications
Engagement is of key essence to our user experience. Getting well engaged, and knowing what's happening around on your actifit experience makes the ride more fun.
While actifit.io already incorporates the concept of notifications, yet those were constrained to a select few activities, revolving around sending out friendship notifications, and getting approved.
Last week, we rolled out a set of new notifications:
Reward Notifications: Whenever an actifit reward cycle processes, you will now be notified of the reward being cast to your actifit post. This makes it easier to track and be aware when the reward went through. Clicking the notification will lead you to the actual post to see further details.


Notification


Tipping Notifications: Whenever a user sends you AFIT tip, you will receive a notification. Tipping works by visiting the target user profile, and clicking the tip button.


Notification





Tipping Function Under Target User Profile


Friend Gadget Notifications: Many users like to share rewards and give boosts to other actifit users. To make sure their effort is clear, whenever you assign a beneficiary friend to get rewards via one of the relevant gadgets (Friend Boost,Friend Ranker,...) (to check out all the available gadgets, visit actifit market, you will be notified of this action.
Notification

Measurement Progress Charts
As part of being a fitness focused app, we wanted your actifit experience to bring you more progress stats, and make it cooler for you to track such progress.
Many have already been using the weight, height, body fat and other measurements which are available on your actifit app.
As of now, the user's profile will allow the display of the most recent stats for every user.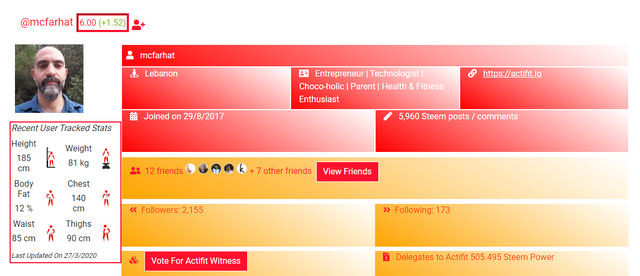 Add to that, we wanted to visualize those components, and allow you to view those as a chart. So if you are logged in to your account, you will be able to see all your data since you started using actifit. Your friends will also have that capability so view how well you have been doing across your fitness journey.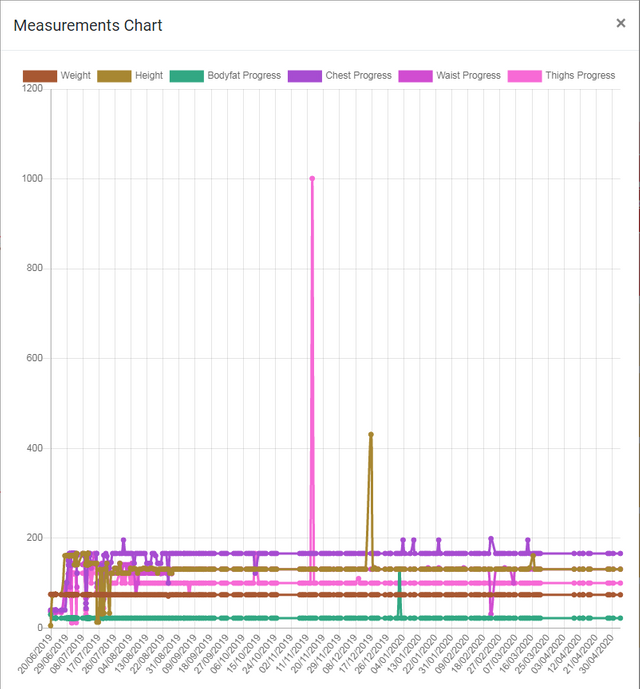 Remain Logged In Option
Many of you have requested for this feature, as you were not happy to keep logging in to actifit.io on a daily basis.
Although our key reasoning behind automated log out is to enhance the security aspect and experience, yet as many consider the devices they're using to be well secure and are being used solely by them, we implemented the new option on login to allow you to remain logged in as long as you keep your browser open or manually log out.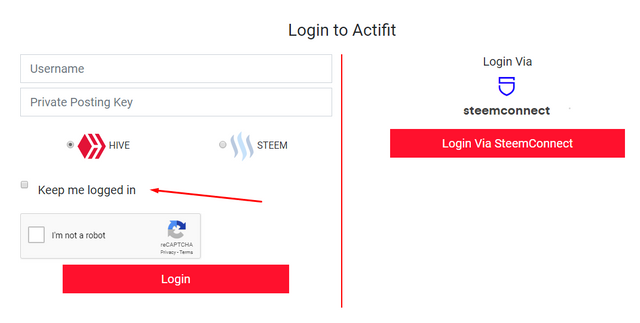 Other Minor Enhancements & Bug Fixes
We implemented a multitude of other smaller enhancements & bug fixes. Those included:
Displaying voter data on comments if user not logged in
Hiding VP/RC bar display for non logged in users
Display spinner while post is loading
Fix user signup issue where username gets checked on hive instead of steem
Support user funds verification via HIVE/HBD
Allow hive-only users to purchase gadgets by switching to hive blockchain.
We have lots of additional work in the pipeline, if you have any suggestions, feedback, or ideas we are more than happy to listen in and work on improving the actifit experience.
---
Support our witness on Hive: vote for us via peakd or hive blog wallet or set us as proxy via peakd
Our amazing team
@alfamano | @alokkumar121 | @ashikstd | @ciuoto | @ckole | @katerinaramm | @priyanarc | @rabihfarhat | @pjansen | @thereikiforest | @sumit71428 | @silvertop | @elizabethbit

Haven't downloaded Actifit yet? download it from the playstore or from the app store and start your journey to fitness and rewards!