Hey hey actifitters!
We are excited to bring you another weekly update.
We've been quite busy working on improving your experience on actifit, and making it as robust and feature rich as possible.
Below you will find some updates for this week.
Actifit iOS Health App & Apple Watch Integration (As well as other relevant integrations via Health app)
We have been working extensively on bringing you the capability to easily sync other data sources to your actifit app. Among those is the health app and the apple watch.
We chose to sync data from health app as it relies on raw data, but also allows users to properly sync from other sources pretty smoothly, including Apple watch, which we believe is a game changer in terms of ease of use and data sync to actifit users.
We are beta testing it out, and so far so good! We would like to thank @alfamano, @stever82, @rabihfarhat and @astrophoto.kevin for their help with this.
If all goes as expected, we should have this before end of month, so stay tuned!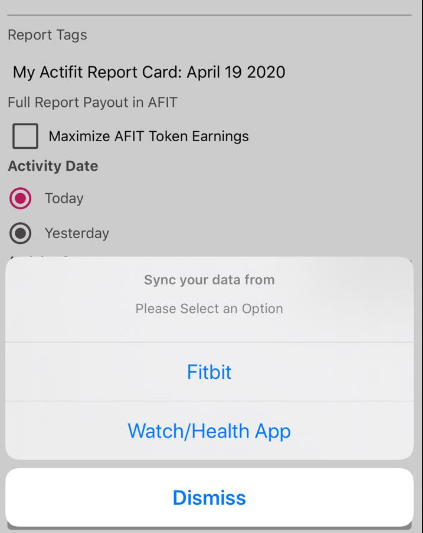 Chain Switching On The Fly
We had received several requests from our users to enable switching between Hive and Steem chains on the fly without the need to logout/login on actifit.io
This would be very helpful for anyone trying to manage their wallet, amongst others, particularly moving between their HIVE/STEEM balances and taking relevant action.
So as of last week, you can find the switch item under your user menu


You active chain will be the one currently spinning around, while the inactive one is the opaque non-moving one. You can easily click on the other chain, or on the switch button to, well, switch to the other chain.
In order for this to function smoothly, your keys need to be the same on both chains. If they are not, you will be logged out and will need to log back in with your other chain's keys.
If you would like to adjust keys for both chains, we had recently launched our password & keys management interface, also accessible from the user menu under "My Password".
Hive-Engine Support
As Hive-engine has been officially launched, and as we are very supportive of hive as a blockchain and a cryptocurrency, and as hive-engine brings new capability for trading via HIVE, we have went ahead and created both AFIT & AFITX tokens there.
We have just setup the 2 currencies and paid their full cost (200 BEES).
We will work on further integrations with hive-engine as we delve into the whole current setup to make interacting with it easier for our users, similarly and even to higher degrees than the implementation we have with steem-engine. Some of our plans include moving AFIT tokens in and out of hive-engine, as well as between exchanges. If you have any questions, ideas or suggestions, feel free to share.
Payouts Sent
We have sent out our delegator payouts as usual this week. Thank you all for supporting actifit!
In total:
225.698 HIVE & 0.548 HBD were sent out to 474 HP delegators
115.273 STEEM & 1.779 SBD were sent out to 410 SP delegators.
Thank you for the continuous support!
---
If you would like to support our witness on Hive, vote for us via peakd or hive blog wallet or set us as proxy via peakd
Our amazing team
@alfamano | @alokkumar121 | @ashikstd | @ciuoto | @ckole | @katerinaramm | @priyanarc | @rabihfarhat | @pjansen | @thereikiforest | @sumit71428 | @silvertop | @elizabethbit

Haven't downloaded Actifit yet? download it from the playstore or from the app store and start your journey to fitness and rewards!