Less Than 7 Hours To LiveFitChallenge2021 Session With Wil! Are You Ready?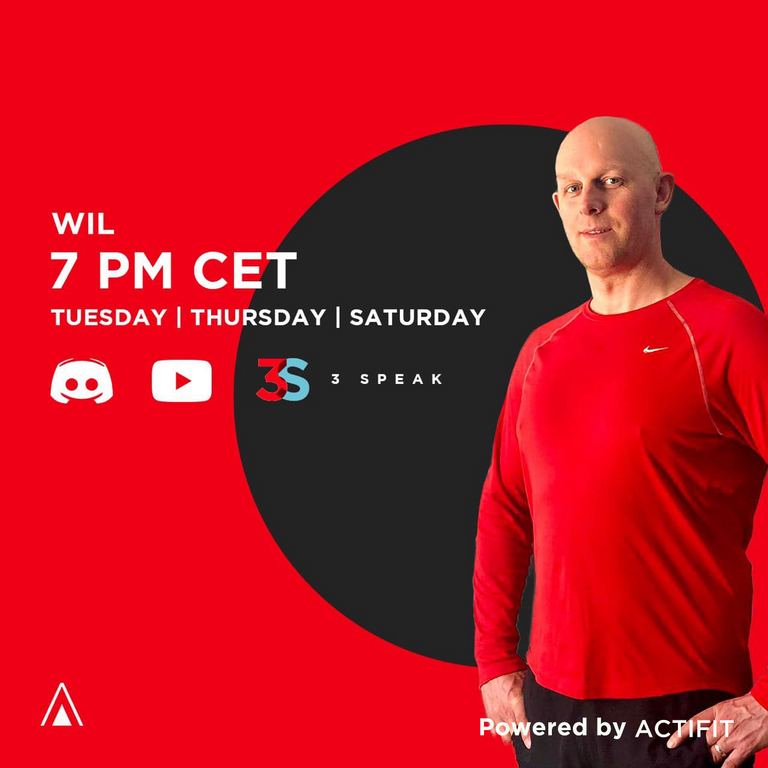 Yesterday featured the kick off of our #LiveFitChallenge2021 Session 1 with coach Lena, where she lead us through a fantastic workout! (in case you missed it you can watch again on youtube here or on 3speak)
Today, we have the first session by coach Wil, who has prepared some amazing fitness tips and workout session for you to get your blood pumpin!
In less than 7 hours, at 6 PM UTC / 7 PM CET, the session will go live on both youtube and discord. Make sure you are subscribed to actifit youtube and on actifit discord to receive notifications, watch the shows and stay up to date on all things actifit!
Wanna check out the details about the #LiveFitChallenge2021 ? check out the announcement post here
See you then, let's go !!
Actifit Gadget Prize Draw Round #45 Results!
We are excited to announce the results of the "Actifit Gadget Prize Draw" #round 45, which took place on February 16 midnight UTC.

Over 4 days, the prize pool was 5.309, and the winner of the draw was @davidthompson57. Congratulations !!

As round #45 of this contest concludes, round #46 already kicked off, and you have less than 4 days to take part and WIN!.
As announced before, the rules of the contest are simple:
As you buy gadgets using HIVE, you earn free tickets (1 per gadget) to enter the draw.
The more tickets you have, the more likely you are to win.
Keep in mind you need to have at least 1,000 AFIT to earn tickets to the draw.
Round #46 Started. Head over to Actifit Market NOW to WIN!
AFIT Market Buy Back
Also as announced in the contest rules, we committed to buy back AFIT on the market with 25% of the total amount used to buy gadgets. This amounted to 2.655 HIVE, which we used to place buy orders for AFIT on hive-engine.com (we actually placed way more).

Did you stock up on your gadgets yet? Head over to Actifit Market NOW to WIN!
---
@actifit team