The Diary Game, My Actifit Report Card: July 30, 2021 - Manila History Walk Around The Historical Walled City
Hey everyone, just wanted to share where I went yesterday. Hehe.
Haven't used this app for quite a while so when I traveled far again yesterday, I used Actifit once more.
Where'd I Go?
Yesterday I had to go to Intramuros (a.k.a. "the walled city") in the City of Manila. This time I didn't bring my bike with me because I know it would be quite a hassle to carry around. Opted to spend some money instead. 😅
So I rode some public transportations, from Quezon City to Manila. Oh la la. Of course I rode tricycles and jeepneys to get there and go home as well. In between I of course walked to wherever I needed to go.
had a work related training there the whole day. Training ended early so of course that's always a good thing! Didn't go around Intramuros though. I immediately went outside the training center and found the street leading somewhere.
No I didn't use a map at all so I just walked around following the roads because I know it will lead me outside the walls.
Walked for a few minutes until I saw the entrance/exit arch. Finally I would be able to ride a jeepney easily once I got past it. WRONG! 😂



The Wrong Exit
Intramuros is one of the oldest places in the country and was constructed during the late 16th century. Many historical thinga happened here but I didn't go for a tour inside. Haha. Had to get home before rush hour made it hard to go back home.
As I was saying, I found out I was at the other passageway of the walled city. 😂 Oh boy, I was a lot farther than I expected.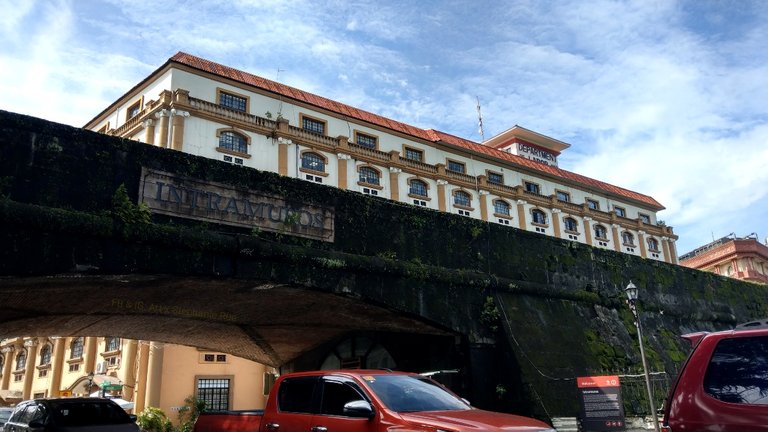 This wasn't the right exit I should've gone through but it's OK. I could still get home from this side. Lucky me I have an app to use and count my steps. 😄
The good thing about getting lost or going the wrong way is finding new things to be fascinated with.
As I walked along the curved sidewalk, I noticed a sizable building from a distance. Oh, turns out it's the National Museum of Fine Arts! Look at that!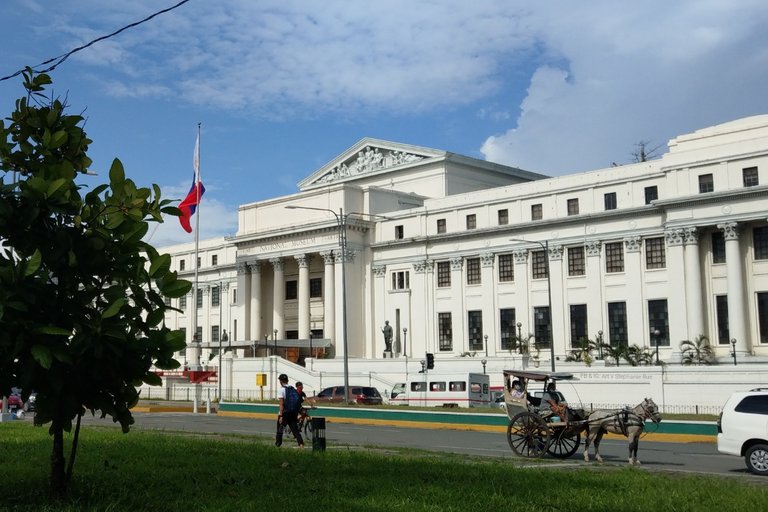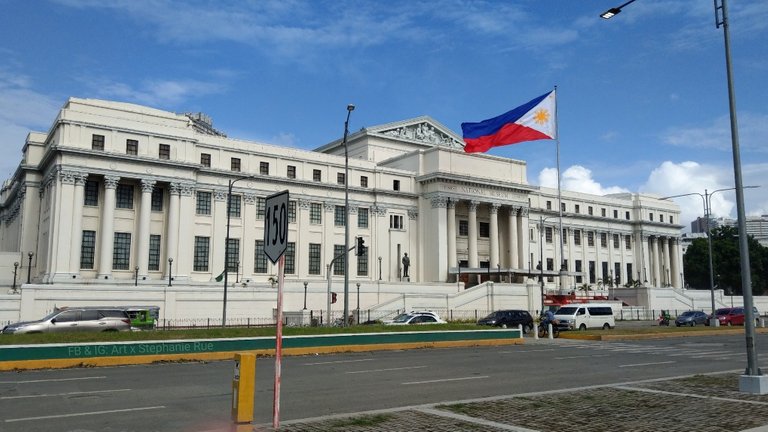 I don't think I've ever been inside though. Hmmm. I should go inside it soon.
Anyway I continued walking towards the direction of the other passageway I should have gone out of. And then I see something else.
Apparently there are two statues along this side that I never knew about! Haha. Check this out!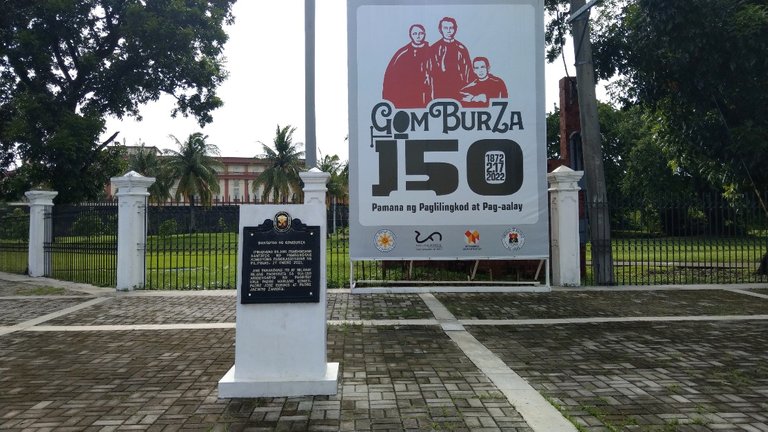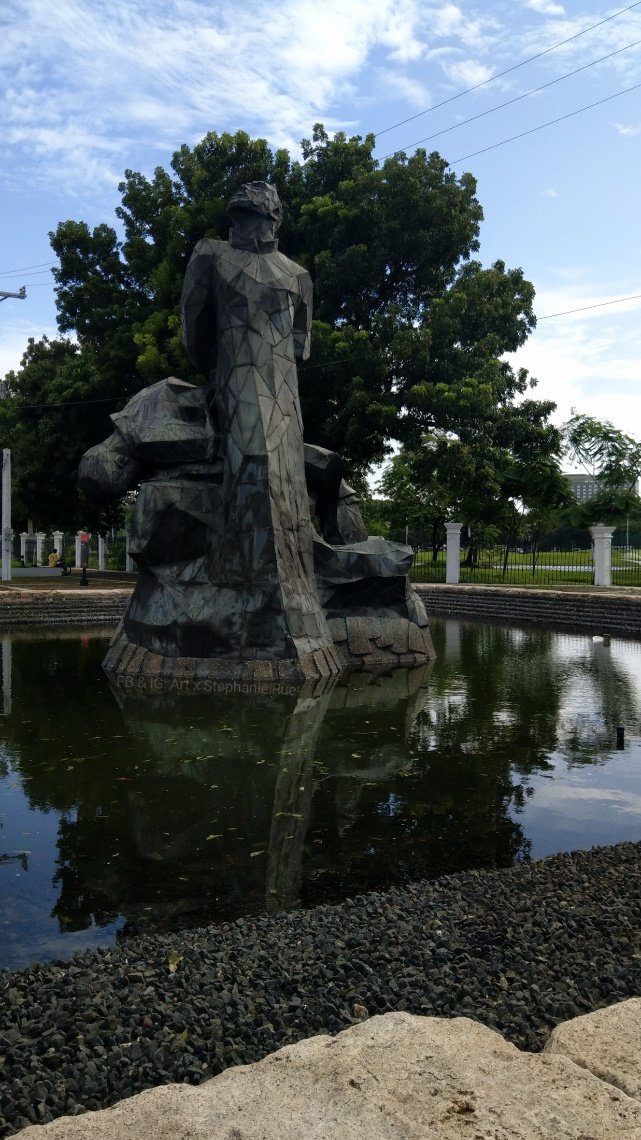 This is GomBurZa monument which is right across the museum. It was actually made back in the '70s. I thought it was new but I checked some sites and found out what I mentioned. 😅 Awesome right? Looks modern enough to me.
GomBurZa stands for Gomez, Burgos and Zamora. Those are the last names of the martyred priests during the 19th century Spanish occupation here in the Philippines. Their sentencing was the last straw for Filipinos during the late 19th century. Their garroting had a great impact which also fueled the fire that started the revolution to finally fight for our freedom.
After taking pictures of the museum and this monument, I could also see the City Hall Watch tower. A short distance away I could see how I'll finally be able to go through the underpass to finally get a ride home. Haha.
This clock tower was under construction a few months ago. Now it's done and looks simple and understated. 😄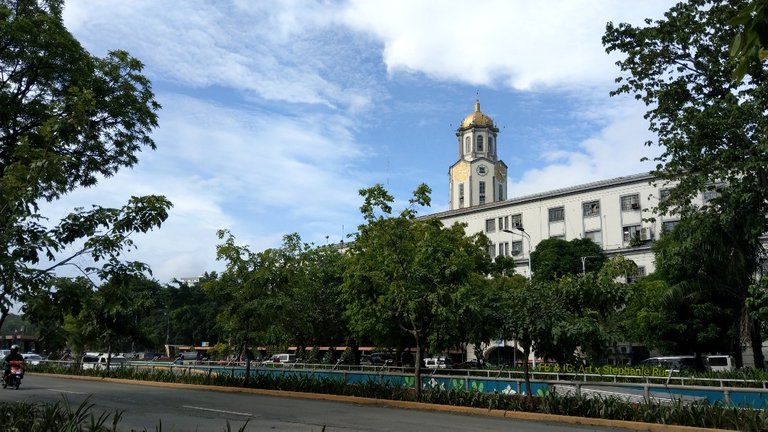 Here it is again from the other side of the street. Yeah I finally made it through the underpass when I took this.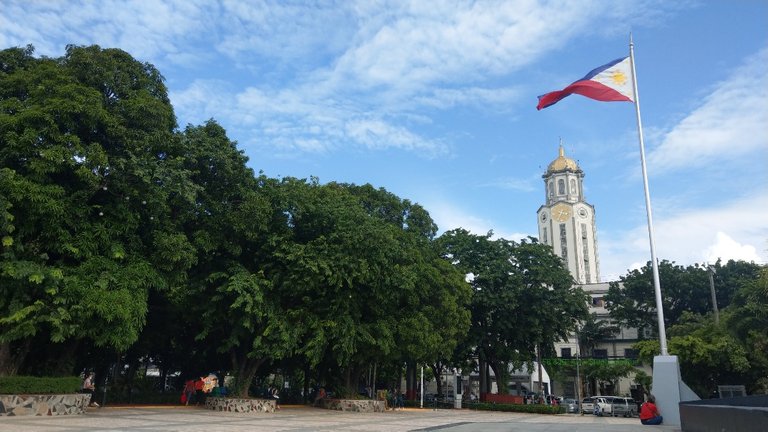 I just noticed the pole and the tower looks tilted, right? No matter how I adjust my camera it looked the same to me. 😅
There's also another monument right across the Manila city hall. This is the Bonifacio Memorial Shrine.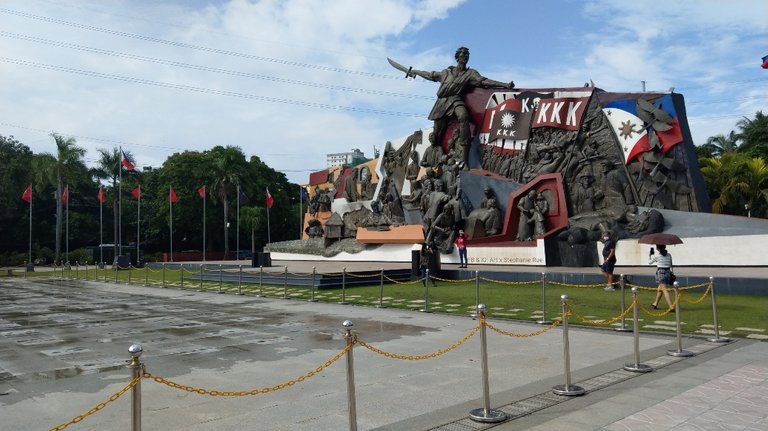 This is the facade and look other people were also taking pictures beside it. Haha. Wanna see the back part? Here you go!
This is officially called Bonifacio and the Katipunan Revolution and made by the late artist Eduardo Castrillo. It is a tribute to The Father of Philippine Revolution Andres Bonifacio. He is one of our great heroes who lead the fight during the revolt against Spain.
The last part of my Manila historical walk was going to one of the newest landmarks here. Guess what this is?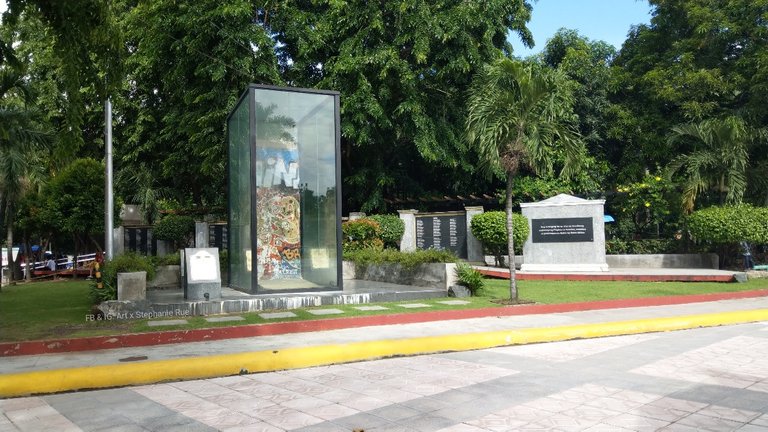 The colorful enclosed thing in the photo is actually part of the Berlin wall. It was donated to the Manila government. Too bad the glass casing is kinda dirty now. A recent typhoon has been causing continuous rains everyday so it can't be helped it looks like that. Few months ago it was clean and clear because it was summer here. Hehe.
And that's it! After that I waited for the right jeepney right in front of the Bonifacio shrine so I could go home! Au revoir Manila! Will be back next week to do other important stuff. Hehe.
How about you? Did you go to any historical places recently?
XOXO,
@artgirl
---
Read Philippine Condo Buying FAQs Here
Spam or irrelevant comments will be downvoted if not revised upon warning.
Written by @artgirl for Steemit/Hive.
© Art x Stephanie Rue
@artgirl is a freelance writer/artist, online seller and real estate agent. My Steemit/Hive posts may contain referral/affiliate/merchandise links.
Contact me for your art, Writing/Research & Metro Manila (NCR) property needs.

For business inquiries, you can chat me up on Telegram or send me a Facebook message. Link in my bio.

Order One Opti Juice to fight and prevent illnesses today!

---
Like it?
Upvote, Follow and Resteem/ReHive/Share for appreciation.
♥ Thanks! ♥


This report was published via Actifit app (Android | iOS). Check out the original version here on actifit.io




5059

---
---