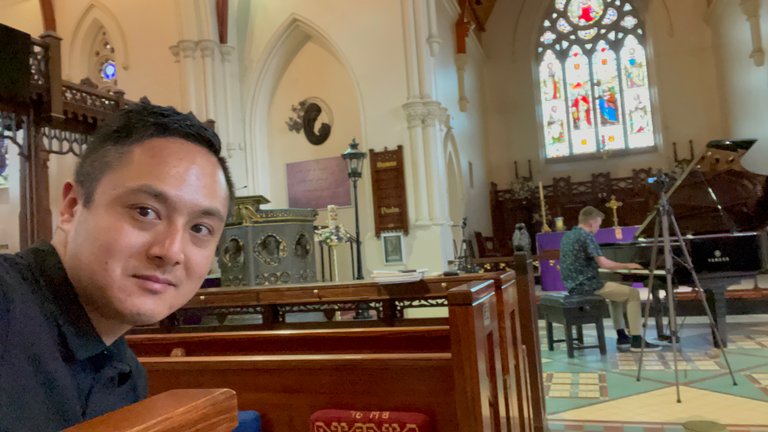 This week I recorded some pieces with my friend, Tom. He's a very fine pianist and also plays the organ. You can hear our recent duet here:
We both learned the piano with my aunt so we can both relate in regards to musical development.
An interesting topic is always one of practice. As with anything in life, if you want to progress you have to practice or work on your craft. A common question asked is how often and how much? We both agreed that in our circumstances is that we don't really know. We don't log how often or how long. We practice when we feel like it and/or need to. Sure, it's daunting when you first start learning a piece but that's expected. To progress at anything you slowly chip away at it. In time, learning things becomes easier and it takes much less time. To the outside, it seems we can learn things quickly, which is true, but it's because over many years we've learned how to recognise patterns and become efficient. This applies to anything in life. The more you do, the easier it becomes.
Of course there are things in life we don't like to do but we do them anyway because we have to. You don't have to practice your instrument but don't expect to progress. Learning an instrument is one that can't be crammed like you would for a maths exam, for example. If you truly desire to learn and be great at playing an instrument you have to have the right motivations. Motivation is different for everyone and you'll have to find out what drives you.
Personally, I am driven by seeing others perform and this doesn't necessarily mean a super famous musician known worldwide. I can tell you now that even listening to Tom recording his solo pieces, I was motivated to at least keep some of my piano repertoire going. You don't need to travel far to find motivation—the world is at your fingertips! Good luck.
P.S. I went on a walk this evening and had Maccas to compensate and reward myself 😂
This report was published via Actifit app (Android | iOS). Check out the original version here on actifit.io




6575