PAUSE!
We most times are always in a rush to do things and in an attempt to prove a point or hustle for money to leverage our financial status, we forget to pause.
Yeah right, you heard me right! Have you ever taken out time to pause? Like pause, when I mean pause, I meant pause.
Every day of the week, we run around with just one thing in our mind, met our goals for that week, which I tell you, my friends aren't wrong but most times we need to pause and look back.
It doesn't matter if you're not going to meet your goals for that week, but you know something, most times take out a little of our time to pause, helps us see where we have gone wrong and correct all our wrongs which I guess is far better than just meeting your goals for that week.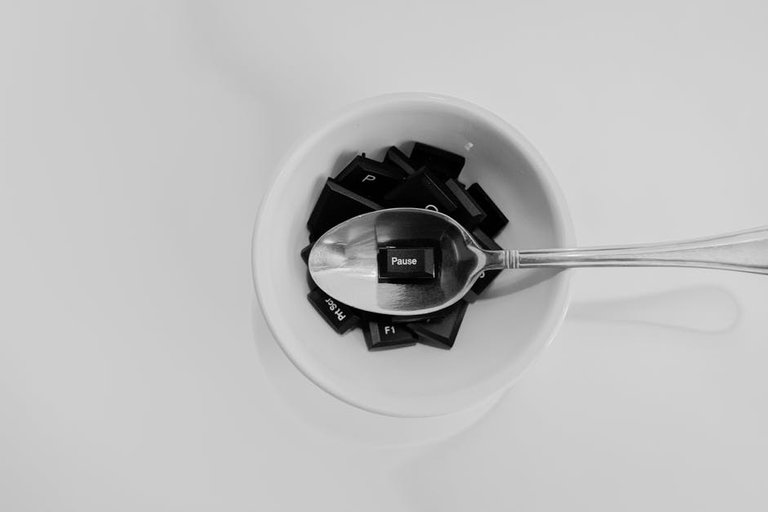 Image Source
---
---
Imagine not just meeting your goals in a week but also correcting every faulty step you had made that week which would have been an issue for the next week and also hindered you from accomplishing the goals for the next week.
Imagine a tricycle man not taking out little of his time to pause and check or observe his surroundings or tricycle, on the other hand, he never knew the tricycle has developed a fault due to the gallop he entered when going about his business tryna meet his goals.
He gets back home happy and in jubilation that he was able to meet his goals for that week with the knowledge of how bad his tricycle is.
The next week, he comes out cheerfully to kill the week like he did the previous, whistling to himself, he goes out to start his tricycle and that is where he realizes that lo and behold, the damn thing has a fault and unfortunately because he did not take out time to check, all the oil has poured out.
---
---
You know, that's double work for him. He has to take it to the mechanic to be repaired and also buy another oil to refill. He hasn't just spent money for repairing but has also spent money to buy the oil the second time.
See this now, if he had taken out time to pause and check, just maybe he would have noticed this issue earlier enough and would have sorted it out at that early stage but because he didn't, his oil got wasted and his time spent waiting for the mechanic to repair the tricycle.
Are we sure that he would be able to meet his goals for that week? Are we sure that alone won't leave him frustrated for that week or maybe I am just seeing the negative side, maybe I should be a little bit positive?
---
---
I am not just saying that we should take out time to pause, but I am saying when you're in doubt; pause, when you're angry; pause, when you're stressed; pause, and when you pause; don't forget to pray.
It does help. It takes one back to everything that has happened during the day or perhaps week and shows us where we went wrong, what we should have done in a certain situation, what we shouldn't have done, what we did well, and overall, how to amend our wrongs and keep moving or perhaps how to do better and keep moving.
That's what happens to us when we pause. In as much as we all want to make it in life, we gotta learn the concept of pausing either daily or weekly to review our lives and see how far we've gone or perhaps the mistakes we've made that need to be corrected immediately before things get out of hands.
---
---
Thank you all for always finding time to read through my content, my happiness has no bounds when I see your comment, reblogs, and upvote on my articles. I pray that God bless you all for real.
This report was published via Actifit app (Android | iOS). Check out the original version here on actifit.io




4869

Daily Activity, Shopping, Stair Climbing, Walking
---
---