Saint Stephen's Day and the games
In Italy, Christmas holiday involves also a good amount of playing games, from the most common ones, such as "Tombola" (Italian for Bingo) to the more typically Italian card games.
On the 26th, my family is used to reunite with my mom's relatives at one of her cousins' place, where a lot of kins come and we would all enjoy another rich and fat meal together, but only after playing many games.
However, because of the restrictions due to the pandemic, we could not make the reunion this year: it was such a pain 😔, especially because the reunion is best to see again many relatives we never meet during the year. But this time we had to reschedule it to better times!
So, reunion canceled: what could we do? According to the new restrictions, the family can host up to 2 people during the "red areas" days: so my boyfriend and I were lucky enough to join my family at their place and spend a full afternoon just playing and enjoying the Christmas mood together.👍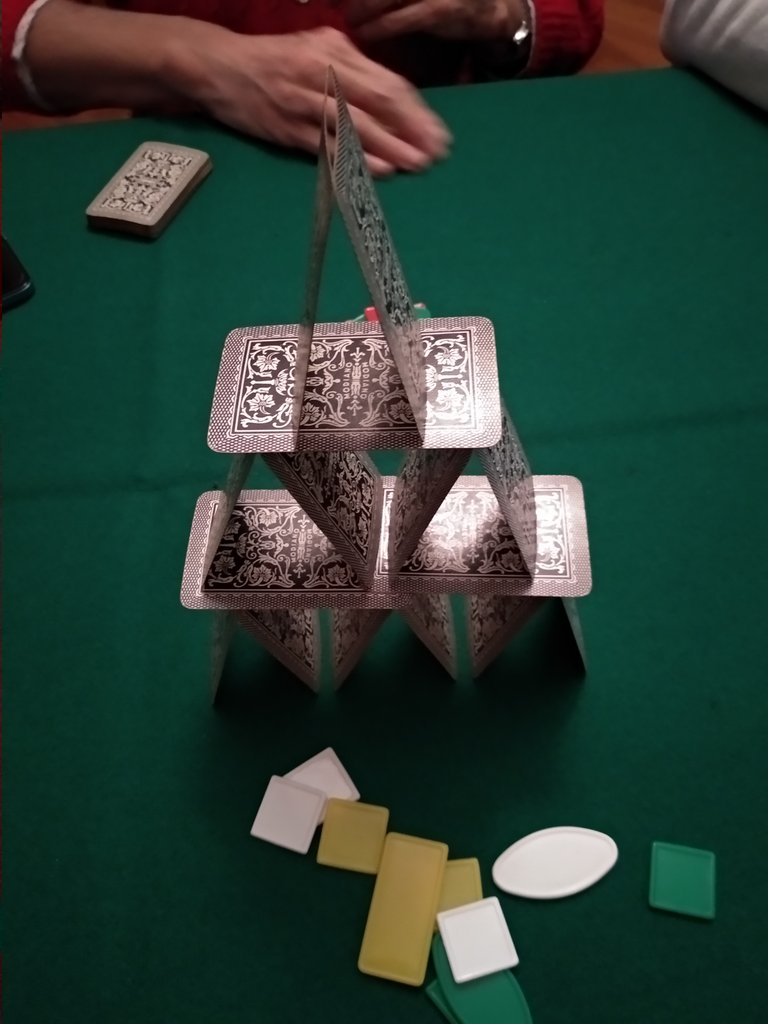 First, we played a card game called "Petrangola". Unfortunately the Wikipedia entry I link here is just in Italian, so I'll try to explain in English a little bit how the game works.
First of all you need a full 40-cards deck, better if Napolatane or Piacentine, as figured-cards are needed.
Every player is given 3 cards with which she better makes a "game", and that is either a tris or a scale. In order to so, every player, when it's her turn (turn is clockwise), can exchange up to all three cards with those three that are on table. However, since every player can exchange their cards with those on table, it's very difficult to make a game.
So, alternatively, one can assure her victory of the round simply by keeping the score as high as possible, according to the value of each card (i.e. the numbers have their natural values, except for the 1 which counts for 11 points, and the figures of king, horse and jack which count 10 each).
Once one player stops the turn because she doesn't want to exchange any more cards with those on table, all participans show their hand and who's got the lowest score loses the round and needs to pay 1 coin on the table.
Every player has 3 coins, and the games is over when one player's left with at least 1 coin.
It was super fun to play this game my mom taught us, I wasn't even aware of the existane of such a game! After all these years of Christmas' gaming! And yet, there's always something new to learn 😊 Also, I was happy to be the winner!
After a second turn of Petrangola, we then began playng the more famous cards game "Sette e mezzo", whose entry on Wikipedia is fortunately available also in English 😅 I'll tell you only one thing about it: if you like playing Blackjack, you should know Sette e mezzo is very similar, except you need to reach as close as possible to 7 1/2 as opposed to 21.
Ops! I almost forgot! Well, before the gaming afternoon, I went to Villa Pamphili to walk... almost 15 km or so, because I was feeling very guilty for the amount of food I've been eating on these days... Well, hopefully I walked enough to burn some burn😁
And how did you spend Saint Stephen's Day?
---
Yours | Flewsplash
---
This report was published via Actifit app (Android | iOS). Check out the original version here on actifit.io




21283