What a Sunny Sunday Walk!
Here we go again, the
COLD
! The temperature is definitely going too down for this city; you should know in Rome it rarely goes under 8°C in winter and ever less often it goes down close to 0°C. Instead on these days all Italy is facing a tough cold, and also in Rome it's extremely freezing. The good thing is that together with the cold, we're also given some good weather, which means the atmospheric pressure is very high and the air is less wet and humid than usual.
Perfect conditions for spending a full day walking in the city center! Indeed, our mayor still decides to adopt the "Free-driving Sundays", even though during this pandemic times I don't see the benefit of the decision; therefore it was almost impossible to move around Rome driving.
With a friend of mine we decided to go explore Rome; she's not from Rome but she's been living here for 6 years now and sometimes she knows the streets better than me... but as they say "Romans don't know Rome"!
We got to meet in Via Condotti, the famous street for shopping, crossing the other most famous shopping street Via Del Corso. While walking there, I couldn't but stop from time to time to take some pics of things Rome is full of: street art jewels!
I love when my eyes got attracted by the underground pieces of art, especially when this happens in the city center, where most people ignore street art and just admire the usual touristic monuments and buildings.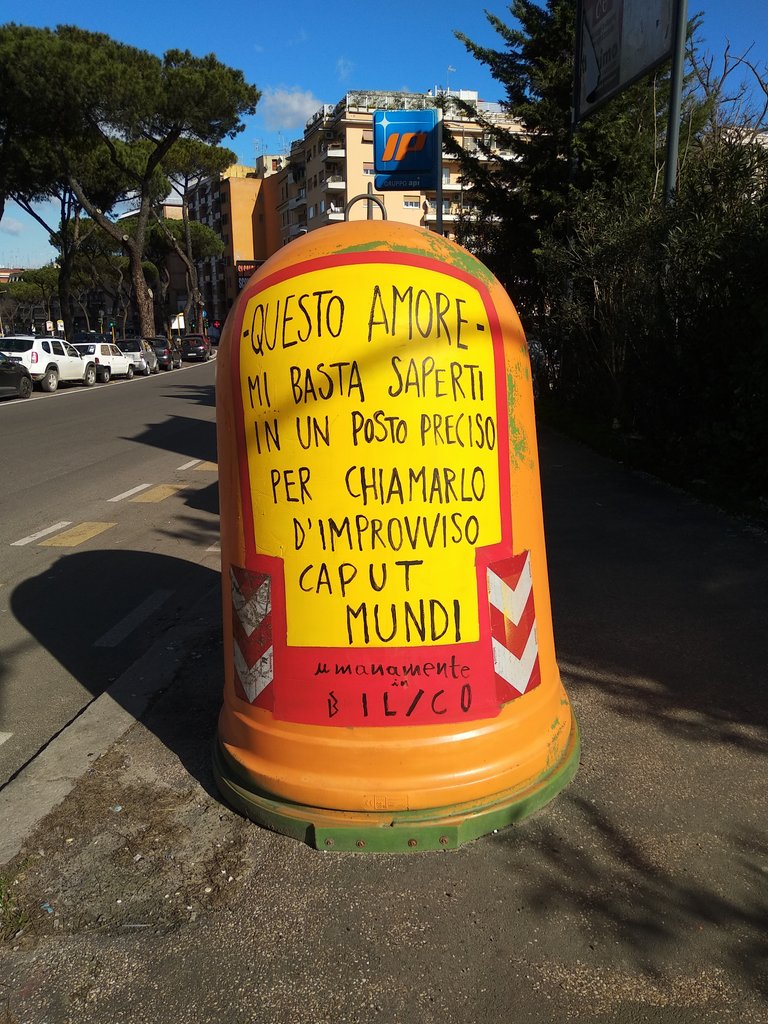 For instance here I was down Porta Cavalleggeri, from which you can see St. Peter's dome, but I was attracted by this garbage can, where some street artist painted and wrote "This love is enough for me to know you're in a specific place that I can just name Caput Mundi" (Latin for the World Capital, Rome).
Of course I had to look also the beauties of the city itself! And here's some...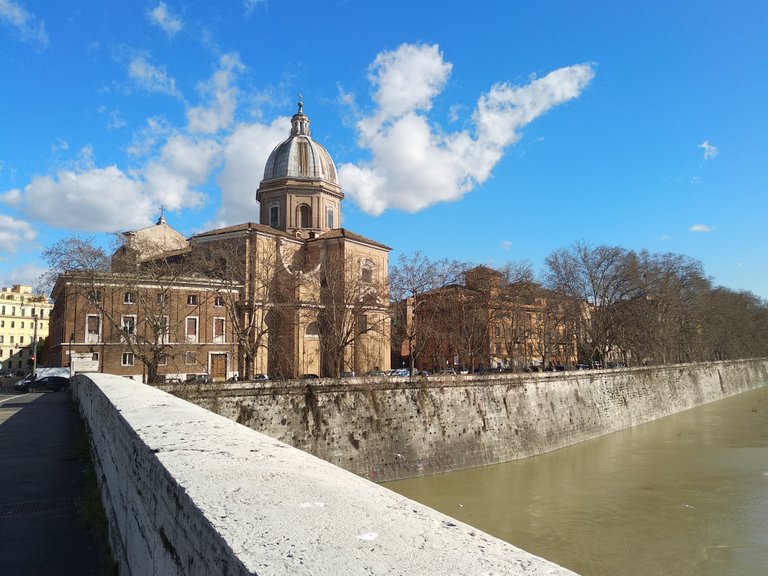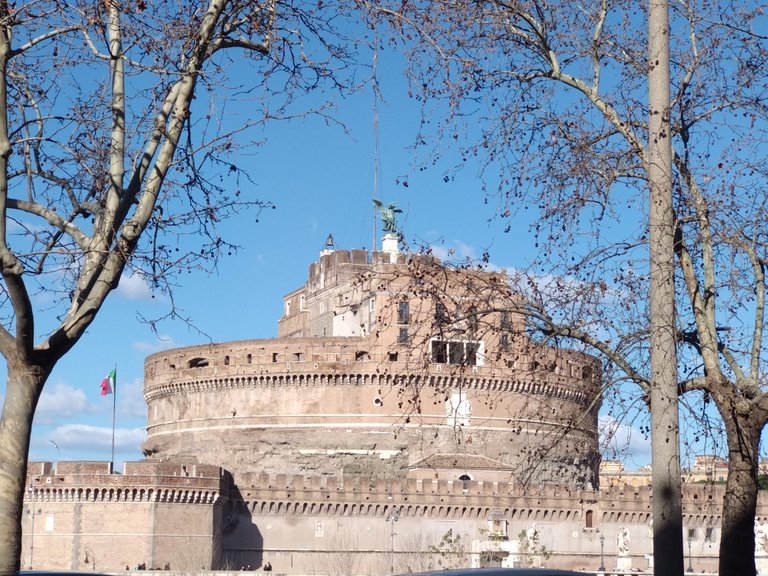 Castel Sant'Angelo
is the former prison of the Vatican City. It's great to see and to visit, if you've never been there, once it'll be possible again to travel, I recommend a tour stop over there! Walking down the Lungotevere (the way along the Tiber river), I noticed some peculiar street art pieces, which resemble the Angels on the bridge of the Castle: i.e. the artist copied, like a mirror, what the two gates look at in front of them... GENIUS!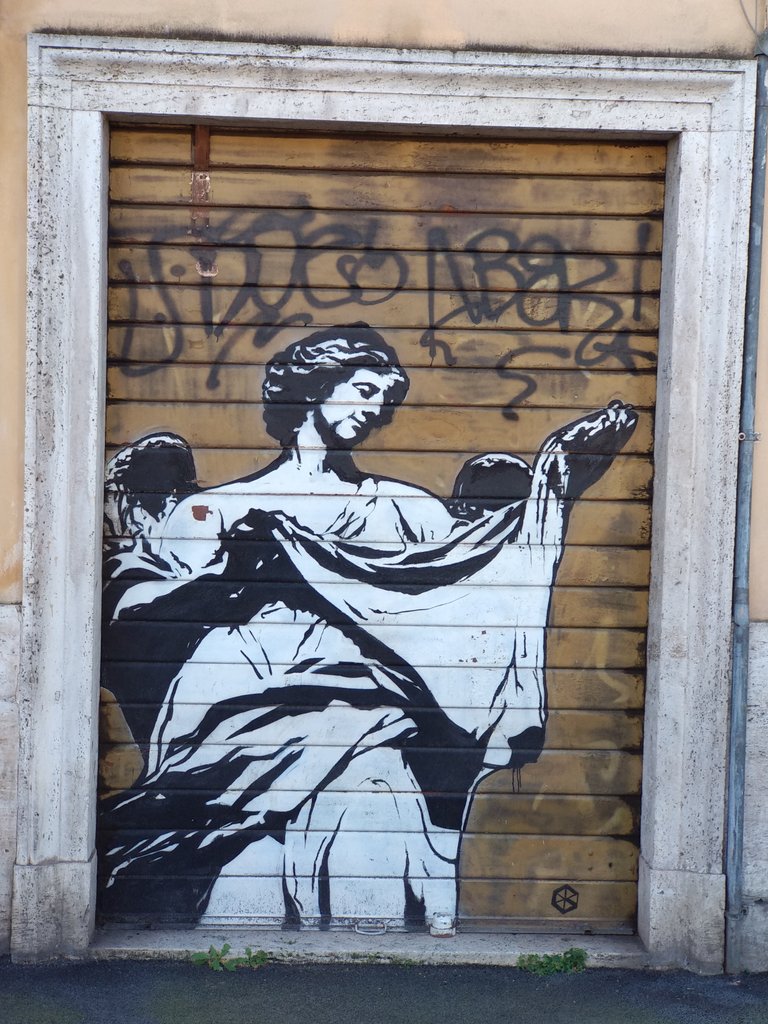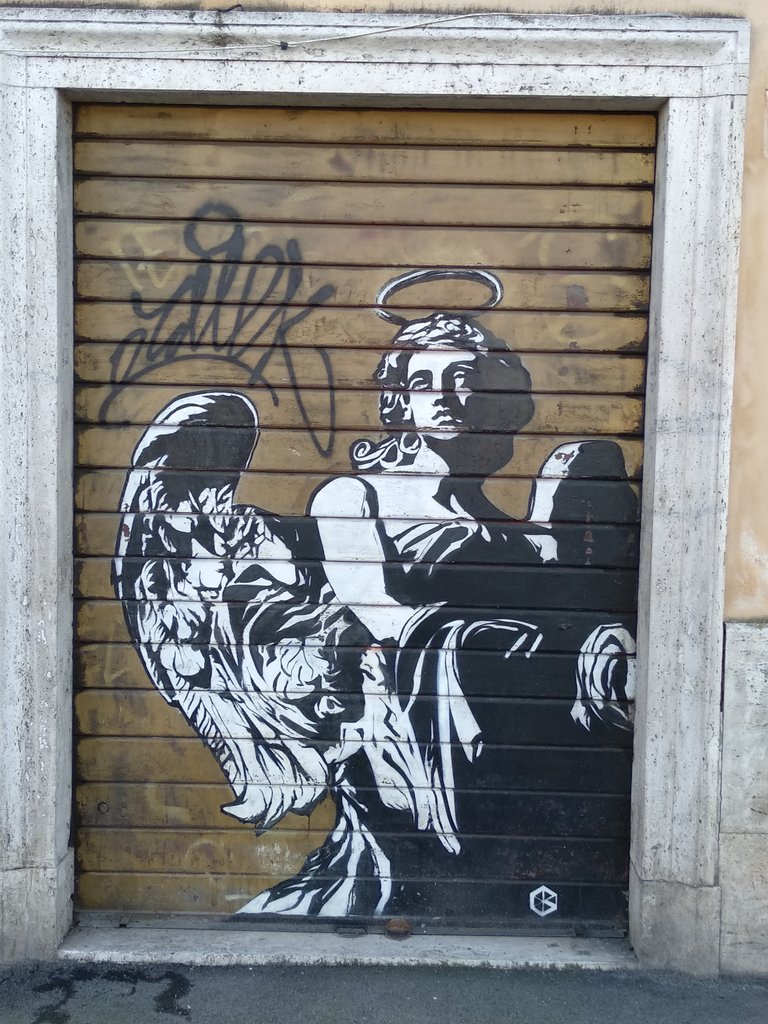 Here's another genius: "Copernico was wrong, because the world turns around money". What do you think? I guess this artist is not wrong at all, unfortunately...
![](https://usermedia.actifit.io/22ef79b6-8c45-426d-bff6-f0e3e8613f4e)
Finally I arrived to the meeting point in via Condotti, from which we saw a marriage proposal (of course, it was Valentine's day... what could we expect?!) coming down the famous stairs of Piazza di Spagna, i.e. the
Spanish Steps
... the banner was simple but very effective, it says "Will you marry me?". The pic is a little dark, but I hope you can see it. Anyway, I'm not sure I would accept such a loud and blatant proposal though... would you?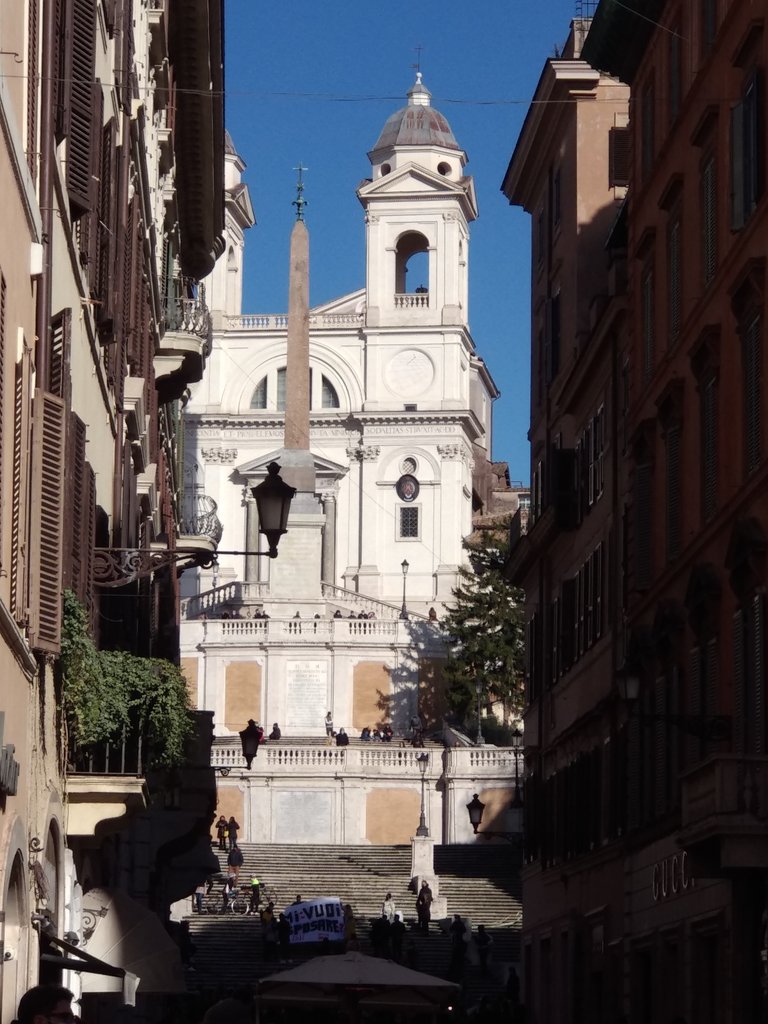 Moving forward, we decided to go for a random tour. First we headed the new Rinascente, just for a quick stop at the toilet (ahah you know, when you walk a lot you don't know where to stop when you need to!). After that we decided to go for Villa Borghese, where a lot people where wandering around just like us. The view is always good over
Piazza del Popolo
, I just had the wrong device with me to capture it properly...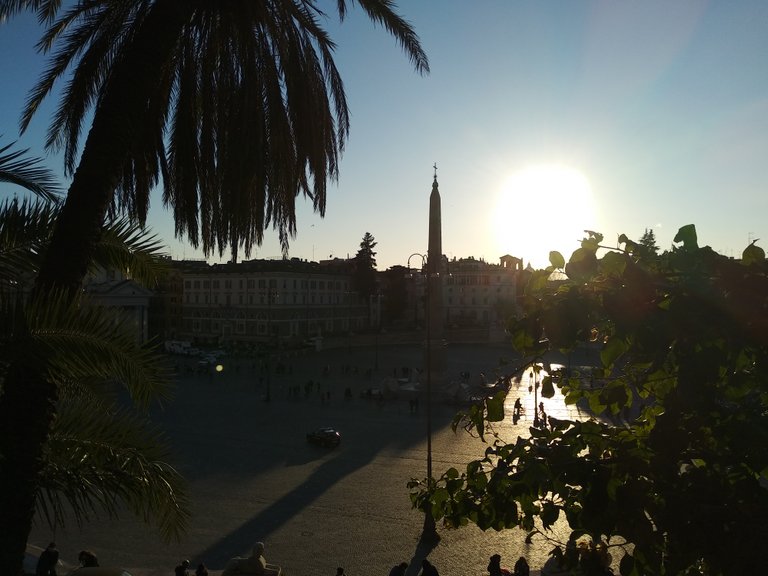 Walking down, we saw some beautiful logs of wood by famous Roman artist
Andrea Gandini
, who always works with wood and started off by carving the roman trunks left cut on the sides of the streets. We were going to eat a special gelato (cuz in winter it warms you up from the inside!) but I ate it all before photographing ahah
![](https://usermedia.actifit.io/4404d1b9-0a50-4363-b6c6-4413e482c048)
Almost time to go back home... but first! Let's see something beautiful again! St. Peter's!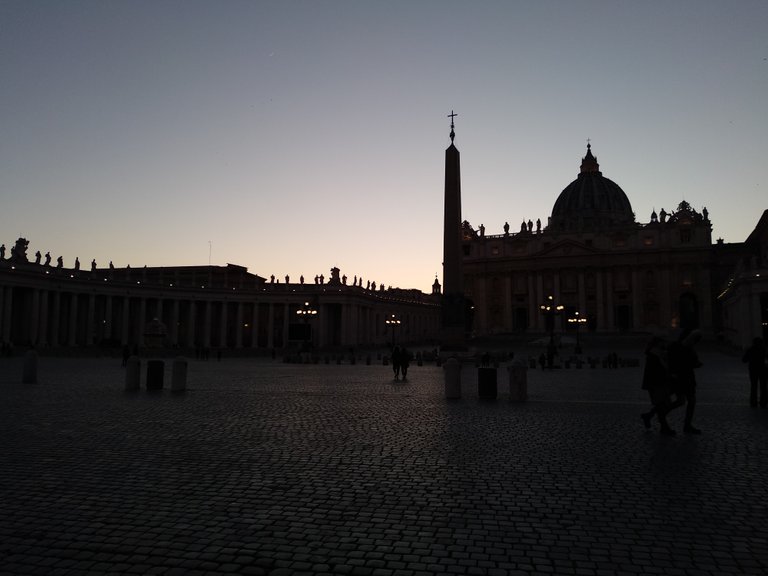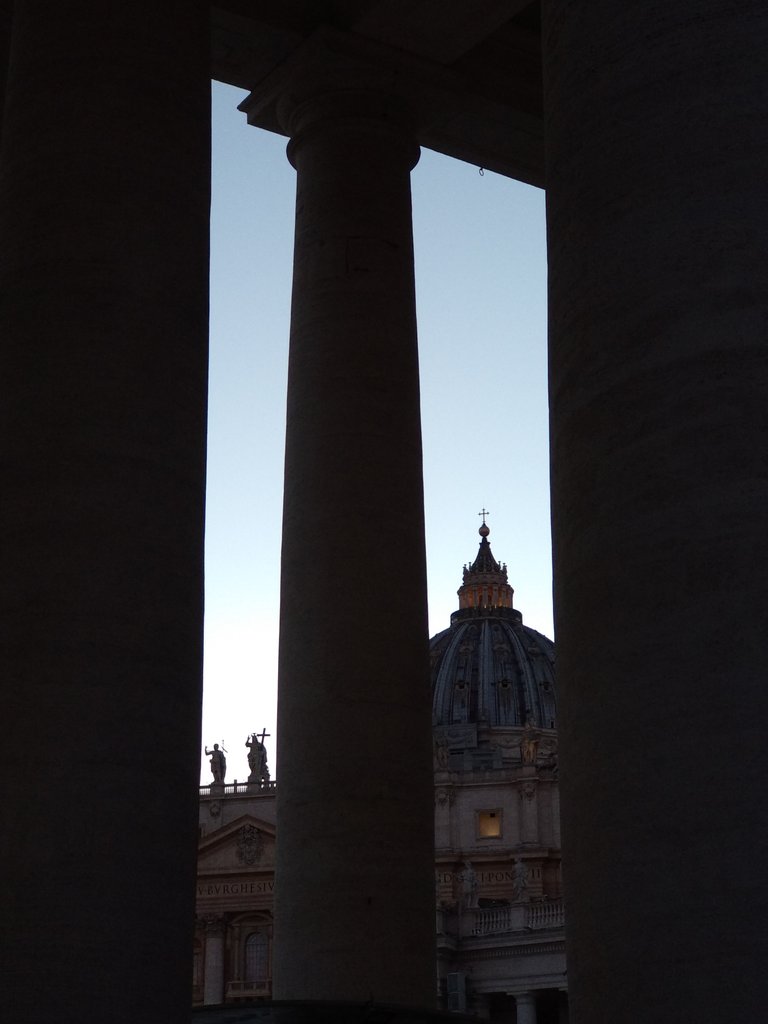 Before definitely going back home, we decided to see something new. There's a "secret" way behind St. Peter's which is cold the "walk of the jasmine" and it's right along the first platform of St Peter's train station. It's beautiful in Spring, they say, but in general it's great because you see the Dome from the other perspective, from behind, indeed.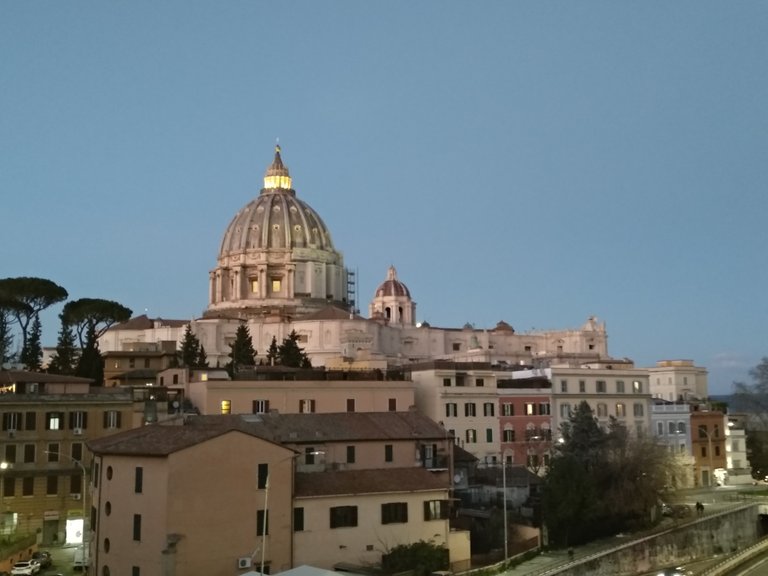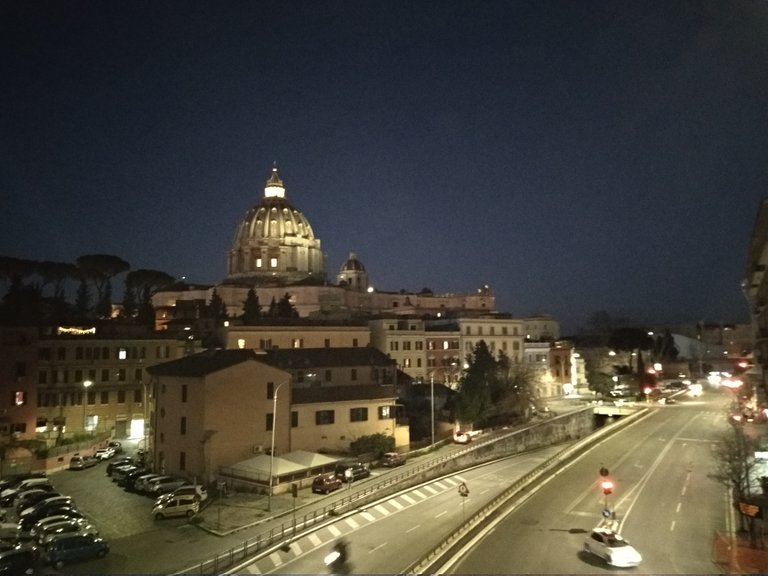 Well, that's all folks! I gotta say, that's enough :) I had to walk back home and even quickly because I was literally freezeing and I had to reach my parents for dinner, but I was definitely very satisfied of the day, besides we planned to go here and there driving the car... Valentine's day well spent!
... and you? How did you spend your Valentine's day? I personally left my fiance home, I know... but we never celebrate this day! Do you like celebrating Valentine's?
Yours | Flewsplash
---
This report was published via Actifit app (Android | iOS). Check out the original version here on actifit.io




31287