Holy shit!!! That was a lot of rain. Today I did my usual outdoor things; multiple(MANY) dog walks, a small hike, biking around the parking lot- etc.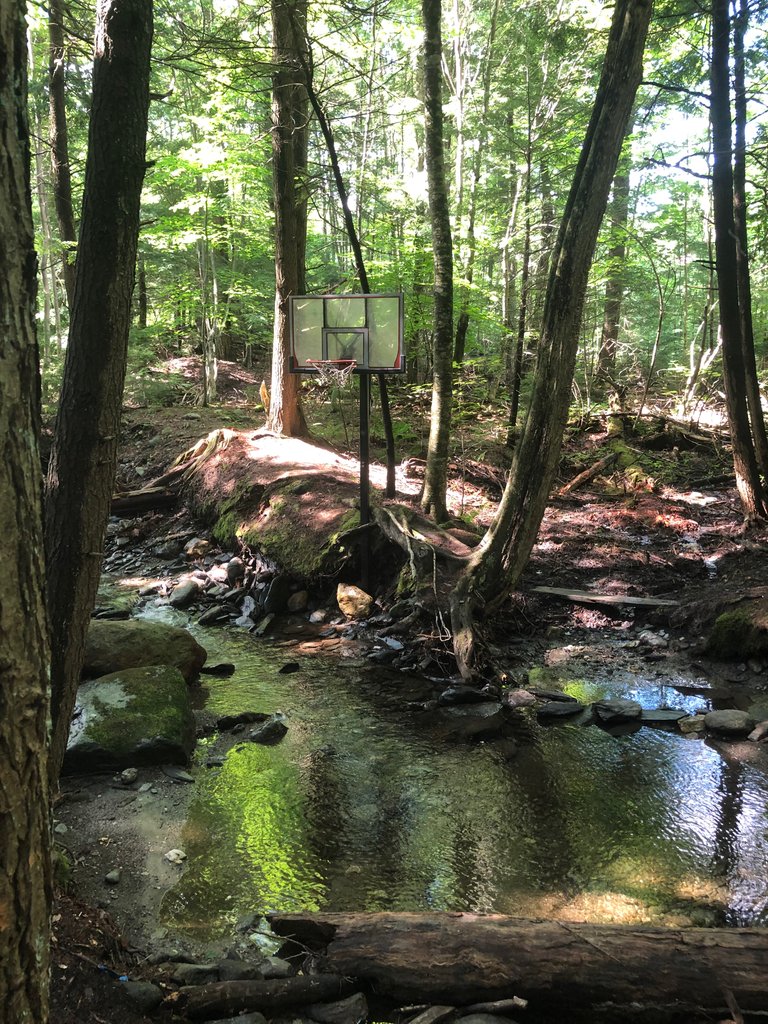 This is our "secret river hoop" haha. This actually originated from the abandoned house I recently posted in one of my Actifit reports. It was in the rubble of rotting bullshit on the back porch- likely the only thing that wasn't absolute garbage. We had already found our little "zone", and we had been moving some rocks around. One day, after kind of joking about it for awhile, I decided to haul the hoop over to the brook.
It nestled right into a root that was sticking out of the bank. All we had to do after that is put a large rock at the base to keep it from sliding towards the water. When we stuck it in, my room mate used his phone level and we were within .5 degrees both ways, by accident! Obviously, with several hundreds(maybe thousands) of shots made at this point, it has been knocked out of level.
After visiting the hoop spot, I continued down the brook for awhile with Raiden. It's a good area for him because it is extremely rare that we will encounter another dog out there. Raiden is wonderful with other dogs but he is a Rottweiler so people get nervous and I live in redneck world so I've had multiple people threaten to shoot him before, simply based on his breed. So, we stay away from others haha.
After a little bit the sky starting looking treacherous. We decided to book it home. Later, I went for a bike ride in the rain; really just riding around the parking lot. I still feel 14 at heart.

This report was published via Actifit app (Android | iOS). Check out the original version here on actifit.io




10039

Cycling,Daily Activity,Hiking,Running