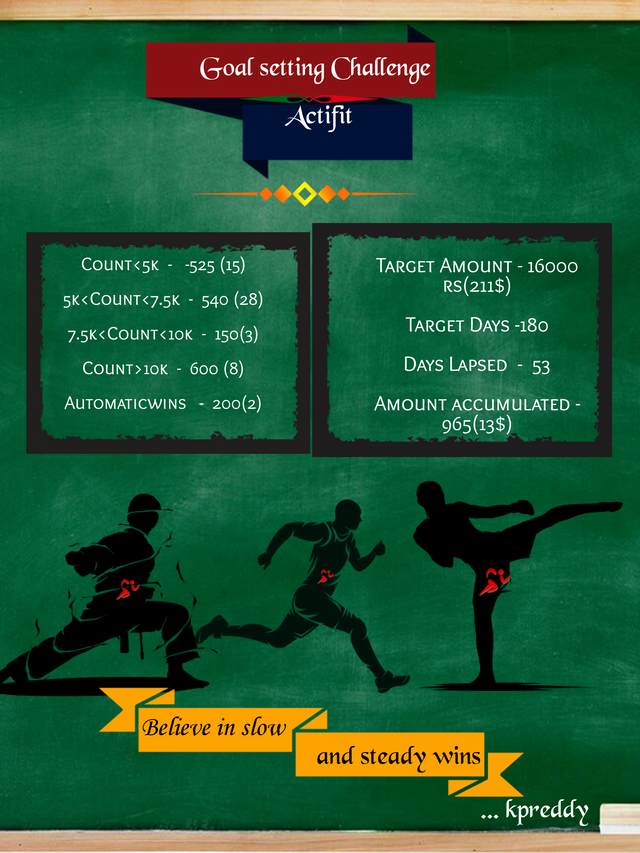 Importance of Goal Setting :
It is important to have clear direction and goals in your career. So I have developed this strategy of goal setting. With this strategy, I keep on depositing some amount whenever I achieve my small and temporary goals. This always keeps me motivating.
For example,
I always wanted to buy a smart watch. A good one. I never had expensive gadgets in my life and lifestyle. Not that I earn I wanted to buy this gadget but I'm sure I will definitely get benefitted out of this. Since I wanted to buy a good one and all are out of my budget as of now, I developed the below model with strict discipline:-
I have to accumulate 16000 bucks for buying this watch. My time deadline is of six months to accumulate this fund. In case I fail entire fund goes into parents retirement account.
I fix temporary goals ( This is my goal setting model) :
For every Automaticwin I deposit 100 bucks into this fund
For every 10000 activity I deposit 75 bucks
For every 7500 activity I deposit 50 bucks
For every 5000 activity 20 bucks
I may keep on adding different challenges after proper review.
If fail in achieving minimum activity of 5000 then 35 bucks will be deducted.
Since I badly need this smart watch , I will always have the tendency to work hard where in eventually I may fulfill my both wishes of getting healthier and adding a gadget to my lifestyle.
Also 10% of every goal setting post will be spent in spreading love and support to this beautiful community.
You guys can get me Fitbit charge 3 at 15999 rs(211$)
Result so far :
| Target Amount | Target Days |
| --- | --- |
| 16000 Indian rs(211$) | 180 |
| Amount accumulated | Days lapsed(Total reports) |
| --- | --- |
| 965 Indian rs(13$) | 53 |
Brief of step count, penalties and Amount accumulated :
| Activity count | Reward or penalty |
| --- | --- |
| Count < 5k (-35/report) | -525 rs (15 reports) |
| 5k < Count< 7.5k (20/report) | 540 rs (28 reports) |
| 7.5k< Count< 10k(50/report) | 150 rs (3 reports) |
| Count > 10k (75/report) | 600 rs (6 reports) |
| Automatic Win (100/report) | 200 rs (2 reports) |
| Total Step count | 271846 |
| Number of days lapsed | 53 |
| Average Step count | 5129 |
| Total Amount accumulated | 965 rs (13$) |
Just sent 965 bucks to my Actifit Goal setting fund: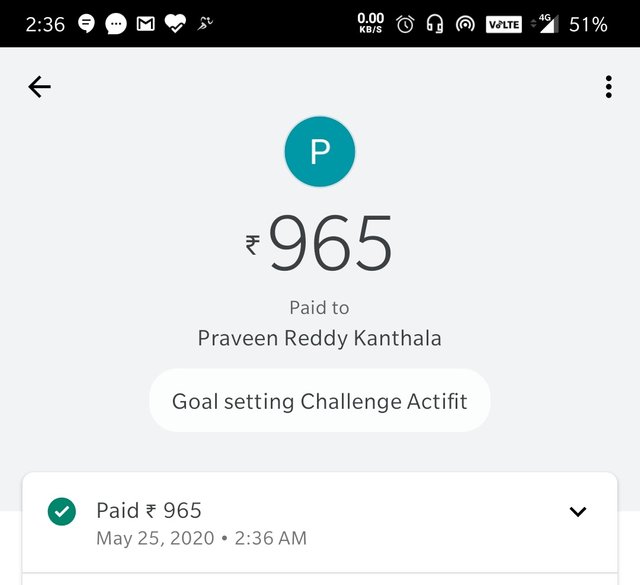 My Life Mantra :
There are no shortcuts. One has to follow a definite path to achieve goals. It needs patience and enthusiasm. I believe in slow and steady wins!!
Amount of support, knowledge, friends I received from this platform is enormous since the beginning. Hope I continue to engage in the same way I have been since last 2 months. Now you can also help me in reaching my goal at a faster rate. As I mentioned above I will keep spreading love and support to active actifitters and newcomers by sharing 10% of my every post payouts.
Also you can use the tag #goalsettingchallenge and let me know if you wish to plan on setting one.
That's all for today. Stay tuned !!
What is actifit??
@actifit is a dapp and SMT project for rewarding fitness activity. It rewards people for moving around. App tracks movement of users all throughout day and at the end of the day users have to post their activity to steemit along with proof of activity ( How their day went, describing activity). @actifit rewards them in upvotes and aslo in AFIT tokens. This application incentivize ones movement.
Activity can also be tracked with Actifit Application available on play store. It can be downloaded from the below link also. Whoever will download from the below, I will additionally reward them 20 AFIT tokens.
Application: Create Your Account from here
Keep Actifitting and spread love!!



10944

Daily Activity, House Chores, Walking
| | | | | | |
| --- | --- | --- | --- | --- | --- |
| | | | | | |
| cm | | cm | | cm | |