Dobrý večer s Actifitem. Pokračuji ve svém miniprojektu. Tedy ve psani o pozoruhodnostech jedné pražské ulice, a to ulice Zenklovy.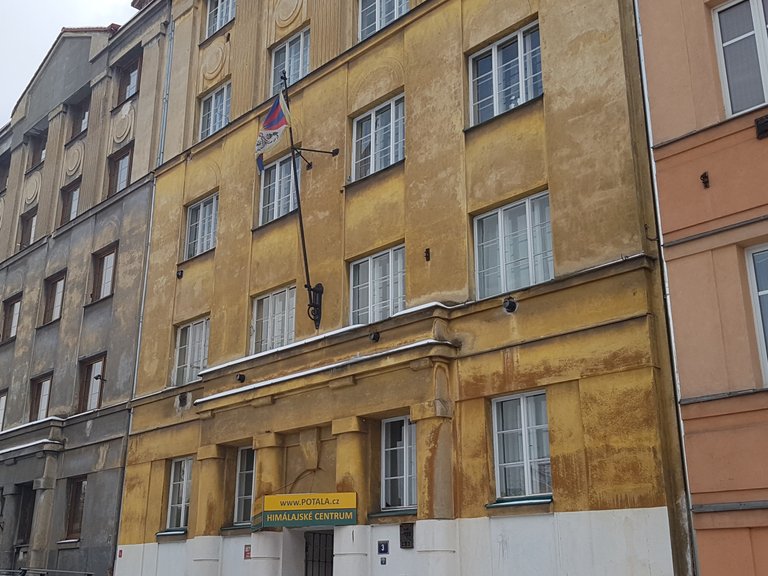 Nedávno tu vlála tanzanijská vlajka, @pavelsku dnes přišel s modlícími tibetskými vlajkami… Tak kromě očekávaných českých vlajek vlaje na Zenklově ulici jediná exotika. Vlajka Tibetu.
Co tam dělá? Někde si Potala své centrum zřídit musela. Tak proč ne zrovna na Horově náměstí, kudy prochází Zenklova ulice?
Potala. O něčem rozhoduje Pentagon, o něčem Bílý dům. Jiné věci řeší Kreml. U nás za něco odpovídá třeba Hrad, nebo Strakova akademie, či Kramářova vila. V Osmanské říši zase rozhodovala Vysoká porta. A Potala je dalajlámův palác v Lhase. Jako by něco řídilo sídlo a ne instituce v ní usazené…
Učeně se tomu říká synekdocha a je to zvláštní forma metonymie. Ale nechci tu vykládat literární teorii… Celek je zastupován nějakou jeho částí. Třeba právě jeho sídlem...
Potala… Kulturní centrum? Ambasáda exilové vlády? Kde začíná jedno a končí druhé? S Řádem maltézských rytířů řádné diplomatické vztahy udržujeme. S dalajlámovou vládou asi ne… I když nevím.
Na světě je asi 200 mezinárodně plně uznaných států. A pak tu máme "taky státy". Taiwan. Tibet. Abcházkou republiku, Severoosetinskou republiku, Tureckou kyperskou republiku, Doněckou republiku, Podněsterskou republiku, Kosovskou republiku… Někdo je uznává, někdo ne. Někoho znává třeba jen jeden stát. A někoho neuznává právě jen jeden stát…
Taková sobecká vsuvka. Vydávají tyhle země známky a mince? I pamětní? Tak mě napadá… Ale o tom v jiném článku.
Nechci řešit, jak se má tibetské obyvatelstvo v komunistické Číně. Taky pro srovnání nevím, jak by se mělo v absolutistické středověké lamaistické teokracii, že? Toliko jsem si vyhledal, že významným sponzorem Potaly je Pražská teplárenská. A už jsem se ani nedíval, jaká je tam struktura akcionářů…
Zkrátka na Zenklově ulici celoročně vlaje tibetská vlajka. Tečka.

This report was published via Actifit app (Android | iOS). Check out the original version here on actifit.io




18066

Daily Activity, Photowalking, Walking