My son and I played 38 holes of disc golf today on a couple of different courses. The weather was really nice although it was raining just a little bit during the afternoon round.
My scores were not all that good and I was not throwing my drives well. At least I did not lose any discs or throw them in any unplayable places.
There is one hole on the more professional course we played that always gives me a hard time. I usually take six throws on a par three to play it. Today I only took five strokes and on the first throw I thought that I might have lost my disc.
My son was spotting for me and thought he knew about where it landed but we looked around for some time and could not find it. I call this hole the "Christmas Tree" hole because it looks like it might have been an old tree farm. The trees here are very dense. As we were about to call it, I finally found my disc buried deep in a tree. I went to get it out and spotted another disc in the tree. After finding that one I found a third disc on the tree too. None of the them had any names on them.
The yellow and green discs in this picture are the ones that I found today: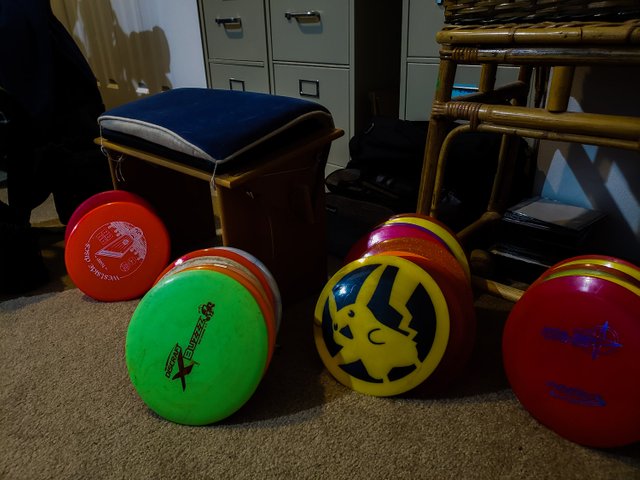 The yellow disc with Pikachu on it was a really nice find. It is a Star Shryke disc that is near max weight and really overstable. (I have four Shryke discs and it is the most stable of all of them) It is almost too much disc for my arm speed but will make a nice disc for throwing into a headwind or maybe forehand throwing. It has some barely readable graphics on it about "2 Days of Peace, Love and Disc Golf" then some unreadable stuff and, "DGC Aug 25-26 2018." It seems like it might have been in the tree for some time to be so faded. My son is kind of hinting that he wants to take it some point.
I tend to carry around some of these kind of discs but not throw them much if at all. He likes to wait until I don't carry them and then ask if I mind if he took my, "Whatever disc he wants," along.
Once it gets into his bag it becomes difficult to get it back into my bag. I have to wait for a windy day and then ask for it back or something.
When I am throwing really well I kind of like these beefy meat hook discs in my bag but usually I'm not trying to throw discs that hard.
It is really fun anyhow and I'm really glad to be able to enjoy the game with my son.
The green disc is a Buzzz midrange. I'm not sure what plastic it is made from. It feels really nice and seems to fly well from my initial impression of it. A lot of people like these discs.
---
Thanks for reading! I always value your support and comments. The pictures were taken by me with my Galaxy S9+. Text and graphics copyright lightsplasher & litesplasher.
---


14473

Daily Activity, Golf, Walking