My son and I did a long day of disc golf today. He won big time. I played one stroke better at the really difficult course we played in the morning. It was a course you needed to pay a fee to play and was converted from a regular golf course. It was well worth the fee and maintained nicely with really good tee pads.
The problem for me was that all the holes were very long distance throws. It worked out well for my son who likes to crush some really long throws but I'm not able to throw as far and a bit concerned with hurting myself.
There is always something just on the fringe of bothering me, (knee, elbow, back, sholder,... etc.) so I was mostly throwing backhand today. This is always easier on me.
On the second round we played I did not do so well either and can usually play the course much better. It is a bit disappointing when you are not playing as well as you have in the past.
The second course had very muddy tee pads and a lot of wet soggy muddy areas. It did not seem to bother my son as much and he just planted his feet straight in the mud puddles.
There was a big log in the end of the tee pads and I was worried about twisting my ankle if my plant foot slide in the muck and wedged under the log. I didn't want to throw forehand either because my elbow was bothering a bit. I can usually hit gaps between tree easier on a forehand and throwing backhand I was hitting a lot of trees and kicking off into the rough.
But through it all I did have a very fun day. It was wonderful to be out there playing disc golf with my son and next time I know I can do better.
I did not lose any discs today but my son lost one of his putters in the river. It kicked off a tree and landed out in the water. It was on a practice throw that he really did not need to make because he had already made a reasonable throw on the hole. He lost an almost brand new disc that I gave him for Christmas so he was a bit upset. I told him not to worry about it.
After disc golf, I headed down to the store again and lo and behold, the same long line of people from yesterday was still there. It was as if nobody had even moved and if anything the line looked longer.
I thought I was being rather silly and the line could not possibly be for getting into the store. Sure enough when I went around to the other side of the line and parked at the other bicycle rack I could see that the line was not for getting groceries.
I managed to do some successful shopping, yay!
Here's the view of the sunset that I took from my e-bike on the way back from the store: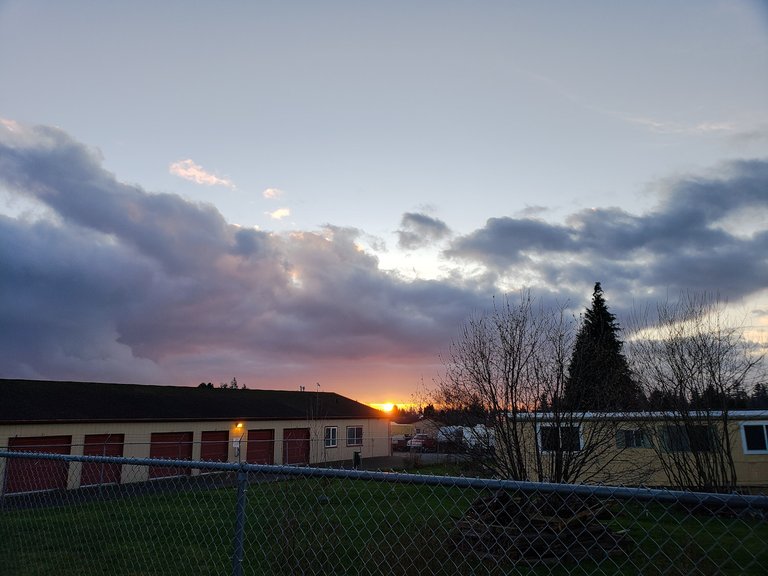 This picture was taken out of the car window on the way back from the second round of disc golf: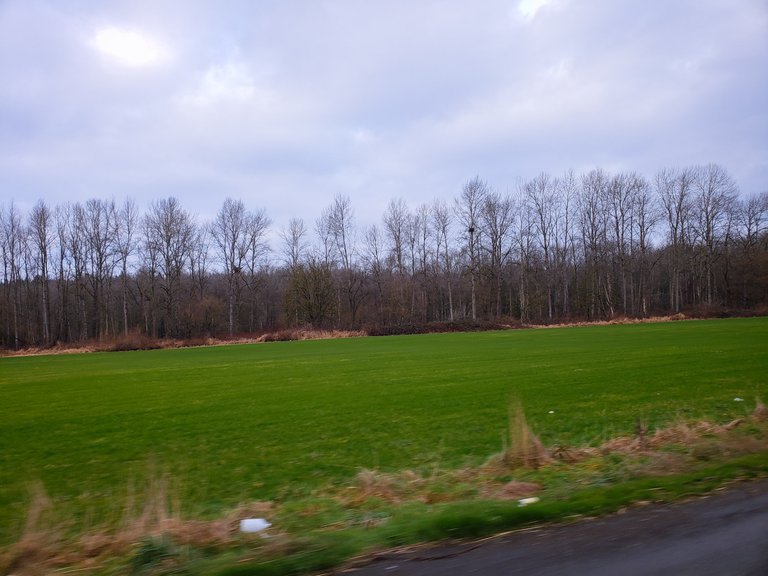 You can see a couple of big eagle nests off in the distant trees. (At least that is what I think they are.)
---
Thanks for reading! I always value your support and comments. The pictures were taken by me with my Galaxy S9+. Text and graphics copyright lightsplasher & litesplasher.
---

This report was published via Actifit app (Android | iOS). Check out the original version here on actifit.io




18863

Cycling, Daily Activity, Golf