Hallo zusammen, wir sind wieder in Hamburg. Ich konnte heute ausschlafen weil Sohnemann bei einer Freundin geschlafen hat und ich ihn erst gegen 15:30 Uhr abholen sollte.
Bin auf dem Weg und mal so richtig gut ausgeschlafen. Das hat gut getan. Das Wetter ist sehr sehr schäbig, in Hamburg. 14° gefühlte 10° bei ständigen Nieselregen. Wir sagen dazu Schietwetter.
Hi everybody, we're back in Hamburg. I could sleep in today because my son slept at a friend's house and I was supposed to pick him up at 15:30.
I'm on my way and really slept in. That felt good. The weather is very, very shabby in Hamburg. 14° felt 10° with constant drizzle. We call this shoddy weather.
Mein Weg lässt mich wie schon so oft am Dammtor vorbeikommen - My way lets me pass the Dammtor like so often before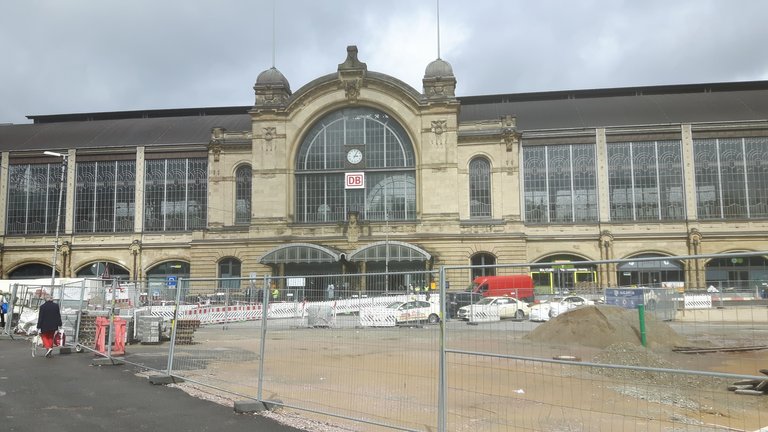 wo auch das Radisson Hotel steht - where also the Radisson Hotel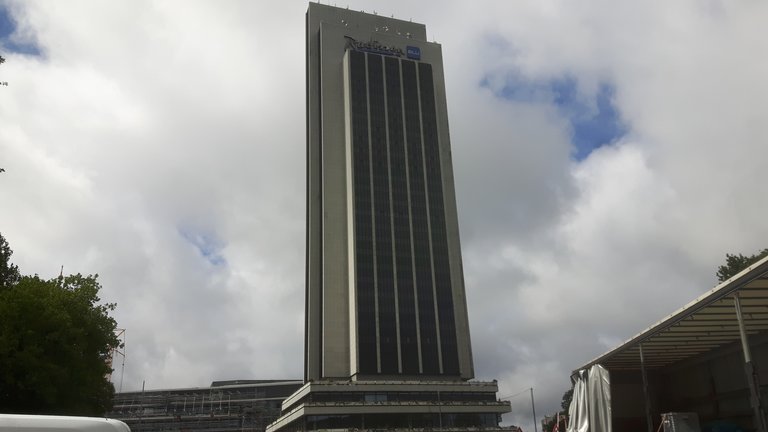 Wir fahren ja Morgen 2 Tage nach Berlin und die Reiseplanung machte ich dann am Nachmittag . Ich buchte ein Hostel für 79 €, für zwei Tage, für zwei Erwachsene und ein Kind. Das finde ich sehr angemessen bzw. günstig. Was aber dann die Fahrt mit dem Bus angeht, überraschte mich dann völlig. Wir bezahlen für drei Personen 15 € für die Hinfahrt und 15 € für die Rückfahrt. Nicht mit Flixbus, wie wir sonst gebucht haben sondern mit blablaBus. Das machte mich schon ein bisschen nervös und habe deswegen noch recherchiert. Nicht das ich noch einen Busführerschein brauche und den Bus selber fahre . Scheint aber alles in Ordnung zu sein. GRINS!
We are going to Berlin tomorrow for 2 days and I made the travel arrangements in the afternoon. I booked a hostel for 79 €, for two days, for two adults and a child. I find that very reasonable or cheap. But what concerns the trip with the bus, I was completely surprised. We pay for three persons 15 € for the outward journey and 15 € for the return journey. Not with Flixbus, as we usually booked but with blablaBus. That made me a little nervous and so I did some research. Not that I still need a bus driving licence and drive the bus myself. But everything seems to be fine. GRINS!
Danach fuhren Sohnemann und ich Richtung Hamburg Bergedorf. Da immer noch Ersatzverkehr zwischen Berliner Tor und Tiefstack ist sahen wir zu, dass wir den Regionalexpress bekamen, der jede Stunde fährt und von dem Ersatzverkehr nicht betroffen ist.
Afterwards, my son and I drove towards Hamburg Bergedorf. Since there is still replacement traffic between Berliner Tor and Tiefstack, we made sure we got the regional express, which runs every hour and is not affected by the replacement traffic.
Auf dem Weg zum Ersatzverkehr sind wir in der U-Bahn dann die falsche Richtung gelaufen. Wir fuhren dann mit dem Bus Richtung Hauptbahnhof und kamen noch am Jungfernstieg vorbei. Sohnemann wollte noch ein wenig die Treppen rauf und runter springen. Die Sonne ließ sich gerade blicken und ich willigte ein.
On the way to the substitute traffic we went the wrong way in the subway. Then we took the bus in the direction of the main station and passed the Jungfernstieg. Sohnemann wanted to jump up and down the stairs a little bit. The sun was shining and I agreed.
Ich dachte wieder daran, dass es jetzt früher Abend ist und wenn die Sonne scheint, dass dann die Wasserfontäne am Jungfernstieg also auf der Binnenalster uns oft einen Regenbogen schenkt. (in den Sommermonaten) Mal schauen ob heute auch.
I thought again that it is now early evening and when the sun is shining, that the water fountain on the Jungfernstieg, i.e. on the Binnenalster, often gives us a rainbow. (in the summer months) Let's see if today also.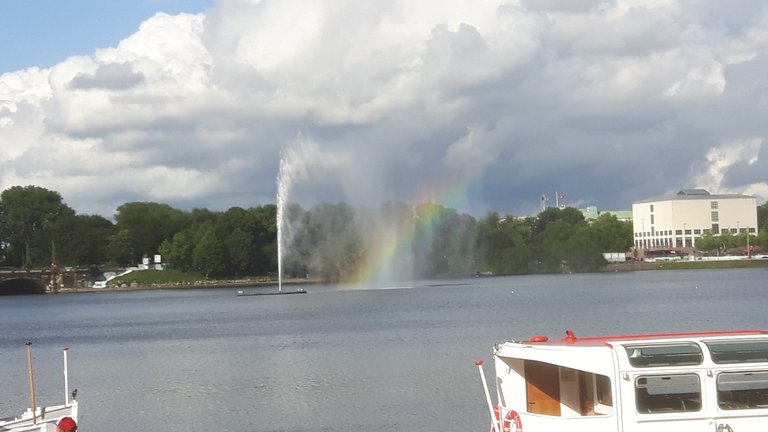 Wir wurden nicht enttäuscht und schlenderten noch ein wenig am Jungfernstieg entlang.
We were not disappointed and strolled a little along the Jungfernstieg.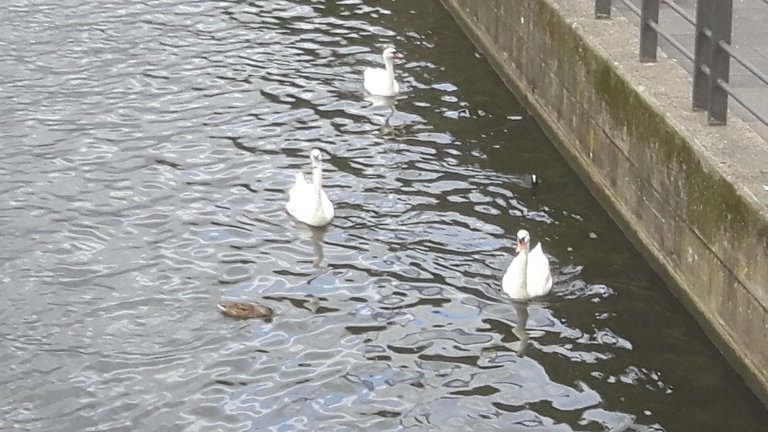 Dann kauften wir noch eine Kleinigkeit in der Europa Passage ein
Then we did a little shopping in the Europa Passage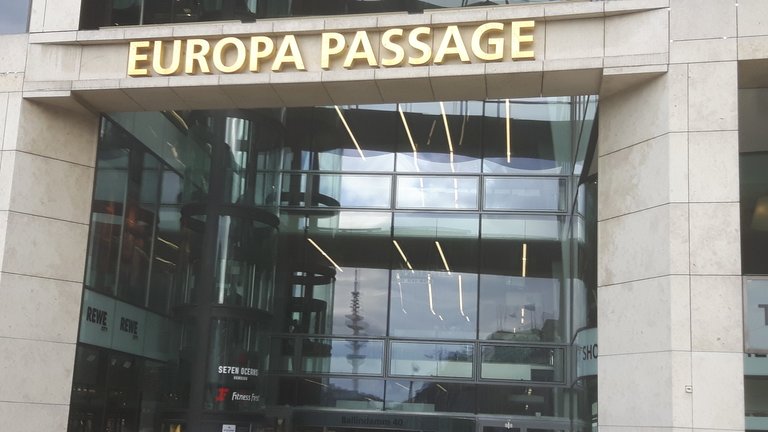 und fuhren dann nach Hause.
and then drove home.
So ließen wir den Tag ausklingen und freuen uns auf die Reise morgen nach Berlin.
So we let the day end and are looking forward to the trip to Berlin tomorrow.
Liebe Grüße Michael
Greetings Michael
Translated with www.DeepL.com/Translator (free version)
 <br/> _This report was published via Actifit app ([Android](https://bit.ly/actifit-app) | [iOS](https://bit.ly/actifit-ios)). Check out the original version [here on actifit.io](https://actifit.io/@mima2606/actifit-mima2606-20200711t025312866z)_ <br/> <br><img src="https://cdn.steemitimages.com/DQmXv9QWiAYiLCSr3sKxVzUJVrgin3ZZWM2CExEo3fd5GUS/sep3.png"><br><table>  <tr>        <img src="https://cdn.steemitimages.com/DQmRgAoqi4vUVymaro8hXdRraNX6LHkXhMRBZxEo5vVWXDN/ACTIVITYCOUNT.png"> </tr>   <tr>        <div class="text-center"><b>11774</b></div> </tr></table><table>    <tr>        <img src="https://cdn.steemitimages.com/DQmZ6ZT8VaEpaDzB16qZzK8omffbWUpEpe4BkJkMXmN3xrF/ACTIVITYTYPE.png">  </tr>   <tr>        <div class="text-center"><pre><b>Mit Kindern/Enkelkindern spielen</b></div></pre></div> </tr></table><table>    <tr>        <img src="https://cdn.steemitimages.com/DQmdnh1nApZieHZ3s1fEhCALDjnzytFwo78zbAY5CLUMpoG/TRACKM.png">        <td><div class="text-center"><div class="phishy"><h6>Height</h6></div>          <h6>176 cm</h6></div></td>      <td><img src="https://cdn.steemitimages.com/DQmfSsFiXem7AxWG1NCiYYPAjtT4Y7LR8FsXpfsZQe7XqPC/h1.png"></td>       <td><div class="text-center"><div class="phishy"><h6>Weight</h6></div>          <h6>88 kg</h6></div></td>       <td><img src="https://cdn.steemitimages.com/DQmVqJVEWUwicFRtkEz2WYq2mDH61mQLDsrzN1yBrKLrpyZ/w1a.png"></td>      <td><div class="text-center"><div class="phishy"><h6>Body Fat</h6></div>            <h6> %</h6></div></td>      <td><img src="https://cdn.steemitimages.com/DQmPJ2Vvi3mBQXKHoy5CTG7fyLFWMG8JaAZ8y1XZFeDkRUC/bd1.png"></td>  </tr>   <tr>        <td><div class="text-center"><div class="phishy"><h6>Waist</h6></div></div>         <div class="text-center"><h6> cm</h6></div></td>        <td><img src="https://cdn.steemitimages.com/DQmZ2Lfwg77FLaf3YpU1VPLsJvnBt1F8DG8y6t6xUAKnsYq/w1.png"></td>       <td><div class="text-center"><div class="phishy"><h6>Thighs</h6></div></div>            <div class="text-center"><h6> cm</h6></div></td>        <td><img src="https://cdn.steemitimages.com/DQmbbAAFy6hwwBWqtSmcSwosTyNZi9rcd6GNeugQRY9MF1h/t1.png"></td>       <td><div class="text-center"><div class="phishy"><h6>Chest</h6></div></div>         <div class="text-center"><h6> cm</h6></div></td>        <td><img src="https://cdn.steemitimages.com/DQmbaoNBT5Unnjqh8JgP6TPj4mFKFnyKkLgP6eDYnnkiLkB/c1.png"></td>   </tr></table><div class="text-center"><img src="https://cdn.steemitimages.com/DQmY5UUP99u5ob3D8MA9JJW23zXLjHXHSRofSH3jLGEG1Yr/A-10.png"><a href="https://bit.ly/actifit-app"><img src="https://cdn.steemitimages.com/DQmQqfpSmcQtfrHAtzfBtVccXwUL9vKNgZJ2j93m8WNjizw/l5.png"></a><a href="https://bit.ly/actifit-ios"><img src="https://cdn.steemitimages.com/DQmbWy8KzKT1UvCvznUTaFPw6wBUcyLtBT5XL9wdbB7Hfmn/l6.png"></a></div>