Running in Orange, NSW
Break from running
I took a two to three month break from running earlier this year because, around Christmas time, when we were getting ready to move house (doing some heavy lifting) I started to feel this weird twinge in my left arm. It wasn't painful - the word I used to describe it to medical professionals was 'uncomfortable'. What was weird was that it wasn't always in the same part of my arm - sometimes it was in my hand, sometimes my forearm and sometimes upper-arm and shoulder area. I visited the doctor and he recommended I get a CT scan. The results from the CT scan showed some early signs of rheumatoid arthritis in a couple of my vertebrae - bummer! The GP also recommend that I get a MRI scan, which I did in February after we moved to Orange. Now that was an experience! The outcome from that was to see a physio to get some recommendations for exercises to build strength in the right areas to make it comfortable and liveable. By the time I went to the physio the pain had been gone for a while but he did recommend lifting 2-3 kg weights and push-ups daily to build strength in my shoulders to support my back. His theory that the heavy lifting over Christmas pulled on my neck and these vertebrae that showed up on the scan caused the twinge on my arm. Stronger shoulders would reduce this in future. He said that it was fine for me to resume running. Result!
Getting back into it
I started small, just two to three K runs, then slowly built up to 10 Ks over six to eight weeks. This was a great opportunity to explore the new area we'd just moved to. Here's what I saw -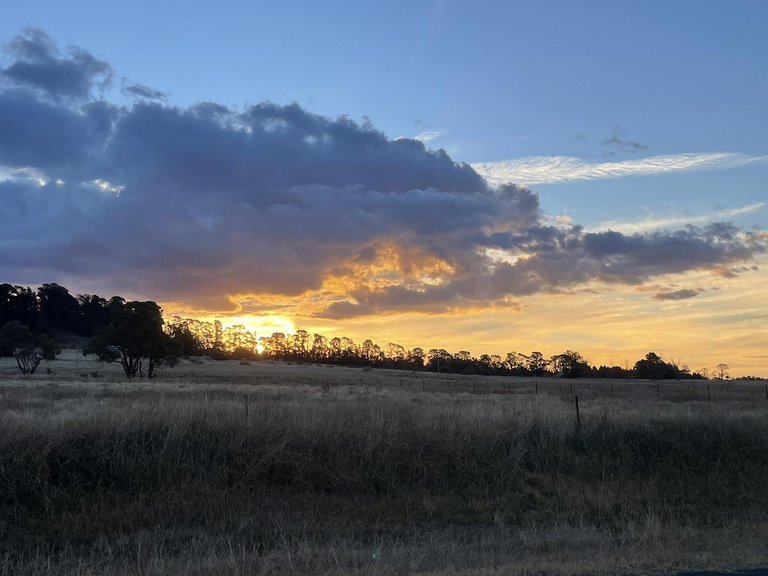 Beautiful sunsets and lots of wide open spaces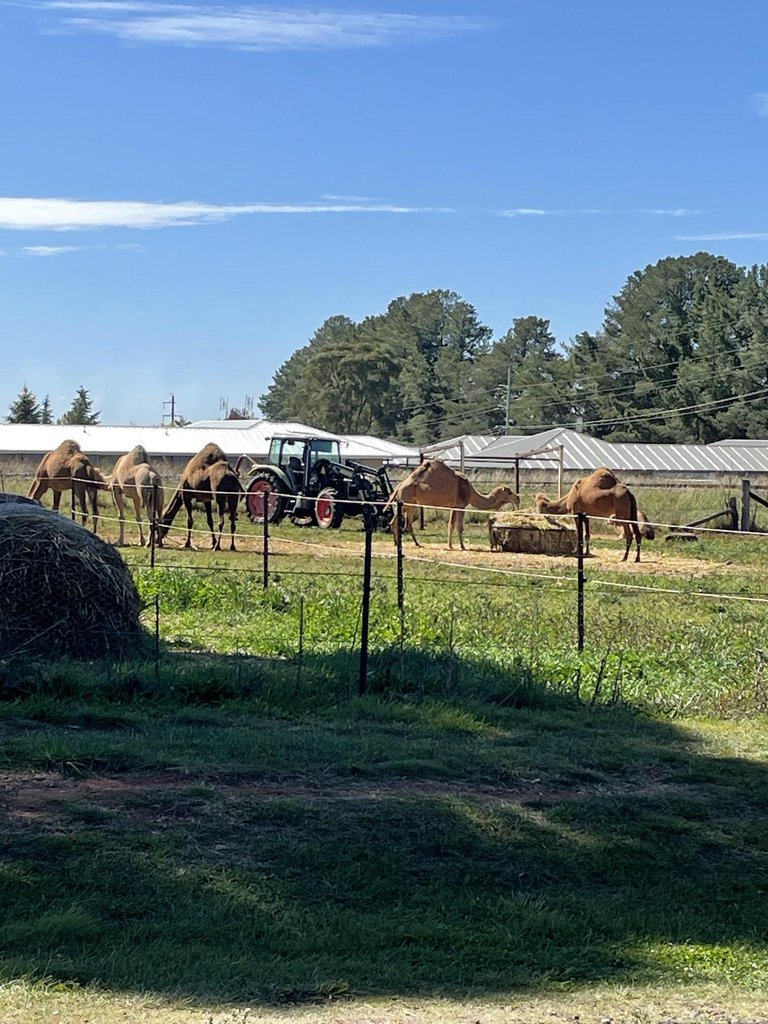 Camels?!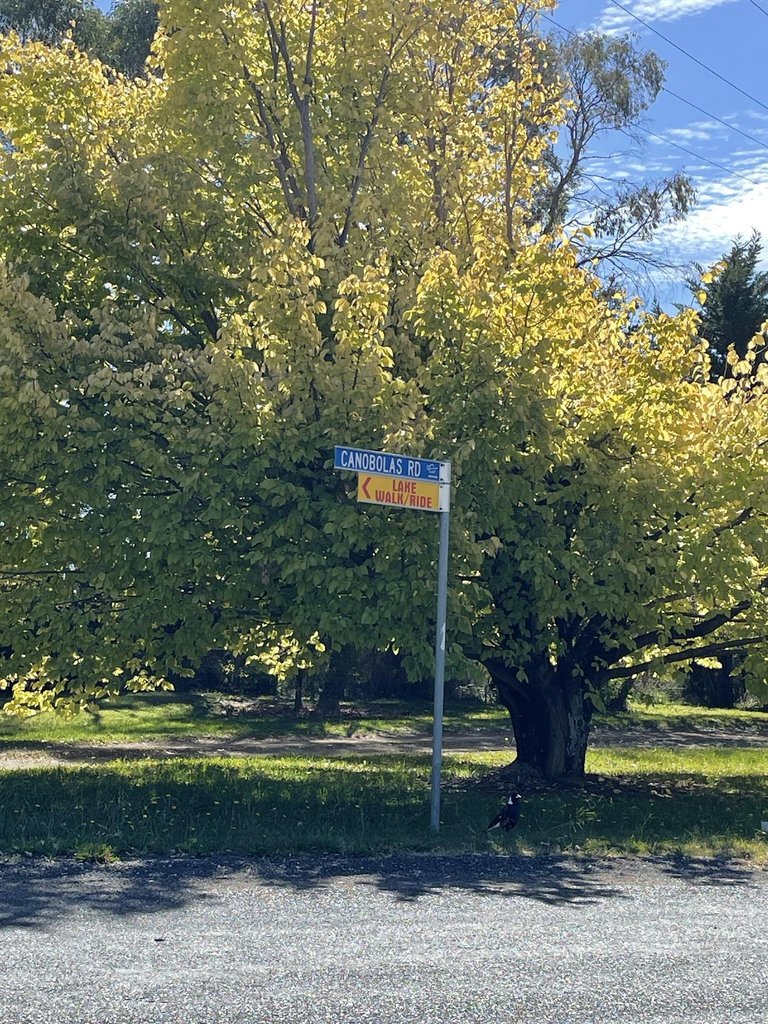 This sign - why is it a walk and a ride, but not a run?
Orange Runners Club
Then I joined Orange Runners Club. I was hesitant to join sooner because I want to build up my fitness again so I would be 'good enough'. But it's not like that at all. It's not competitive. There are runners of all abilities and everyone just runs there own race. I thought it might be a good way to meet people too but that's happening pretty slowly. Ahh well. We meet on Wednesdays for a short, flat 3K run in the local park and then on Sunday mornings at various venues in the area - those runs have a choice of distances up to 12 Ks. Most of the courses are along country lanes or beside lakes or dams, like this one -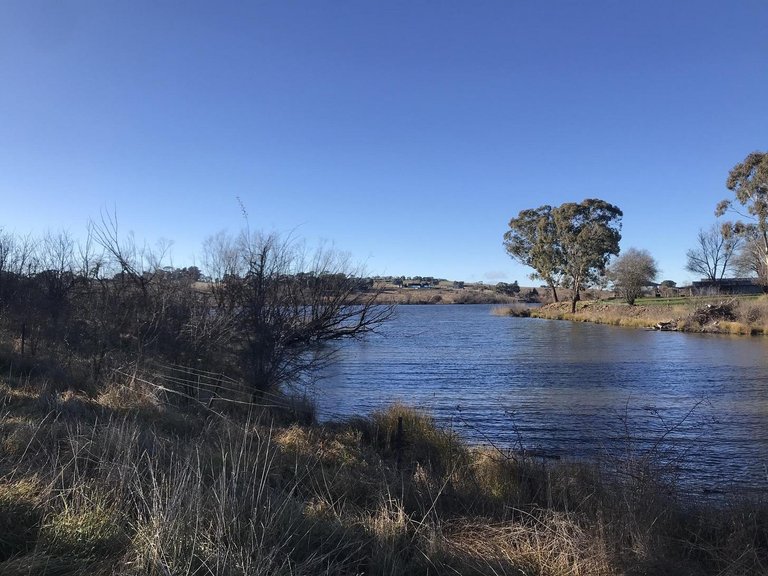 Last Sunday's 9.6 K run at Spring Creek Dam
Six foot track marathon
The Six foot track marathon is a race I've been interested in competing in pretty much for as long as I've been into running. To get a start in the race, you need a 'qualifying time' and then you register and go into a ballot - places are limited! Way back in November 2019 I ran a qualifying time, registered and was successful in the ballot to secure my place in the 2020 event. But then bushfires and flash floods hit the area and - the big one - COVID - so the race was cancelled for the year. So what they decided was anyone who entered for the 2020 were given a choice - guaranteed entry into the 2021 event or postpone and receive guaranteed entry to the 2022 event. Since I had my little arm and back scare and hadn't been training at the time that offer was released, I took the 2022 option. However I just found out last week you still need a qualifying time for 2022 - you just don't need to go through the ballot phase. That means I will be running the same Stromlo 30 K event this year that I ran in November 2019 to (hopefully) get the qualifying time. I thought of entering an event sooner (August) but I think I don't think I'll have the fitness to run longer distances by then. Orange Runners have a separate group that meets once a month for more challenging trail runs so I think I will start going along to those in preparation.
This report was published via Actifit app (Android | iOS). Check out the original version here on actifit.io




11192

---
---