My Actifit Report Card: March 29 2020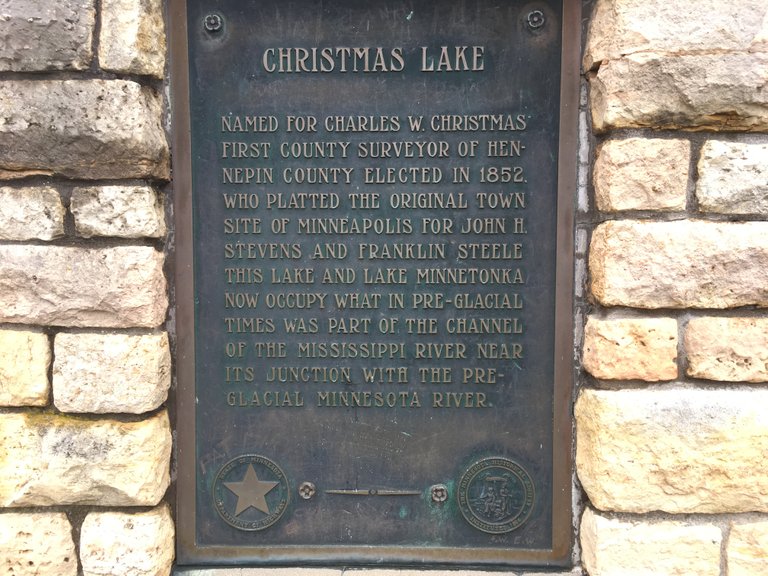 One good side effects of the world's partial shutdown is that I've been getting to take long walks with my wife. But yesterday's was a bit of a fiasco. The forecast light drizzle accompanied our walk west from home to a point about a mile and a half away and our raincoats could handle it, but the change to a downpour on the way back could only have been mitigated by rainpants, which we weren't wearing. My wife's a duck so the cold rain didn't dampen her spirits, but wombats tend to get a bit grumpy when soaked.
But today was drier after noon and we walked about two miles east, part of it along the western and northern shores of Christmas Lake. Near the end of our walk, there's a little city park with this historical maker. As far as I've seen, it's a park that nobody uses. It's a little triangular bit of land (maybe five acres?) bounded on one side by a busy highway with no pedestrian crossing, on another by a wooded area leading to a marsh, and on the third by a lightly-traveled residential street with houses on large lots set well back from the street. In nine years of going past it, I don't think I've ever seen anyone there except the occasional city employee mowing the grass.
A few yards away, there's a round stone wall with crumbling seating surrounding a central crumbled stone structure that might have been intended as a planter, or perhaps a fire pit. But the park has no amenities, not even a lonely basketball hoop or a porta potty. It's not clear what the purpose of this park ever was or who the city thought might use it.


This actifitter chose to donate this report's original AFIT token earnings to @schoolforsdg4 charity

10240

---
---