My wife took this great photo of me walking on our treadmill.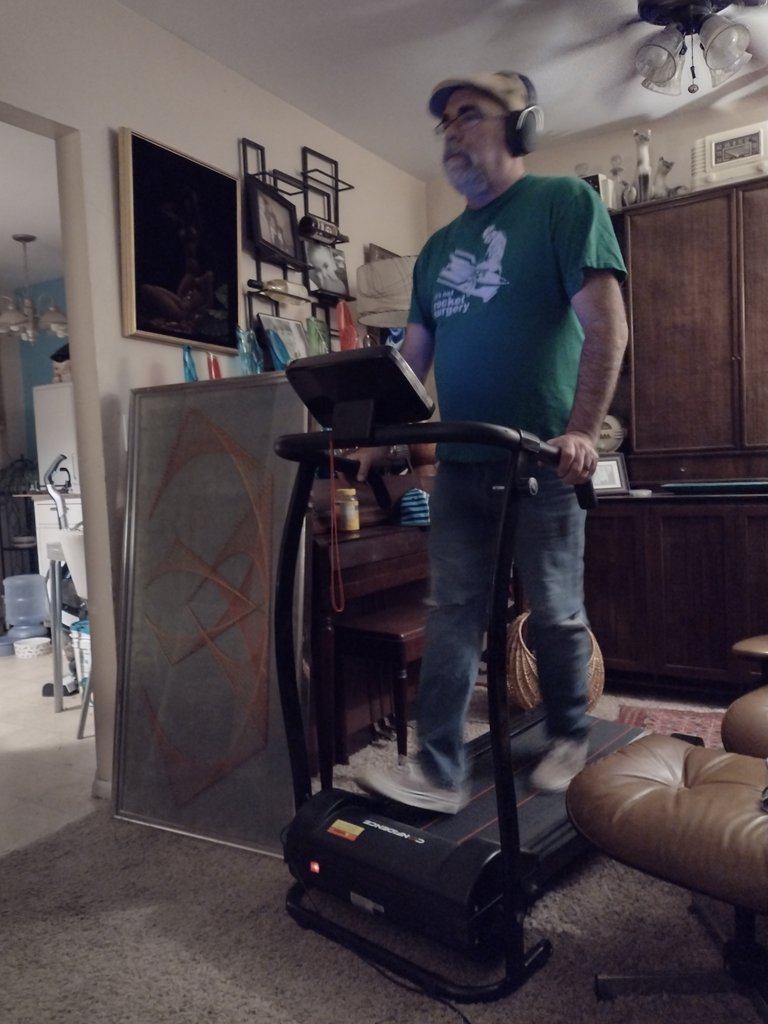 How can be I better as a person at sundown than I was at sunrise?
Easy. I can:
spend time with my family. Big yep to this one. My wife walked with me this evening. Was so nice having someone alongside me on my walk. She's amazing.
write a blog post.
Continue on my #ThreeStepsNoExcuses journey.
Lift up someone from my crew. (@Elianaicgomes you rock.)
Develop meaningful relationships. Working on it.
Work on my fitness for me and my family.
Celebrate that I am #alive and am here on this Earth for a reason.
All of these are ways I can individually contribute to being a better person at dusk than at dawn.
Walking is improving my energy level
I've noticed that even in the short time that I have been working on my #IamAliveChallenge material for @flaxz, I've done so using #actifit posts, since the two align closely. I decided that I would do my big updates on my Alive efforts while posting on Actifit as well because of the health factors.
I need to be in better shape. I started walking.
Since walking, my energy level has gone up, and I feel much better physically. I would encourage anyone who can to get the Actifit app on their phone and start walking. :)
Writing on the "I am Alive" ebook.. Nice!
@flaxz trusts me enough to make me listmaster, and has asked me to work on the ebook. I am humbled by this, and will write a complete post on this separately. Right now I am just reading posts about #alive and trying to get a feel for the audience of the ebook so I know the writing style needed.
The Alive interface is a good frontend and I have begun using it some. Let's see if I can increase it.
Whatchu holdin'?
As I do on my other posts, here's my current status with the ALIVE token:
| Yesterday | Today | Difference |
| --- | --- | --- |
| 12.879 | 13.292 | +0.413 |
I am much more active now than I was a week ago, and my payouts will be substantially bigger once I've staked more and grown more. I am also in the middle of the Alive on Thursdays Stake Contents.
After all, this account only started holding and staking #alive tokens 4 days ago or so. :)
I am optimistic that with what I have planned for the list growth, I'll be able to grow the @threesteps holding of Alive tokens, which will help with upvoting.
I'll start adding this one to my list of Hive, CTP, LEO, PoB tokens that I discuss in my daily posts. :)


This report was published via Actifit app (Android | iOS). Check out the original version here on actifit.io




5839

---
---