My Actifit Report Card: February 26 2020
Walk tall and carry a big stick
There is a story behind the title for this post
Walk Tall and carry a big Stick,
Now strictly speaking in my case, it has a different meaning, but the saying describes a person who is prepared to take action, take charge, take over; to be a fearless authority figure, known for using punitive measures sparsely but always accurately, swiftly and appropriate to the crime when needed. Punishment was always dealt fairly hence walking tall, ie acting with integrity and honor.
Now why did I decide to do a post about this today, well read on, after this first photo and a little bit about today.
It was a grey and misty day, but i had to go between buildings for a few things today and managed to hit my 10k Step goal
walk tall and carry a big stick
now this first shot shows the stick I will talk about in this post.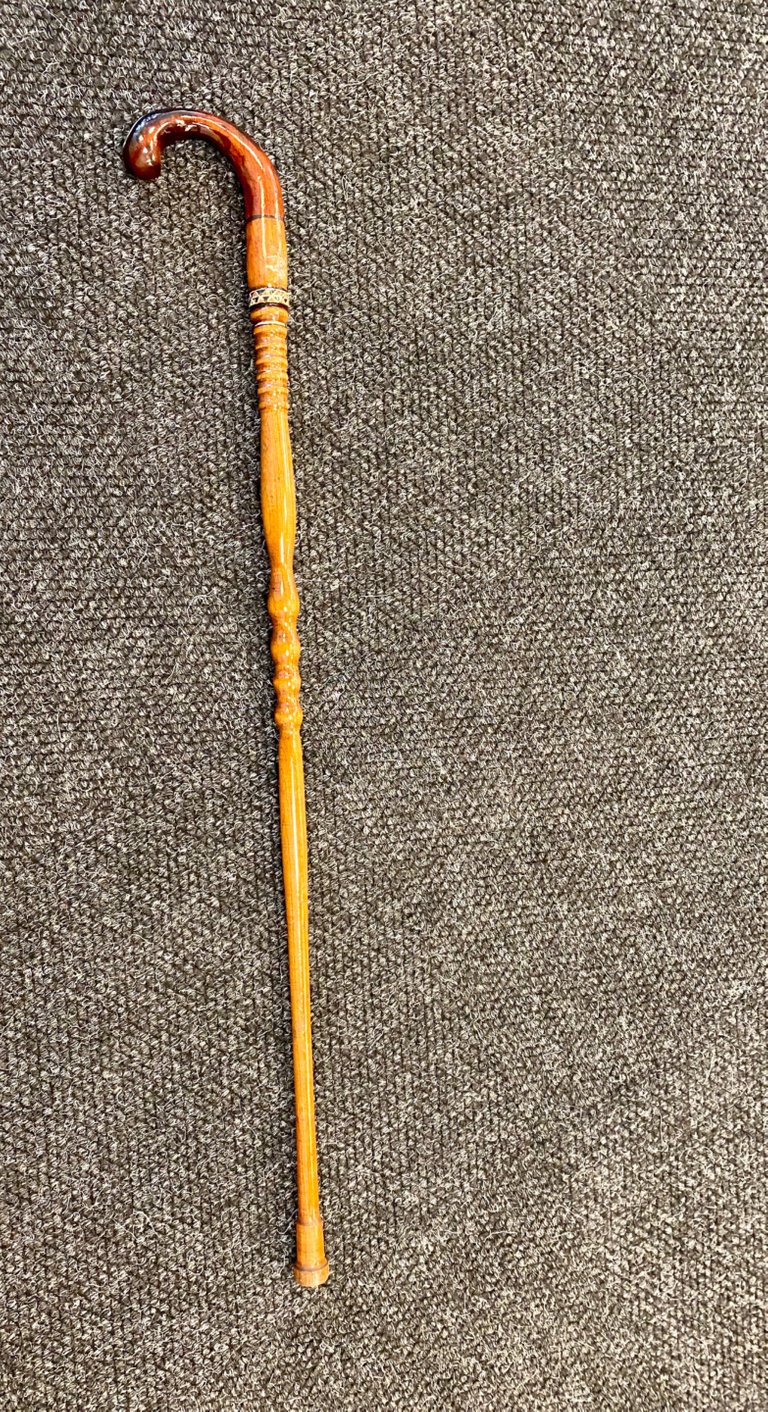 iPhone 11 Pro
Click here to view larger



My take on Walk tall and carry a big stick, back maybe 10 or more years ago i was on a team travelling around our field offices to install a new inventory management system, was a busy year, infact for about 9 Months straight i was travelling from location to location, spending between one and three weeks in each location and over that 9 months only had tow days off, when stopped over in transit from one location tot he next, and here I go wondering off on a tangent again, lets get back to the stick I carry.
In one of the offices we went to we had one go in charge of property management who absolutely refused to do anything that he was asked to do, and after a few days of our team, politely trying to convince him, I decided to take matters into my own hands and went to the carpentry shop and have them cut a piece of 2x2 wood to length and use the lathe to add a handle on it.
I then proceeded to the office of the gent that was giving us problems, walked in with the stick behind my back and said enough being nice you can stop saying no its no an option just start doing what has been tasked by HQ, as expected he started making excuses and I slammed the stick across his desk and yelled, didn't you hear me, you do not have an option just do it.
Well that worked and from then on in he was very proactive and helpful, and on the last night there we had a few drinks and laughed about me walking tall and carrying a big stick, and in each location we went to for the rest of that trip one of the advance party who got to the mission first would always arrange a similar stick to be sitting on my desk when I arrived at the location which has stuck with me since then and people still joke to me about it.
The New handle on the walking stick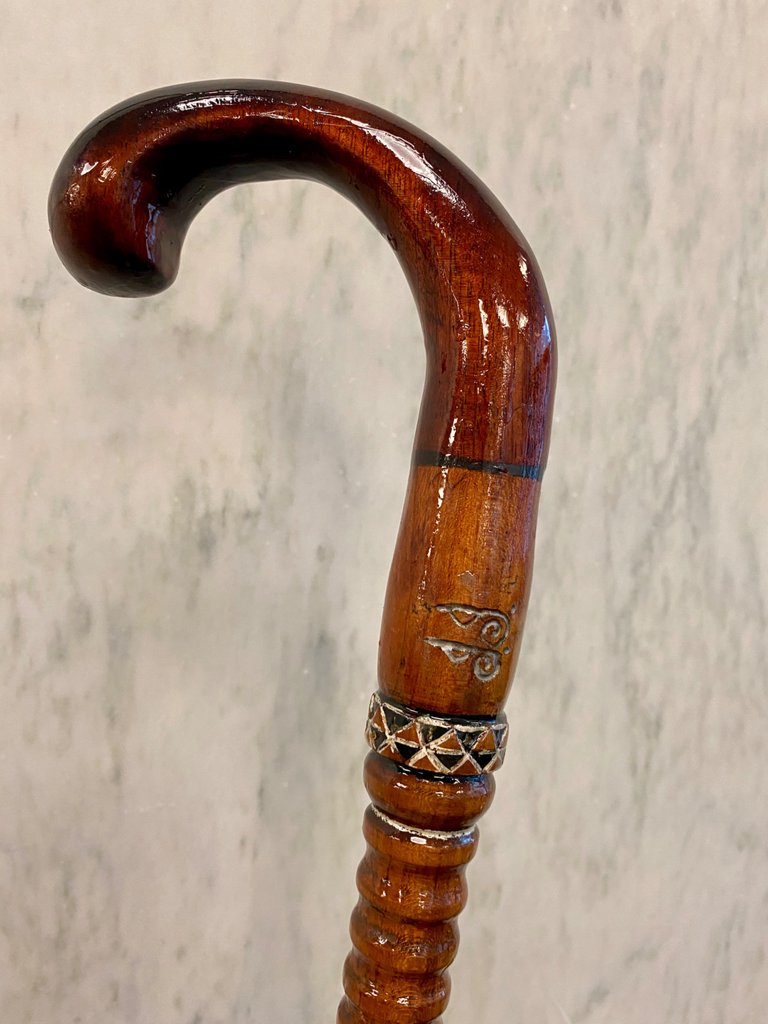 iPhone 11 Pro
Click here to view larger



Now the stick I am showing you now is not that first bit of 2x2, but one of my colleagues on the trip, is very handy with crafts and woodwork, and he made me this stick at the end of the trip, unfortunately someone took the stick from my office without asking and broke the original handle, and Ed who made it for me, took the stick back recently to put on a new handle and today I picked it up from him and love the new handle.
This stick even with the missing handle has been sitting beside my desk at work since I got it, and when used to get frustrated with things taking to long i would often walk around with it, I never used it in anger or to intimidate anyone but just walking with it over my shoulder seemed to motivate people :)
On the handle he engraved this cool Celtic knot, I do love this stick and love the detail he added to it.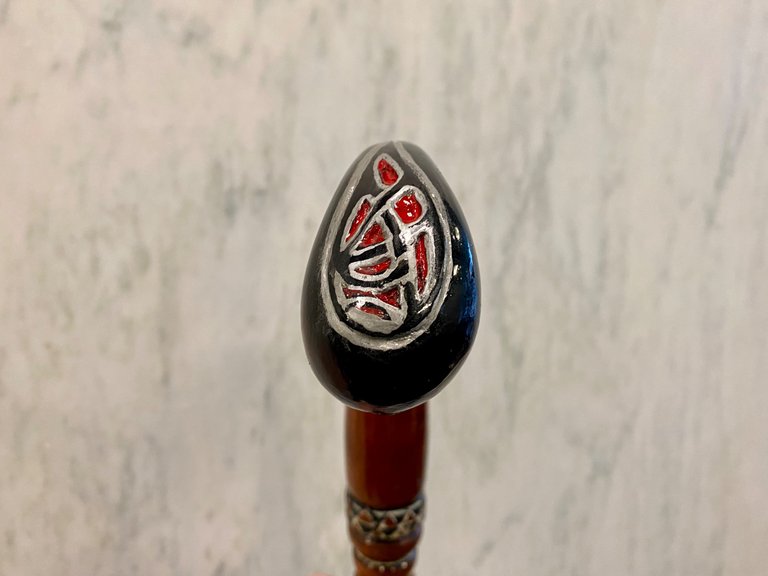 iPhone 11 Pro
Click here to view larger



Today the stick will be going home with me and will sit somewhere with pride of place in the house as it brings back good memories and I am so appreciative of Ed for not just making it in the first place but also for adding this new handle.
And that's all folks
---
unless stated otherwise all photos used in my posts are taken and owned by myself, if you wish to use any of my images please contact me.
---

---

steemusa is a Community for and supporting those from of in the United States, and now is in the process of rebuilding stronger than ever join us on Discord







!steemitworldmap 40.752412 lat -73.976960 long Midtown East NYC d3scr




13654

---
---