My Actifit Report Card: February 28 2020 the last day

the last day
WOW today was harder than I expected, I put on a mask of being tough and not emotional a lot of the time, or at least I thought I did, but today that was challenged my last day in the office, well only half a day to be honest but will get into that a little later, but doing a last walk around this morning, I got such kind comments from people and some got a bit emotional about me leaving I tried to keep up my fun loving humorous side but it was a challenge I must say, and when I was given a card not long before lunchtime and started reading the comments from people, I had to stop head to my office and finish reading them with the door closed and then sneak out and head home on the train at midday, I was truly touched by all that colleagues said to me inthe last couple of days and on the card, I was lost for words.
Clearly even though I thought i was just one of the guys and liked to have fun, I clearly will be missed by some, and mostly in a good way, to really see how people felt about me and what I had done for them over the years was overwhelming, I just felt I was doing my job and what everyone would do, but others did not see it that way, and as I sit here tonight I am struggling to express myself and keep it together, but even though most of my colleagues won't see this, and I hope I expressed the same to them all individual it has been such a pleasure working with them all over the years, and although I am glad to now be retired (well almost tomorrow is officially my last day) it has been a roller coaster of a ride emotionally.
Now I stopped and reread what I had typed up to now, and was bouncing back and forth between posting and deleting this, but it took me a while to type so going to go with post it.
After I left the office I needed to compose myself a little so I do what I always do when I need to clear my head and went for a walk and managed to hit my 10K goal
Just one shot tonight, that kind of fits with how I feel right now a Street I walked past in midtown recently and decided to go with mono with a touch of color.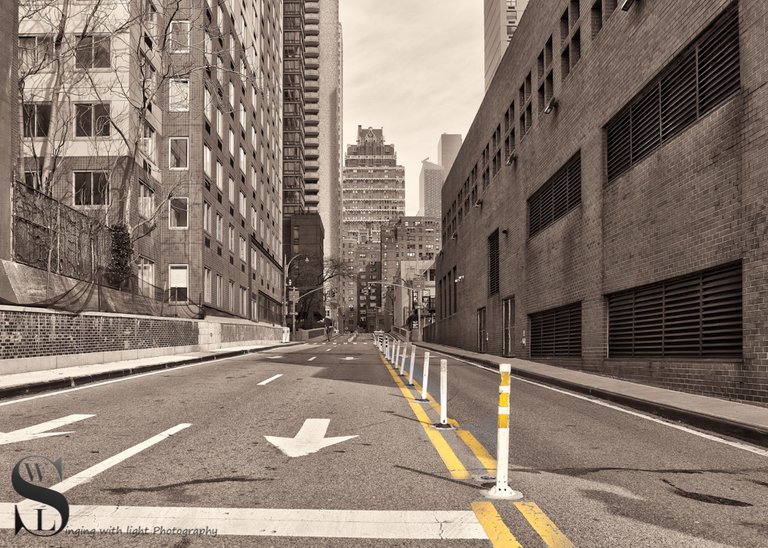 Sony A7iii 28mm F8 1/125 Sec ISO 100
Click here to view larger



Now reading again what I wrote at the start of the post it may come across as I am depressed and that is not the case at all, I am happy and excited about retiring and this new phase of my life, but saying goodbye to friends has been overwhelming and their kindness and support very touching, not to mention so many wanting photos with me ( and I hate having my photo taken but I could not say no).
On to new adventures
PS I am going to chill tonight and relax so I wont be on here much will do some voting but probably not much commenting
And that's all folks
---
unless stated otherwise all photos used in my posts are taken and owned by myself, if you wish to use any of my images please contact me.
---

---

steemusa is a Community for and supporting those from of in the United States, and now is in the process of rebuilding stronger than ever join us on Discord







!steemitworldmap 40.752412 lat -73.976960 long Midtown East NYC d3scr


10254

---
---